Found February 05, 2013 on The Sports Bank:
Is there a fight brewing at Miami international airport between Arizona Cardinals defensive end Darnell Dockett and former NFL wide receiver Chad Johnson a.k.a. Chad Ochocinco? Is this a fight over Johnson's ex-wife, and former "reality star" Evelyn Lozada? On August 11, 2012, Johnson was arrested on a charge of domestic battery according to the Davie, Florida police.Johnson allegedly headbutted his wife following an argument. Johnson was released the following afternoon on $2,500 bond. Lozada filed for divorce two days later. It was finalized a month later. Johnson entered a plea of no contest to misdemeanor domestic battery, avoiding jail time in an agreement with prosecutors and Lozada. Now Dockett has a reputation for tweeting outrageous things, including coming on to Katherine Webb. Then he had a Twitter feud with Webb's boyfriend Crimson Tide QB A.J. McCarron. But is he serious about throwing down with Johnson? Take a look at Dockett's new Twitter profile pic An hour ago you...
Original Story:
http://www.thesportsbank.net/nfl/darn...
THE BACKYARD
BEST OF MAXIM
RELATED ARTICLES
SISSY BOY?
The Twitter feud between Arizona Cardinals defensive lineman Darnell Dockett and Alabama Crimson Tide quarterback AJ McCarron has resumed and even escalated.
THAT ESCALATED QUICKLY
Cardinals defensive lineman Darnell Dockett savagely blasted Chris Rix, his former Florida State teammate, on Twitter for insinuating during a radio interview that he was gay.
Security might want to be at a standby at Miami International Airport, because it appears that Darnell Dockett and Chad Johnson are gearing up for a major fight.... over Evelyn Lozada.Dockett, who is known for tweeting crazy things on his Twitter account, tweeted a picture (below) of Chad Johnson with the caption, "CHILD PLEASE. That head butt sh*t didn't work on Dockett...
Just a few days after A.J. McCarron called out Darnell Dockett for tweeting at his girlfriend Katherine Webb, Dockett took a shot at McCarron directly this time on Twitter.  McCarron decided he wasn't going to take this sitting down and had some great responses.Boy, that escalated quickly.  McCarron definitely gets the win in this Twitter battle, and I have a feeling that there...
 Arizona Cardinals player Darnell Dockett is not done with AJ McCarron yet.  Now he wants to get him into the boxing ring instead of the Twitter ring.   A while back Dockett asked out AJ McCarron's girlfriend Katherine Webb on twitter, and McCarron wasn't too happy about it.  McCarron finally called him out last week, and Dockett has just responded with a boxing match...
This is getting a little old. Either Dockett and McCarron need to get a room and have a threesome or stop playing around on Twitter.  A few days ago they got into and now they are back at it. The day Katherine Webb leaves AJ, Dockett might break his wrists trying to Tweet about it.  I do find it ironic she never comments on the situation.  She likes the boys fighting over her...
Darnell Dockett is fuming at former Florida State teammate Chris Rix for calling his sexual preference into question. Rix, who played quarterback at Florida State from 2001-2004, called into "Jay Mohr Sports" on Wednesday and discussed Dockett, who was a defensive lineman for the Seminoles from 2000-2003. The two talked about the Twitter exchanges Dockett has had with Alabama...
Darnell Dockett loves to dish out jokes and unflattering comments, but when it gets done to him and the beast comes out, its not funny anymore. For weeks Dockett has been picking on Alabama quarterback AJ McCarron and flirting wish his girlfriend Katherine Webb, and each time Dockett felt it was funny.  Dockett recently called AJ McCarron a sissy boy, and asked him for a box. Former...
Former Florida State quarterback Chris Rix called into "Jay Mohr Sports", according to Larry Brown Sports and question Darnell Dockett's sexuality. "This is actually a sign of relief when I saw these tweets," said Rix. "There was always jokes about Darnell about kind of what his preference was in college. There was a few incidents of him hanging out with dudes in the...
Blame Brent Musberger for the ongoing war of words between Arizona Cardinals defensive lineman Darnell Dockett and Alabama Crimson Tide quarterback AJ McCarron. The two athletes first started bickering when Dockett tweeted his phone number to McCarron's girlfriend, Katherine Webb, on the night of the BCS National Championship game after Musberger had already made her an internet...
Darnell Dockett and AJ McCarron are not showing any signs of slowing down with their Twitter feud, and it is getting better by the day. Over the weekend, McCarron finally broke his silence about Dockett hitting on his girlfriend Katherine Webb by calling him "twitter thirsty." On Monday, the Cardinals defensive tackle and Alabama quarterback continued hurling insults at one another...
Former Florida State Seminoles QB and current college football insider for Fox Sports Chris Rix went on Jay Mohr's radio show and implied that his ex-FSU teammate (and current Arizona Cardinals DE)... Full story at Bob's Blitz ~ http://www.bobsblitz.com
NFL News

Delivered to your inbox

You'll also receive Yardbarker's daily Top 10, featuring the best sports stories from around the web. Customize your newsletter to get articles on your favorite sports and teams. And the best part? It's free!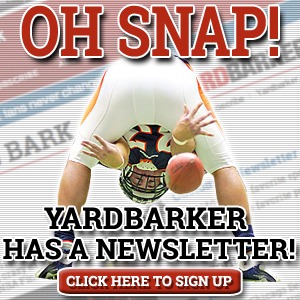 Latest Rumors
Best of Yardbarker

Today's Best Stuff

For Bloggers

Join the Yardbarker Network for more promotion, traffic, and money.

Company Info

Help

What is Yardbarker?

Yardbarker is the largest network of sports blogs and pro athlete blogs on the web. This site is the hub of the Yardbarker Network, where our editors and algorithms curate the best sports content from our network and beyond.