During today's New York Jets media session, cornerback Darrelle Revis really let loose and stated that he doesn't like both Patriots head coach Bill Belchick and quarterback Tom Brady. Revis was asked to elaborate more on why he called Belichick a "jerk" during a word association game he played on ESPN. "I gave my honest opinion," Revis said. "You guys know me very well. This isn't the first time me speaking what I need to speak about something. I talked about the Randy Moss stuff… It's just how I felt. That's how I feel. I feel that people let him slide when he says his smart remarks (on) certain things. He says comments about us like he never coached here…. He did. That's just how I felt. So they told me to sum it up. I gave one word. He can take it how he wants. He can say (whatever) he wants to say back. "Even if he says something back," Revis added. "I'm not going to get into a jawing (match) with him. I said what I had to say. He still has to coach and I still have to go out there and play." Revis did say that he respects Belichick, but he didn't appreciate his comments about the Patriots beating the Jets twice last season. "I have respect for him. Winning is winning," Revis said. "But sometimes things are disrespectful. When you say certain comments about the Jets, some stuff is disrespectful. It's okay to have a rivalry. It's okay to compete. But when it gets personal, you're getting disrespectful. I didn't start this battle. The smart remarks sometimes he says are ignorant. It's ignorant to this organization." Revis was then asked to specify the comments that Belichick made. "I don't know… Talking about the best defense… they can suck my– … All that stuff. That's just ignorant. Why go there? You won fair and square. Hey, we shook your hand after the game. We'll see you in New England or wherever in the playoffs, ok. But when you start saying stuff like that… no… it gets too personal. You don't have to say that. … Did anybody else say anything like that? No… not from our side. Bart (Scott) said his thing… "Can't Wait" thing. But he still didn't disrespect. He just said that they feel like they're better than us. That's okay. He didn't say go suck— go do this or go do that. It's personal. It's disrespectful." Revis also agrees with Antonio Cromartie's comments from a couple of years ago when he said that Brady is an "a-hole." "Sometimes he do (act like that) on the field," Revis said. "That's his personal opinion about him. If that's how he acts on the field. That's how he acts. He wants to throw a touchdown and point at our sideline. That's disrespect, man. That's not sportsmanship. Now do people say words on the field to each other? Yeah… that's in between the lines. But then when it's getting out of hand…  Come on, man. Come on. Sportsmanship."
Original Story:
http://profootballzone.com/nfl/darrel...
MORE FROM YARDBARKER
NFL News

Delivered to your inbox

You'll also receive Yardbarker's daily Top 10, featuring the best sports stories from around the web. Customize your newsletter to get articles on your favorite sports and teams. And the best part? It's free!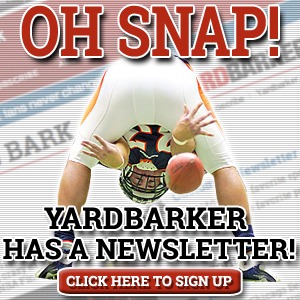 Latest Rumors
Best of Yardbarker

Today's Best Stuff

For Bloggers

Join the Yardbarker Network for more promotion, traffic, and money.

Company Info

Help

What is Yardbarker?

Yardbarker is the largest network of sports blogs and pro athlete blogs on the web. This site is the hub of the Yardbarker Network, where our editors and algorithms curate the best sports content from our network and beyond.