Found November 30, 2012 on NESN.com:
Bill Belichick and the Patriots created Spygate. The New Orleans Saints created Bountygate. This week, The Sporting News' David Whitley created Tattoogate. As foolish as his column was on Colin Kaepernick's ink, Whitley certainly succeeded in gaining the attention he desired when he published his views of the 49ers quarterback breaking the mold of the clean-cut QB. "[The] NFL quarterback is the ultimate position of influence and responsibility," he wrote. "He is the CEO of a high-profile organization, and you don't want your CEO to look like he just got paroled." As imagined, many are accusing Whitley of being a racist. Whitley didn't go into hiding though, and in an email sent to Ed Sherman of The Sherman Report, he defended his opinion and tried to clear the air. Check it out below. The opinion I was trying to reflect was that NFL quarterbacks have been largely tattoo free. Having a humble, hard-working, scandal-free QB potentially would be a breakthrough. And old farts like me wh...
Original Story:
http://nesn.com/2012/11/david-whitley...
THE BACKYARD
BEST OF MAXIM
RELATED ARTICLES
Miami Dolphins: Joe Philbin's Experience vs. Bill Belichick, Patriots Defense | Bleacher Report:...
Bill Belichick Press Conference Transcript: A little defensive X and O nerdery from BB's...
He is young. He is only a red shirt freshman. He has a lot of school in front of him. He probably doesn't know anything about New England.But he just might possess the perfect combination of skills that would catch the eye of a football genius like Bill Belichick.Can you imagine?Tom Brady starts to slow down...Bill Belichick starts to wonder when he is going to find someone with...
UH OH
After likening an NFL QB to a CEO, a columnist took 49ers QB Colin Kaepernick to task for his tattoos, writing, "you don't want your CEO to look like he just got paroled."
Om Wednesday, David Whitley of Sporting News published an article slamming San Francisco 49ers quarterback Colin Kaepernick for having tattoos on his arms.  I know it sounds stupid and it is. Kapeernick's parents have come out and expressed their unhappiness with the article. Suffice to say that Rick and Teresa Kaepernick, the parents who adopted Colin as a baby, weren't happy...
Colin Kaepernick has officially been given the chance to become the next face of the San Francisco 49ers, and so far he has answered the call. There has been little to criticize Kaepernick for in his first two NFL starts, both of which were convincing wins. While it would be difficult to criticize him for his play, one writer felt the need to bash him for something totally unrelated...
The quarterback controversy by the bay looks like it will continue to drag on for the remainder of the 2012 NFL season, but it increasingly looks like second-year signal-caller Colin Kaepernick has the inside track on the job. On Wednesday, 49ers head coach Jim Harbaugh named Kaepernick the starter for San Francisco's Sunday matchup with the St. Louis Rams. While Harbaugh hasn't...
Colin Kaepernick's arms are full of tattoos. This, apparently, ensures that the San Francisco 49ers quarterback will never, ever be a legitimate hero for the NFL or the 49ers even. It also means that the golden age of good old boys under center in the National Football League is just about over. That's what it sounds like AOL Fanhouse columnist David Whitley thinks, at least...
  Only way a person believes that tattoos suddenly make this sweet faced individual look like a thug is if they're one chromosome from having one chromosome. So, let me guess…people learned zero, zip, nada, nothing from Allen Iverson?  Let me refresh your memory. Allen Iverson was lambasted for years for having visible tattoos and cornrows. Fastforward barely a decade after...
Cancel the quarterback controversy. Colin Kaepernick will be the San Francisco 49ers' starting quarterback against the St. Louis Rams this Sunday and should remain the starter into the foreseeable future until or unless some catastrophic event takes place. And only coach Jim Harbaugh can determine what, exactly, would constitute such an event. At his press conference Wednesday...
A columnist is under fire after criticizing San Francisco 49ers quarterback Colin Kaepernick over his tattoos.
Just as he was playing possibly the of his eight-year career, 49ers quarterback Alex Smith saw it all unravel in the last three weeks after a concussion sidelined him on Nov. 11 and second-year pro Colin Kaepernick stepped in. Now healthy, Smith finally spoke up Thursday, a day after head coach Jim Harbaugh named Kaepernick the starter for Sunday's game in St. Louis and, it...
NFL News

Delivered to your inbox

You'll also receive Yardbarker's daily Top 10, featuring the best sports stories from around the web. Customize your newsletter to get articles on your favorite sports and teams. And the best part? It's free!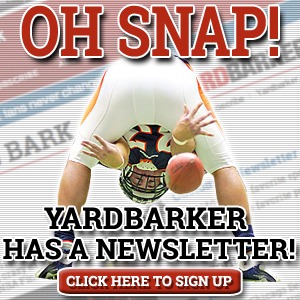 Latest Rumors
Best of Yardbarker

Today's Best Stuff

For Bloggers

Join the Yardbarker Network for more promotion, traffic, and money.

Company Info

Help

What is Yardbarker?

Yardbarker is the largest network of sports blogs and pro athlete blogs on the web. This site is the hub of the Yardbarker Network, where our editors and algorithms curate the best sports content from our network and beyond.