Found October 31, 2012 on Fox Sports Southwest:
PLAYERS:
Eli Manning
,
Demarcus Ware
,
Rob Ryan
,
Victor Cruz
,
Morris Claiborne
,
Charles Tillman
,
Ed Reed
,
Charles Woodson
,
Antoine Winfield
,
Troy Polamalu
,
Gerald Sensabaugh
,
Danny McCray
,
Anthony Spencer
,
Brandon Carr
TEAMS:
New York Giants
,
Dallas Cowboys
,
Chicago Bears
,
Baltimore Ravens
,
Green Bay Packers
,
Minnesota Vikings
,
Pittsburgh Steelers
,
Atlanta Falcons
It is truly the most extreme of situations when you concede 16 points in the first 16 minutes of the game, and yet, you feel that the defense has done a strong job at minimizing damage. But, that is the case on Sunday when 3 of the 4 Giants' early scoring drives started at or inside the Dallas 31 yard line. Turnovers caused what the coaches refer to as "sudden change" and to the Cowboys credit, they responded well enough to keep the team within striking distance. And that continued later in the game when two 4th Quarter Giants' drives were just for 3 points as opposed to the 7 that would have ended the team's chances. The defensive philosophy on Sunday emerged into a very curious one based on the success that the Giants were having (or in this case, not having). New York was not moving the ball well, and so Dallas seemed to play more as an accomplice to the crime, as opposed to any sort of driving force. They hardly applied pressure to Eli Manning again. Just 1 sack, and even that was more of a situation where DeMarcus Ware gobbled up Manning after Eli was flushed up in the pocket. In his final visit to Texas Stadium in 2008, Manning was sacked 8 times by the Dallas front (1 sack every 5.3 attempts). Now, after 8 games since that incident, the Cowboys have finally matched those 8 sacks - but in 295 pass attempts (1 sack every 37 attempts). But, in the past, we have seen the Cowboys try everything else they could think of to try to get to Eli with blitzes. However, in 2012, we have not seen this. And on Sunday, it was the most extreme numbers to date. We only found 2 times in the game where the Cowboys brought a blitzer in 31 passing situations (6). Given that we now have 2 meetings between the teams since the Cowboys have signed their 2 new corners, we seem to have evidence here that this is how Rob Ryan believes you can minimize damage against the Giants. And, through those 2 meetings, one could admit that the strength of the Giants attack has been dulled from the last few years. Victor Cruz has been ineffective, the running game has not bothered Dallas much, and overall, they did not find a normal number of plays down the field of the explosive variety. The Giants had been averaging a league-leading 5 explosives per game. On this day, they only had 2. Of course, they didn't need many given the generosity of the Cowboys offense. It is fair to say that the two top performers defensively were Jay Ratliff and Morris Claiborne. Both affected the game with frequent plays of note, and Ratliff troubled the interior of the Giants line all afternoon. As for Claiborne, it is early, but he sure seems like he might possess that rare strain that everyone hopes for in the NFL, and that is he might be a ball hawk. The ball hawk is very hard to find, but after years of tracking those types of takeaways - interceptions, strips - it appears clear that it is something that a player either possesses or doesn't. Charles Tillman, Ed Reed, Charles Woodson, Antoine Winfield, and Troy Polamalu all are of that species, and some of those players have changed teams and have still been great at taking the ball away. It doesn't seem to be a trait that is learned, although coaches talk like it can be taught. Regardless of whether you think it can be emphasized and improved upon (I have not seen statistical data to support that), it does seem desirable to acquire players who look to take the ball. And now, 2 months into his career as a professional, we are starting to see signs that Mo could be that type of guy. Each week, we see plays where Claiborne is around the ball. And then, we see him come up with it. As a rookie, that is most impressive because that should be where he is most tentative, but with his disallowed strip versus the Bears, his interception at Carolina, and his plays around the ball against New York (including a fumble recovery) is showing me a pattern. He is confident and has a swagger about his game that should get you excited. They paid dearly to select Claiborne, but through 7 games, the speed with which he has settled in is most encouraging. SPLASH PLAYS Let's take a look at the "Splash Plays" from Week 6 at Carolina: Splash Plays are key impact plays from the defense. Usually, they are obvious, but there are some that blur the line. I have listed time and play of each one for those who want to double check my work. For more, read a detailed explanation of this study here: What is a Splash Play? WEEK 6 Q-TimeDDYdPlayerPlay1-14:1628O22RatliffTackle For Loss1-12:48110D23ColemanTackle For Loss1-11:58310D23Claiborne3D Pass Defended1-7:52316D45RatliffRun Stuff1-2:17110O15CarterRun Stuff1-0:0527D13SpencerRun Stuff2-11:37110O39ColemanForced Fumble2-11:37110O39ClaiborneFumble Recovery2-8:4134O31ScandrickPass Defended2-0:49110O20WareSack2-0:3137O23WareRun Stuff3-8:2139O22Carr3D Pass Defended3-0:5232D46SensabaughBig Hit3-0:5232D46McCrayInterception4-11:0435D28Claiborne3rd Down Stop4-5:3035D28HatcherSpencerRun Stuff Sunday also featured another rarity for the Cowboys, a big hit in the secondary that led to a big play. In 2011, I found just 1 hit in the secondary that broke up a pass (Abe Elam vs Philadelphia in December). Already this season, the Cowboys have 3, including Gerald Sensabaugh's hit on Cruz on Sunday where Danny McCray picked off the pass from Sensabaugh's rear. Sensabaugh is not renowned for his physicality, and even famously passed on hits in 2010 on a few occasions, so to see him throwing his body around now is a sign of progress. He joins Anthony Spencer (Seattle) and Brandon Carr (Tampa Bay) as Cowboys who have knocked a pass away with a big hit to the body of a receiver. Up to date season standings - after the next game, I will make sure we get a "per snap" ratio: PlayerSplashesWare17.5Spencer12Lee10Carter8Claiborne8Brent7Hatcher7Ratliff5Carr4Spears3VButler3Crawford3Jenkins2Sensabaugh2Scandrick2McCray2Coleman2Lissemore1Lewis1Church1Albright1Conner0.5Team Total102 =========== BLITZING REPORT Blitzing played almost no role whatsoever in Sunday's game. It is clear the Cowboys want to flood the secondary with defenders to make Eli search for an open man. And, to their credit, he seemed to have plenty of difficulty spotting that open man on this occasion. Here are the two big plays of over 20 yards for the Giants. Q-TimeDDYdPlayRushers1-13:3839O21Manning Pass to Randle, 5644-14:46110O15Manning deep to Nicks, 294 And, here are the two biggest Cowboys plays of the game that involved a pass rush. Again, no signs of any sort of blitz. Q-TimeDDYdPlayRushers2-0:49110D20Manning Sacked by Ware43-0:5232D46Manning Intercepted by McCray4 Pass Rushers Against New York- 31 pass rushblitz situations: Pass Rushers1st D2nd D3rd D4th DTotal3 Rush031044 Rush105100255 Rush011026 Rush000007 Rush00000 Not much to look at here, but nevertheless, here is the blitzing chart. One should wonder if the Cowboys adjusted their plan based on the score, but honestly, your first instinct would be to guess that being way behind would result in more blitzes. We didn't see that at all. The game by game pressure numbers: Wk 1 - NYG: 1137 - 30Wk 2 - SEA: 1026 - 38Wk 3 - TB: 1232 - 37Wk 4 - CHI: 1227 - 44Wk 5 - BAL: 1027 - 37 Wk 6 - CAR: 939 - 23 Wk 7 - NYG: 231 - 6 Totals: 66229 - 29 It is all about incremental growth, and it seems that the Cowboys defense has done a pretty strong job through 7 games. But, every week in this league is a test, and the Atlanta Falcons have a fantastic offense right now. Having just watched them carve up Philadelphia with a very impressive deep-shallow game that utilizes the entire field, we know that Dallas will need all hands on deck and playing at a very high level of performance. The Falcons feature weapons at all skill positions and will test the Dallas corners for sure. But, it is pretty tough to take to much issue with the defensive job they did against the Giants in 2012, home and away.
Original Story:
http://www.foxsportssouthwest.com/10/...
THE BACKYARD
BEST OF MAXIM
RELATED ARTICLES
IRVING, Texas Every interception thrown by Tony Romo isn't necessarily his fault. That was a point Cowboys executive vice president Stephen Jones was trying to make during Thursday's practice at Valley Ranch. Romo has thrown a league-high 13 interceptions this season with nine of them coming in his last two games at Cowboys Stadium. "There's a lot of things that...
I would like to first wish everyone good spirits in lieu of Hurricane Sandy and say that I hope everyone out there is OK, and suffered little to no issues with this massive phenomena. The Week 9 WR rankings have two immediate concerns: Jordy Nelson of the Packers and DeSean Jackson of the Eagles. Jordy Nelson is dealing with a hamstring issue, but could've played last week...
Cowboys quarterback Tony Romo has thrown nine interceptions in his last two games at Cowboys Stadium with four coming in Sunday's 29-24 loss to the New York Giants. The franchise quarterback that has never tossed more than 19 picks in a season is on pace to throw 30 this year. At 32, critics are wondering out loud if Romo should be the Cowboys' quarterback of the future...
Brandon Carr was the Dallas Cowboys' big free agent signing during the offseason and expected to become a shutdown corner for their defense. The fifth-year cornerback did a good job against the Giants last weekend despite New York having some of the top wide receivers in the league (New York also didn't pass that much). How does Carr account for his good showing in Week 8 compared...
Last week: 16 (-1) Record: 3-4 The good news for the Cowboys is that they rank 8th in yards per play differential and 7th in rate of sustaining drives differential. The biggest issue, by far, has been turnover differential so far for them, as they have a turnover differential of -11, 2nd worst in the NFL. The good news is that turnover differentials are incredibly inconsistent, as...
The return of DeMarco Murray in Week 9 is far from certain. Murrary has been hobbled with an injured foot and did not play in Sunday's loss to the New York Giants. "It seems like he's moving around a little bit better," Garrett said. "Again, that's an injury you have to be patient with. We don't want to rush him back then take any backward steps. We'll see how he...
The New York Giants beat the Dallas Cowboys on Sunday by five points because Dez Bryant couldn't move his hand about 3 inches. In actuality, the Cowboys lost the game because Tony Romo threw the ball to the Giants 7 million times. The effort by Bryant was spectacular. It was a great catch, but unfortunately his hand landed a couple inches out-of-bounds.
Dear Tony, I tried my best to avoid writing this letter, but at the end of the day I just couldn't help it. I have two issues I'd like to address. The first has to do with the picture above. This was right after you rushed for a 1-yard touchdown. You celebrated as if you just won the Super Bowl. At that point in the game, the Cowboys were still losing and you had already thrown...
Expect an exciting tight end battle this Sunday night between Jason Witten and Tony Gonzalez.  Both of these players are the star tight ends of the league.  Witten just came off of an 18 reception, 167 yard game.  Gonzalez is a little inconsistent, but you can't risk benching him.  Coming off of a bad game last week and with an opponent like Witten this week, Gonzalez will...
NFL News

Delivered to your inbox

You'll also receive Yardbarker's daily Top 10, featuring the best sports stories from around the web. Customize your newsletter to get articles on your favorite sports and teams. And the best part? It's free!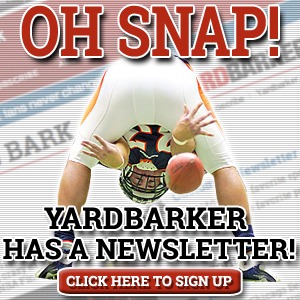 Latest Rumors
The Backyard

Today's Best Stuff

For Bloggers

Join the Yardbarker Network for more promotion, traffic, and money.

Company Info

Help

What is Yardbarker?

Yardbarker is the largest network of sports blogs and pro athlete blogs on the web. This site is the hub of the Yardbarker Network, where our editors and algorithms curate the best sports content from our network and beyond.