Found January 18, 2013 on Rams Herd:
PLAYERS:
Chris Givens
,
Janoris Jenkins
,
Sam Bradford
,
Brian Quick
,
Lance Kendricks
,
Brad Smith
,
Mark Sanchez
,
Jeff Fisher
,
Tim Tebow
,
Johnny Hekker
TEAMS:
St. Louis Rams
,
Jacksonville Jaguars
,
Buffalo Bills
,
New York Jets
,
Dallas Cowboys
For the team with the worst record in professional football just a year ago, playmakers are definitely in high demand for the St. Louis Rams.  With no real "elite" prospects at the wide receiver position and the Rams having more pressing needs at other positions, I would not be pleased if the Rams took a receiver in the first round.  There is one playmaker though that the Rams should seriously consider taking after day one of the 2013 NFL draft.    Denard "Shoelace" Robinson It is almost impossible to watch the above video and not wish to have that kind of athlete on your football team.  No I'm not saying to trade Sam and run the pistol option to keep up within our division; you need a quarterback who can accurately throw the ball for that to succeed and Robinson has already acknowledged that he doesn't have the best arm out there.  Robinson will play receiver in the Senior Bowl despite not being very polished, catching only three passes in his career, but his elite speed and athleticism should prolong his longevity in the NFL.  Having that kind of talent can make you a very versatile player anywhere outside of the trenches. One area that Robinson can come in and immediately contribute is in the return game.  According to Football Outsiders, the Rams are dead last in starting field position with 23.72 as their LOS/Dr (represents average starting line of scrimmage per drive).  That number should have been higher if we used WR Chris Givens or CB Janoris Jenkins more in the return game, but risking two starters to injury is something you should only do when the time calls for it.  Robinson has exceptional ball-carrier vision and can make something out of nothing which should help the Rams have better starting field position. Following yesterday's news that the Jacksonville Jaguars has hired Gus Bradley, Ram's fans can finally be rest assured that Sam Bradford will not have his fourth offensive coordinator in as many years, and that Brain Schottenheimer will remain as the Ram's OC.  With Schottenheimer returning to the Rams, you can sure bet that the playbook will be expanded and should see a much more evolved offense that will do just more than keep games closed.  To have a sense of what we might expect to see in the 2013 season, we take a look at the personal that Schotty had during his tenure with the New York Jets.  We have a tall possession receiver in Brian Quick (Edwards/Plaxico), a speedster who can evolve into a #1 threat with Givens (Holmes), a stable of veteran and young backs with the Jackson/Richardson/Pead trio (Tomlinson/Greene/Mcknight), and a Tight End showing some hands with Lance Kendricks (Keller); but who is our Brad Smith? Brad Smith was a former Missouri QB that was drafted by the Jets in 2006 as a Widereceiver/Runningback/Quarterback in the fourth round.  Schotty also started his job as an offensive coordinator for the Jets in 2006 and has used Brad Smith in a bounty of ways lining him up all over the field in different positions.  I would also like to add that in the two years that Mark Sanchez had Smith, the Jets went to the AFC championship game.  When Smith left the Jets for the Buffalo Bills in 2011, the Jets failed to make the playoffs.  I'm not saying that Smith could have been the savior to the train wreck that is the Jets, but having another weapon in Sanchez and Schotty's arsenal definitely helps. Denard Robinson can be used in a similar way and could even be more effective than Smith.  The Rams could throw Robinson in there at times as a wildcat option quarterback as a wrinkle to throw defenses off.  You could also design some screen passes to Robinson to take advantage of his pure athleticism and speed.  Whenever Robinson is on the field, defenses has to respect his playmaking ability to take it to the house on any given play. One could argue that this could lead to another Tebow situation, having some snaps and plays designed for Robinson and not having Sam Bradford in the backfield, but I can almost bet that Jeff Fisher and the Rams will handle it way better than the Jets.  I don't know if many Rams fans still remember but the Rams were supposedly to have a potential interest of Tim Tebow's services in last year's off season, which was discussed by Mike Sando. (http://espn.go.com/blog/nfcwest/post/_/id/61565/the-rams-potential-interest-in-tim-tebow)  Whether or not the Rams were serious about getting Tebow or not, you have to wonder how he would be used in the offense.  My best bet is that Schotty probably wanted someone to play the wildcat QB role to alleviate some pressure off of Bradford.  Whatever the case may be, Jeff Fisher has said that the main reason why he came to the Rams is because of Bradford and that Sam is his guy so we should not worry about any quarterback controversy. Former Dallas Cowboys general manager Gil Brandt has said that he would draft Denard Robinson to play cornerback, but I'd like to see Robinson as a gunner on the punt team.  When you play Patrick Peterson twice in your division, you better have guys who can get down field quickly.  Robinson has run the 40-yard dash in 4.32 seconds so I think it's safe to assume that he can get down field faster than most players.  Having faster guys as gunners should also alleviate the pressure on punter Johnny Hekker as he learns how to directional punt. If Robinson can show that he can be successful as a gunner, Jeff Fisher is going to have the loads of fun designing fake punts.  Fisher's teams have shown numerous special teams trickery dating back all the way from the Music City Miracle to the two successful fake punts in San Francisco.  In almost any fake punt situations, teams will always take into account Robinson's presence which could in turn free up another player to have a successful fake punt go for a first down or a touchdown. ESPN's Mel Kiper expects Robinson to go in the second round and I really think the Rams should consider him for the above reasons.  If Robinson shows some hands in the Senior Bowl, the Rams should scoop him up before falling victim to him later.
Original Story:
http://www.ramsherd.com/2013-articles...
THE BACKYARD
BEST OF MAXIM
RELATED ARTICLES
Pittsburgh Steelers' Wide Receiver Mike Wallace is heading toward free agency in 2013, and into the welcoming arms of some desperate wide receiver needy team. Now don't get me wrong, Dwayne Bowe will be another name teams will be going after, but Wallace would be the best option for any team looking for a receiver. One of the big benefits to signing Mike Wallace in the off-season...
The St. Louis Rams have no shot to make the Playoffs in 2012, but the Rams made big improvements and everyone is left wondering what the St. Louis Rams roster changes will be in 2013. The first place to look for roster changes in 2013 is on the offense with the Ram wide receivers. The Rams have to face up to the facts that they need a veteran wide out to round out the group and 2013...
After interviewing with the Rams, defensive coordinator Rob Ryan left St. Louis without a contract, according to Jason La Canfora of CBS Sports. Rams interview with Rob Ryan for D coordinator spot is complete. He departed without a contract — Jason La Canfora (@JasonLaCanfora) January 20, 2013 I think Ryan is a very good coordinator that has worked with some bad teams.  The problem...
There has been speculation over the past year that the St. Louis Rams could eventually move back to Los Angeles. The agency that operates the Edward Jones Dome rejected a proposal for improvements that was submitted by the team. The two sides are beginning arbitration and, if improvements are not made to the stadium, the team could break its lease and move. Rams players were well...
Is Steven Jackson contemplating retirement if he does not get the deal he wants in St. Louis? (Credit: AP Photo) Before the last game of the season St. Louis Rams running back Steven Jackson spoke about possibly retiring at the end of the season. Jackson then backtracked and said he was only answering a question posed to him by a journalist. Now, it appears as though Jackson was...
St. Louis Rams running back Steven Jackson told Michael Fabiano of NFL.com that he plans on sitting down with the Rams this offseason.  He hasn't ruled out the possibility of retiring. Steven Jackson told fantasy editor Michael Fabiano he plans to sit down with the St. Louis Rams in the offseason to determine his options, but admitted that "retirement is an option" if he's...
Could you imagine if you had to deal with a different boss every year.  A different boss with a new set of rules and new set of guidelines on how you do your job. With guidelines on how much flare you need to wear.   Sam Bradford has had a new offensive coordinator each of his three years in the NFL with the St. Louis Rams. Brian Schottenheimer was being considered for the Jacksonville...
Steven Jackson joined the NFL Network on Friday and mentioned that he still considers "retirement is an option" as he heads into the offseason. Jackson, 29, reworked his contract during the season, which will allow him to be become an unrestricted free agent in a matter of months. He has a $7 million player option for the 2013 season, but odds are that he'll decline the option...
Well, Bob, here we are again. It's the end of the year, and we've got guys whose contract with the Rams is up. It's a fun time, isn't it? I mean, fun for us, not so much for these guys who just spent five months getting the you-know-what beat out of them every week, and now they have to prove to us that they're not too old or too beat up for us to pay them to do it again...
It was reported a couple of weeks ago that former Cowboys defensive coordinator Rob Ryan was hired by the St. Louis Rams.  In the end, that report was false since he was on vacation. According to ESPN's Ed Werder, Ryan will interview for the Rams'  defensive coordinator job. Fired Cowboys defensive coordinator Rob Ryan is interviewing for the same position today with the Rams...
NFL News

Delivered to your inbox

You'll also receive Yardbarker's daily Top 10, featuring the best sports stories from around the web. Customize your newsletter to get articles on your favorite sports and teams. And the best part? It's free!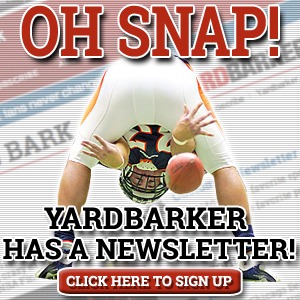 Latest Rumors
Best of Yardbarker

Today's Best Stuff

For Bloggers

Join the Yardbarker Network for more promotion, traffic, and money.

Company Info

Help

What is Yardbarker?

Yardbarker is the largest network of sports blogs and pro athlete blogs on the web. This site is the hub of the Yardbarker Network, where our editors and algorithms curate the best sports content from our network and beyond.