Originally written on
BroncoTalk
| Last updated 10/20/14
Peyton Manning and other Denver Broncos quarterback prepare to throw as they warm up for the first training camp practice of the 2012 season. (BroncoTalk.net photo) The first training camp practice of the Denver Broncos in 2012 went off without a hitch, and in front of a record crowd. "It was a good first day," Peyton Manning said. "You can tell guys have been working. Guys have continued their training since OTA's." It was a particularly good first day for Manning. The Broncos' new starting signal caller looked and sounded sharp on the field, and he had the ringing support of the 4,372 fans in attendance. Every completion (and his passes were completions, far more often than not) was greeted by a roar of applause from the surrounding grassy knolls. Manning didn't display exceptional arm strength by any means, but was crisp with his throws and accurate in his timing. The crowd got excited, and for good reason. ATTENDANCE REPORT: WR Brandon Stokley (flu) was out. DT Justin Bannan (calf) was limited. DE Jason Blatnick (ankle) was limited. G Chris Kuper practiced fully and without any brace or boot, although G Manny Ramirez saw most of the first team snaps. RB Knowshon Moreno practiced fully with a large brace on his right knee. Denver Broncos rookie defensive lineman Derek Wolfe runs between drills during training camp. (BroncoTalk.net photo) OBSERVATION #1 – McGAHEE WILL BE INVOLVED The Broncos may have a future Hall of Famer at quarterback, but that doesn't behoove them to practice slant routes all day. Manning's favorite target of the day was Willis McGahee, and when you stop for a moment to think about it, it makes sense. The Broncos are a very young group at wide receiver and tight end (excluding Stokley, who sat today), so a veteran like McGahee offers tested reliability the other positions lack. Not only did Manning execute an offense heavily invested in the run game (his first five snaps in full team drills were all running plays), but when he dropped back to pass, McGahee was often his target. OBSERVATION #2 – ROOKIE D-LINEMEN DOMINATE Rookie Derek Wolfe lined up at defensive end and took ownership of the position in team drills. Ryan Harris was able to handle the rookie in individual work, but Wolfe was relentless and impressive in the larger setting. Fellow rookie defensive end Malik Jackson also looked unstoppable at times. In consecutive individual drills, Jackson first sent Baylor rookie C/G Philip Blake to the floor, then penetrated past his next blocker to the hoots-and-hollers of his coaches and teammates. Denver Broncos quarterback Adam Weber throws during training camp July 26, 2012. (Andrew Mason/MaxBroncos.com) OBSERVATION #3 – BACKUP QB'S STRUGGLE It wasn't the most impressive workout for any quarterback not named Peyton Manning. Caleb Hanie was the #2, with Adam Weber coming in at #3 and rookie Brock Osweiler pulling up the rear, but they seemed to almost perform opposite of that order Thursday. Hanie didn't do much to impress and had a ball or two batted down in team drills. Weber threw an interception that actually became the last play of practice (an interesting way to end things). Meanwhile, Osweiler has a different delivery, and watching it takes some getting used to, but he got the ball where it needed to be more often than not. One bomb down the left sideline was perfectly placed just beyond the tight coverage around WR Tyler Grisham, but Grisham just failed to haul it in. It would have been the highlight throw of camp had it been complete. Osweiler also came out of the pocket and scrambled at least once; at 6-8, that's an even more awkward sight than his delivery. OBSERVATION #4 – PLAYERS ARE IN GREAT SHAPE It's inevitable, every training camp, to see players needing a break or clutching their sides on the sidelines in the early goings as they get back into "camp shape" (Montrae Holland anyone?). That isn't the case here: these Broncos are already in camp shape. No one was taking it easy on the bags or dummies as I've seen in years past, and everyone was going full speed. "You can tell guys have been working, guys have continued their training since we broke OTAs," Manning said. "The intensity and the effort was good, and we'll just keep trying to build off of that." OBSERVATION #5 – RAHIM MOORE BACK IN THE STARTING LINEUP The starting defensive unit will rotate in and out as camp progresses, but here is how I saw them line up during 11-on-11′s near the end of practice: Defensive End: Robert Ayers, Elvis Dumervil
Defensive Tackle: Ty Warren, Mitch Unrein
Linebacker: Von Miller, Joe Mays, Wesley Woodyard
Cornerback: Champ Bailey, Tracy Porter
Safety: Mike Adams, Rahim Moore OBSERVATION #6 – CALDWELL GETS LOUDEST CHEER The loudest cheer of Day One came via Andre Caldwell, who hauled in Manning's deepest pass down the left sideline after Manning bellowed "GO! GO!" MISCELLANY
Matthew Willis made a couple of nice grabs and continues to be a camp darling. Maybe this will be the year he sees it translate to gameday.
Tight end Virgil Green made the toughest catch of the day, a leaping grab over the middle from Hanie in traffic.
Just like we've all seen on Sundays, Manning is a general out there, even during practice. It was a treat listening to him bellow audibles and execute the offense in 11-on-11 drills near the end of practice.
PHOTO GALLERY Check our Facebook page soon for a photo gallery from today's practice. NEXT PRACTICE The Broncos next practice tonight at 6:00 p.m. in a media-only walkthrough. I won't be there for this walkthrough as I'll be attending the Barrels of Love charity event. The next public practice is Friday at 2:20 p.m. MT.
Original Story:
http://broncotalk.net/2012/07/39211/b...
PLAYERS:
Peyton Manning
,
Brandon Stokley
,
Justin Bannan
,
Chris Kuper
,
Manny Ramirez
,
Knowshon Moreno
,
Derek Wolfe
,
Willis McGahee
,
Ryan Harris
,
Malik Jackson
,
Philip Blake
,
Adam Weber
,
Caleb Hanie
,
Brock Osweiler
,
Tyler Grisham
,
Montrae Holland
,
Rahim Moore
,
Robert Ayers
,
Elvis Dumervil
,
Ty Warren
,
Mitch Unrein
,
Von Miller
,
Joe Mays
,
Wesley Woodyard
,
Champ Bailey
,
Tracy Porter
,
Mike Adams
,
Andre Caldwell
,
Virgil Green
TEAMS:
Denver Broncos
MORE FROM YARDBARKER
Broncos News

Delivered to your inbox

You'll also receive Yardbarker's daily Top 10, featuring the best sports stories from around the web. Customize your newsletter to get articles on your favorite sports and teams. And the best part? It's free!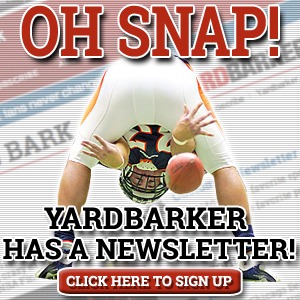 Latest Rumors
Best of Yardbarker

Today's Best Stuff

For Bloggers

Join the Yardbarker Network for more promotion, traffic, and money.

Company Info

Help

What is Yardbarker?

Yardbarker is the largest network of sports blogs and pro athlete blogs on the web. This site is the hub of the Yardbarker Network, where our editors and algorithms curate the best sports content from our network and beyond.