Found August 11, 2012 on Sports-Glory:
PLAYERS:
Peyton Manning
,
John Fox
,
Jacob Tamme
,
Eric Decker
,
Brock Osweiler
,
Derek Wolfe
,
Danny Trevathan
,
Chris Gronkowski
,
Chris Clark
,
Brandon Stokley
,
Caleb Hanie
,
Jason Hill
TEAMS:
Denver Broncos
The Denver Broncos beat the Chicago Bears 31-3 on Thursday night as Peyton Manning made his preseason debut in a Broncos uniform.  
After the game head coach John Fox, Peyton Manning, Jacob Tamme, Eric Decker, Brock Osweiler and Derek Wolfe spoke about their performances.
From the Denver Broncos team site:
John Fox
On injuries during the game
"Injuries from the game: Danny Trevathan had an ankle sprain, Chris Gronkowski had a groin pull, Chris Clark as well had a groin pull. All three of those left the game. Not serious, but it's something we'll manage moving forward."
On Peyton Manning's performance
"I thought it was good. It was a very good first outing. There were actually some bright spots all through the offense, defense and kicking game. For a guy that hasn't played in a season, had some medical issues, I think he's done outstanding, which you can expect from him. I thought it was very good."
On Manning's intercepted pass aimed at Brandon Stokley
"The ball got popped up a little bit, flopped around and their guy made a good play on it. Those things happen. I thought we rebounded pretty well. There were a couple turnovers in the game, probably a few more penalties than either team would like, but very typical of a first preseason game."
On Manning's third-down conversion to Eric Decker
"He's going to continue to improve. So hopefully that's the whole challenge of our team. It's a good first start, a good first outing. It's what we do from it from here on that's going to count."
QB Peyton Manning
On being back out on the field
"It felt good out – it's been awhile for me being back out on the field in a real game-like atmosphere for the preseason. It felt good to get out there and we can build on this and get ready to go next week against Seattle."
On his impressions of the game
"I don't know, we'll watch the film tomorrow as an offense and just judge it based on what the coaches say, things we need to improve on, things I need to improve on and always I think the key to the preseason – I heard Caleb Hanie talking about the key is always how you evaluate yourself and how you improve throughout the preseason. It doesn't matter what year you are in the NFL, the key is trying to get better through the preseason. That's what we hope to do and that's what I hope to do."
On whether he views this game as a milestone
"I think I always have to take the time just to say that I sure have come a long way in a year. I know how much hard work I put in (and) how much help I've gotten along the way. I know once we get to Pittsburgh, it'll all be about the game. I'm not going to be too reflective, but I've had a lot of trainers and doctors. Considering where I was a year ago, the fact that I was out there and took a snap and completed some passes today, it has been a long haul for me. That was rewarding, even that first snap, the very first play – that was a big step for me, maybe in some ways I've even gotten better – now I have the ability to throw the ball into the linebacker's hands and tip it to my own player (laughing). So maybe that's a positive. I'm not going to go through the names, but obviously the trainers and doctors here in Denver, the trainers and doctors in Indianapolis when I first was injured. And coaches and people that have really been supportive of me through my injury and have helped me, I have to thank them. They all know who they are because it's been a long haul since this time last year for sure."
Tight End Jacob Tamme
On the first drive of the game
"Obviously we didn't finish the way we wanted to, but overall the execution was pretty decent for the first game. Obviously we'll have to go back and watch the film. I'm sure there are a lot of things we could've done better, but I think overall guys were focused and excited. It was certainly exciting for me getting out there for the first time with this uniform on."
On whether Manning wanted to go back on the field after the first drive
"I don't know – I think we all did, though. I think everybody was wanting to get out there and get another shot. That wasn't in the cards tonight, but we'll have plenty of opportunities to keep getting the work in and keep getting better. We'll go back, watch the film, go back to work tomorrow and get back to camp."
On whether Manning acts like the same player from Indianapolis
"He's been acting the same pretty much for a while. I think everyone was excited to get out there, no one more so than him. It was fun. He was doing everything he always does."
Wide Receiver Eric Decker
On the first drive of the game
"Obviously we want to be able to establish ourselves in the running game, which I thought we ran the ball well. Protect great up front, allow Peyton to make those passes. We were able to find some holes in the cover two zones and again, converting on third downs. That's some big things that we're trying to accomplish this year. Just move the football and keep our defense off the field and score points when we get in the red zone, which unfortunately we didn't do this time. But it's something we can learn from.
On Manning being his own biggest critic
He's always criticizing himself. I think he'd rather a touchdown than the results we did. But you can take a lot of good from what we did. It's a building block. For the start of the season, I think we have a lot to learn from it. But it was a positive drive.
Quarterback Brock Osweiler
On his performance
"The receivers made plays. Really as a quarterback my job was kind of easy tonight."
On what he saw on his touchdown pass to wide receiver Jason Hill
"It was man coverage. That's kind of our bullets play. It's a real quick read. You have to make a quick decision if you're going to give the first read the football, if you're going to move on in the progression. Jason Hill did a tremendous job of getting a step on the defensive back. And I just let it out there for him and he made a heck of a play."
On what it was like playing his first game in an NFL stadium
"I was really just trying to soak in the moment. Actually the whole lightning delay really kind of helped with that. We weren't rushed for time or anything. It's been a dream of mine to play in the NFL since I was six years old. So tonight I really wanted to take in that moment. My parents were able to make the trip so that was very special to me to have them be here in the stands. Just to go out there and get the victory as a team tonight, that's what really matters and it's a good start for us."
Defensive Lineman Derek Wolfe
On his NFL debut
"It was nice to get out there and hit somebody else other than our own teammates and make some plays and actually have a live quarterback. It was fun."
On how good it felt to finally play a game in the NFL
"No, it's been a long time coming. It's been a lot of years waiting and a dream of mine, it was a dream come true to finally get out there and play."
On getting two sacks
"I always expect to make plays, but that's definitely a plus. Obviously there's things that could get better, probably could have made a couple more plays if I would have done some more things right, so you just have to do it right."
Original Story:
http://sports-glory.com/xn/detail/628...
THE BACKYARD
BEST OF MAXIM
RELATED ARTICLES
We're reading increased reports of big Orlando Franklin's possible shift from right tackle to a position in the interior of the offensive line, with right guard (somewhat surprisingly) being the most-discussed destination. The idea: move Franklin to right guard, then shift Chris Kuper over to left guard, replacing Zane Beadles. The move would put the Broncos' strongest offensive...
Here was Peyton Manning's final stat line by the end of the Broncos' first preseason game in Chicago: 4/7 for 44 yards, 1 interception and a 36.3 passer rating. If you read that stat line without watching the game last night, you'd think that Manning had an off game. In fact, you'd probably think he had a terrible game. From watching the tape, Manning did look...
For veteran cornerback Champ Bailey, the 2012 preseason will be anything but easy, even if he does feel like he is 23 years old again.  The Denver Broncos' exhibition schedule features several of the greatest wide receivers to ever play the game. Bailey will be busy, as can be observed by viewing the Broncos' preseason schedule, seen below: 2012 Denver Broncos Preseason...
Peyton Manning barking orders to the O-Line in the 2012 preseason victory over the Chicago Bears The Broncos weren't kidding when they said they were only going to give Peyton Manning 10-12 snaps. But after 60 minutes of preseason football, 10-12 snaps of those going to Manning, the Broncos walked away from Soldier Field victors. After a bludgeoning 31-3 victory over the Chicago...
During the Olympics, NBC routinely airs promos for the 2012 NFL season and Sunday Night Football on NBC. On Thursday night, the Denver Broncos opened the preseason with a 31-3 win over the Chicago Bears.  The game, televised locally on KTVD-Channel 20, drew better ratings than the Olympic games on Channel 9. Per the Denver Post's Joanne Ostrow — From 6:30-9:45 p.m. Thursday...
Click on the photo for more Denver Broncos girls Football season is about to start so honestly we could pick just about any team on the planet to rave about.   But eyes will definitely be on Denver this year as Peyton takes the reigns at QB.  Oh and the cheerleaders aren't too bad either.   Let's [...]
The Denver Broncos defeated the Chicago Bears by a score of 31-3 on Thursday night.  The Broncos are now 1-0 in preseason play. Game recap here.  Game Balls here.  Video highlights below: The Broncos will return to action next week when the Seattle Seahawks come to Denver for Week 2 preseason action on Saturday, August 18.
I'm back Juan… Peyton Manning was back in action for the first time in a long time and he looked pretty decent as he knocked the rust off. He only showed off his arm on a 19 yard gain to Eric Decker (my favorite Broncos WR this season), but he was picked off in the redzone on a ball he threw behind Stokely. I will have to see more to give him a full endorsement, but this was...
Denver was a great host city for UFC 150 with athletes and stars alike out to watch the rematch of Henderson/Edgar.  Here former safety of the Eagles and Broncos Brian Dawkins hangs with Mr White.  Dawkins was always a hard hitting SOB that probably could of had a career in MMA if he would have trained. Smooth Visits Broncos Camp Dana Wears Fuel TV Shirt
Just as quickly as Peyton Manning took the field in his first game as the Broncos new hope, San Diego Chargers running back Ryan Matthews may have squashed that very same promise with one play on Thursday night.  After a long summer of optimism and expectations surrounding the Chargers, a team that is notorious for hiccuping early in the season, Matthews received his first meaningful...
Last night, two AFC teams took to the field in their first preseason contests of 2012. Both games were fairly high profile, as the Chargers took on the Packers in a game that featured two on the NFL's best quarterbacks, while the Broncos took on the Bears, highlighted by the return of Peyton Manning. Here [...]
Post-game quotes from last night's 31-3 loss to the Denver Broncos in Chicago's preseason opener.
Broncos News

Delivered to your inbox

You'll also receive Yardbarker's daily Top 10, featuring the best sports stories from around the web. Customize your newsletter to get articles on your favorite sports and teams. And the best part? It's free!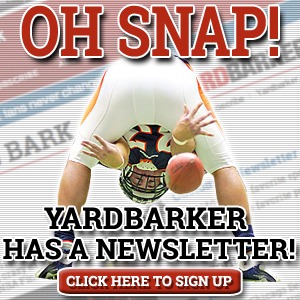 Latest Rumors
The Backyard

Today's Best Stuff

For Bloggers

Join the Yardbarker Network for more promotion, traffic, and money.

Company Info

Help

What is Yardbarker?

Yardbarker is the largest network of sports blogs and pro athlete blogs on the web. This site is the hub of the Yardbarker Network, where our editors and algorithms curate the best sports content from our network and beyond.