Found March 05, 2012 on Philly Sports World:
DeSean Jackson, wide receiver for the Philadelphia Eagles holds his future and possible the future of this Eagles incarnation in his hands this season if he winds up signing and playing out his franchise tender. So the Philadelphia Eagles have finally made the move that everyone expected, and franchise tagged DeSean Jackson. So the big question is what will the Eagles do with him now? According to Eagles' GM Howie Roseman, the Philadelphia Eagles have every intention of signing DeSean Jackson to a long term contract. However, if you actually look at the situation rationally, you'll realize they have already had a full year to do just that. Ever since the NFL ratified a new collective bargaining agreement, the Eagles could have locked Jackson up and kept him an Eagle for the foreseeable future. But they have not done that. I am quite sure that part of that is because of agent Drew Rosenhaus' assertion that Jackson is a top 5 Wide Receiver, while the Eagles believe his value lies somewhere below that. But as I have laid out previously, I also understand the Eagles' position. It's hard to commit millions of guaranteed dollars to a player who may be a hit away from the end of his career. In franchising DeSean Jackson, the Eagles have committed top 5 money to a receiver who did not quite play like a top 5 receiver last year, and though he had a solid year, was a bit of a disappointment. But, there is solace for the Eagles that they did not commit top 5 money beyond this year. Jackson got his due, and the Eagles still have some control in this situation. That pretty much makes this the put up or shut up year for Jackson. He has all along contended he deserves big money, and now he has it. There are no more excuses. There are no more distractions for him. Jackson must go out and prove on the field that the Eagles should pay for a longer term. Jackson also needs to prove that he can be a reliable teammate and that he is willing to do the things that are necessary to help his team win. I will never under value DeSean Jackson's ability. What Jackson does to opposing defenses is something that unquantifiable. He means far more to the Eagles' offense than most know and understand. It's his attitude and the way he has gone about things in the past that make me question what his place is in this organization. Those things can also undo and undermine what Jackson brings to the team. With all of that all too well chronicled, the difference in this situation seems to be DeSean Jackson's attitude. Had Jackson reported to camp on time last year and worked hard during camp, he probably would have a multi-year deal in place already. Instead, Jackson held out of camp and took his frustration with his lack of a deal public. He further compounded the situation by his short-arming of passes and diva-like behavior on the field in the regular season. The Eagles could still wind up attempting to trade Jackson, in hopes that they could net something significant in return.  I don't really see that happening though since the Eagles have kind of undermined themselves by suspending Jackson and benching him during a game last season.  Those are not things that show that a team are in full support of a player, and other teams would certainly bring that up if there were trade talks to commence.  Ultimately, I believe this will hinge upon which DeSean Jackson takes the field this season.  Will it be the player we saw explode onto the scene in 2008?  Or will it be the disgruntled diva that we got to see last season?  Time will tell on this, but it's hard to envision the Eagles offense (read Jeremy Maclin and LeSean McCoy) being as prolific without the threat of DeSean Jackson on the field. Jackson is the one who turned fans and an organization into critics, and now, he's the only one who can silence them. Similar Posts:
If Desean Jackson Leaves the Eagles Nest, Who Replaces Him
Breaking News: Philadelphia Eagles Play Tag, DeSean Jackson's It
Plaxico Burress Still Very Interested in Joining Philadelphia Eagles
Trent Edwards Livin' The Dream, Vince Young Not So Much
An Objective, If Not Delusional Look at the Eagles Castillo Year 2
Original Story:
http://phillysportsworld.com/desean-j...
THE BACKYARD
BEST OF MAXIM
RELATED ARTICLES
Photo via PhiladelphiaEagles.com The Philadelphia Eagles have used the franchise tag on disgruntled wide receiver DeSean Jackson—but don't be fooled, he will be out of Philly faster than he can run a 40-yard-dash. Conventional wisdom shows us when a team tags a player, it means the organization wants them to stick around and usually has intentions of working on a long-term deal...
Jonathan Daniel/Getty Images This was originally slated to be about five free agents, but in all honesty, the Philadelphia Eagles don't need to sign free agents like that.  Not this year.  Not after last year. Free agency is fun to talk about and the rumors provide a lot of entertaining conversation, but it is just not the way to truly build a strong football team.  Free agency...
Over the weekend, the Philadelphia Eagles used their franchise tag on DeSean Jackson Days after Plaxico Burress publicly stated he wanted to play for the Philadelphia Eagles, the team placed the franchise tag on DeSean Jackson. They issued the following statement: "We want DeSean to be an Eagle for the long haul and this is a step in the right direction to accomplish that. DeSean...
How much interest do the Eagles have in LB Dan Connor? It's a refrain you have heard–and likely said–many, many times. In order for the Eagles defensive to have a chance in 2012, the team must make some major improvements at the linebacker position. Whether it be through the draft, free agency, or both, the Birds cannot ignore this need. It is screaming for attention. Thankfully...
The Philadelphia Eagles today announced they have signed LB Monte Simmons. An undrafted free agent signing of San Francisco in 2011, Simmons (6-3, 226) spent his entire rookie campaign on the 49ers practice squad. A four-year defensive end at Kent State, the 23-year-old finished his collegiate career with 21.5 sacks, three shy of the school record. He earned second-team All-MAC...
Remember Michael Vick's epic 30th birthday party two years ago? Of course you do. That was the one that resulted in a parking lot shootout and one of Vick's co-defendants in his dog fighting case being shot in the leg after birthday cake was allegedly smashed in someone's face. According to a report Saturday by the Daily Press, that wasn't the only fun that went down at the...
Image via Yahoo! Sports A few weeks ago, we discovered that Ron Jaworksi would no longer be part of ESPN's Monday Football Lineup. Instead, Jon Gruden and Mike Tirico will man the MNF booth as a duo. While the news initially seemed to be a smack in the face to Jaws, he was given a 5-year contract extension by the sports network. And now we have some idea of what some of his new...
Fallen College Football Star, Marcus Vick finally turned himself in to the Newport News sheriff Sunday night. The 27-year-old Newport News native and younger brother to Philadelphia Eagles star quarterback Michael Vick had been sought on a bench warrant for repeatedly failing to appear in court to answer to a two-year-old traffic charge. Now he's serving 10 days for contempt; with...
Photo: zimbio.com Crazy thought for the day: If Houston defensive end Mario Williams becomes a free agent, would the Philadelphia Eagles go after him? I've been watching the Texans and how they handle the situation with Arian Foster and Mario Williams.  My thinking was that there wouldn't be any chance that either would hit the free agent market, especially Foster. However,...
"Never eliminate Andy Reid in the quest for a quarterback. He loved RG3 @ the combine." [Via Tim McManus]
Eagles News

Delivered to your inbox

You'll also receive Yardbarker's daily Top 10, featuring the best sports stories from around the web. Customize your newsletter to get articles on your favorite sports and teams. And the best part? It's free!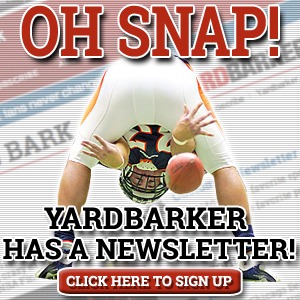 Latest Rumors
Best of Yardbarker

Today's Best Stuff

For Bloggers

Join the Yardbarker Network for more promotion, traffic, and money.

Company Info

Help

What is Yardbarker?

Yardbarker is the largest network of sports blogs and pro athlete blogs on the web. This site is the hub of the Yardbarker Network, where our editors and algorithms curate the best sports content from our network and beyond.