Found November 06, 2012 on Purple Jesus Diaries:
It goes without saying that Minnesota Vikings quarterback, Christian Ponder, is struggling after a hot start to the season. He went four games without throwing an interception (the last starting NFL QB in 2012 to do so!), and was posting completion percentages above 60% for the first six games as well. But since then, Ponder hasn't been able to connect on more than 54% of his passes and has thrown for nearly 360 yards, TOTAL, in his last three games. Clearly teams have adjusted to his playing style and he has yet to do the same. For some players, it's difficult to look at yourself on tape and realize what you're doing wrong, or what changes may help you fix your game and take you to the next level. For Ponder, that's ESPECIALLY difficult because he's just doing so many things wrong. So we at Purple Jesus Diaries have decided to help him out and break down undoctored, legitimate game pictures of him to help him understand what he needs to change to get back to being a successful NFL quarterback. Pictures and suggestions after the jump: EXAMPLE A: OK, here is the first example. As you can see, there are PLENTY of things that are wrong with this picture that are just butchering Ponder's chances of becoming a great NFL quarterback. So let's explore them in more detail: 1. First, he's looking the wrong way from where he's throwing the ball. While there is clear benefit to looking off a safety before throwing a pass, science has shown that when you're actually THROWING a ball, tossing to a target in your peripheral vision instead of in your direct sight is never as high percentage of a throw. 2. While you wouldn't think it'd make a big deal since it's his non-throwing had, you do have to consider the fact that Ponder appears to be a cripple by looking at his left hand in this picture. Living with that disability every day must be difficult, and clearly it is influencing his play. 3. Finally, the ball in this picture is clearly being shot from his forearm like it's some type of projectile weapon. This clearly works for quarterbacks who are part robot like Peyton Manning, but Ponder is a human being, and needs to develop better mechanics that include gripping a ball, and throwing it in a forward motion. Lobbing a football off of one's forearm is bound to end up as a lazy pass, which can easily be picked off. EXAMPLE B: This example similarly shows what's wrong with his decision making and throwing motion, as we'll break down a bit further in each point: 1. Ponder clearly tried a different throwing motion in this image after his "Rocket Arm" attempt didn't work. Well, this one isn't working either. Call it the Overhand Toss or the Granny Pass, but throwing a football downward at your receiver's feet with two hands is a low percentage attempt. Again, he needs to find a one handed, forward throwing motion as was first developed by the Native American people of this land who would throw rocks at White settlers. 2. On display in this photo as well is Ponder's poor decision making. He's clearly trying to throw to someone like Michael Jenkins or Allen Reisner off screen in this shot, while the best football player on the planet in Adrian Peterson is wide open, with no defender around him, directly to his right. I guess I can't tell if Peterson was maybe his second or third read on this play (NO WAY was he the fourth option!), but Ponder needs to go through all of them before deciding who he will pass to. 3. Finally, his posture is completely wrong in this photo. You can tell that he's wound himself up like a Weeble Wobble and rocked his body forward at the waist in an effort to get more forward momentum on his attempted two handed pass here. It didn't work, obviously, and someone needs to teach him to drive with his legs better on passes. EXAMPLE C: This third example is perhaps the most galling example of all why Ponder has been struggling. As we break down the details here, keep in mind that this is a QUARTERBACK, not a child dressed up for Halloween: 1. First, his eyes are closed. Closed! He's gone from throwing to someone by guessing who his target is in his peripheral vision to not even bothering to look at them. Is this like Pin the Tail on the Donkey? Or are we just pinning the loss on the quarterback? The only reason I would allow this is if he was a Force adept, and clearly he thinks all that stuff is still some kind of hokey religion and ancient form of football. 2. But you can see what the repercussions are. Instead of grabbing onto a football to attempt a pass, Ponder instead found his facemask and was attempting to throw his own head during the play. You can even see Toby Gerhart attempting to run up behind him and orient him properly before a sack occurs, but it was probably to no avail. 3. Finally, and this has always been his biggest misstep, he continues to insist that he wear a shirt on the field when playing. Doing so restricts his natural movements and abilities, limiting him in both physical capabilities and intellectual potential. Removing the shirt while playing would show him a sense of freedom he's NEVER experienced, and really rally the crowd behind him. Even during away games! EXAMPLE D: In this final example, we see a couple of additional problems that creep up in recent play from Christian Ponder: 1. Ponder by no means is a seasoned veteran NFL player, but he has played his fair share of games in college and now at the pro level where he shouldn't be so distracted by this juvenile attempt by Clemmons to distract the quarterback. Yet, it still somehow worked. Clearly, throwing your hands up and yelling loudly still convinced Ponder he should throw the ball in your general direction so you may either knock it down or intercept it yourself. Hopefully a better defense like the Bears aren't aware of this tactic. 2. Also, skipping through your drops, roll outs, or follow throughs has never proven to be an effective way to pass the ball. But it's not just the skipping, it's the pointing of the toes and the elevation of the entire body off the ground, so you hover somewhere between a "ski," a "kick" and a "jump pass." This shot veers dangerously close into the jump pass territory, something which has been proven to spell disaster for several teams. But hope is not lost. Hopefully by taking in the notes we've left here, Christian Ponder will be able to right the ship and lead the team to additional wins this season, and at least allow us to flirt with a playoff spot. Do you think he has it in him to learn from his mistakes? Let us know in the comments. [follow]
Original Story:
http://www.purplejesusdiaries.com/201...
THE BACKYARD
BEST OF MAXIM
RELATED ARTICLES
Minnesota Vikings quarterback Christian Ponder has not played well over the last several games. After a hot start to the season in which he led the Vikings to a 4-2 record and threw eight touchdowns and only four interceptions in six games, Ponder has struggled over the last three weeks. He was particularly bad in a loss to the Seattle Seahawks on Sunday. Ponder was an abysmal 11...
It's been an up-and-down season for Minnesota Vikings quarterback Christian Ponder. The second-year player out of Florida State started the season with the Vikings winning four out of their first five games, while Ponder never completed less than 60 percent of his passes. However, Minnesota's fortunes have changed along with Ponder's, as the team has lost three of its...
EDEN PRAIRIE, Minn. Christian Ponder has thrown for a fewer than 100 yards in two of the Minnesota Vikings' past three games, a staggering stretch that has many wondering what has caused the passing game to stall.Ponder knows he returns for a home game this week in front of a crowd that could be ready to boo and ask for backup quarterback Joe Webb to be inserted into Sunday...
It's been an up-and-down season for Minnesota Vikings quarterback Christian Ponder. The second-year player out of Florida State started the season with the Vikings winning four out of its first five games, during which time Ponder never completed less than 60 percent of his passes. However, Minnesota's fortunes have changed along with Ponder's, as the team has lost three out...
Vikings coach Leslie Frazier insists that quarterback Christian Ponder is in no danger of losing his job despite another subpar effort Sunday against the Seahawks.Fantasy Spin:Ponder finished the afternoon with just 63 yards passing and a 37.3 quarterback rating. He's thrown at least one interception in each of his last five games and certainly won't fare much better next...
LAND OF 10,000 TAKES
After getting off to a good start this season, Vikings QB Christian Ponder has been struggling but insists dating ESPN's Samantha Steele has nothing to do with it.
The Vikings are searching for answers to what troubles their passing game, but QB Christian Ponder said nothing specifically stands out to him about what is wrong.
Christian Ponder is coming off an 11-of-22 for 63 yard and one INT performance against Seattle on Sunday so you can understand why he's a little testy towards questions about his hot girlfriend Samantha Steele. Ponder went on KFAN in Minneapolis this week to answer questions about the Vikings two-game losing streak and whether his struggles have anything to do with the sideline...
EDEN PRAIRIE, Minn. Minnesota Vikings coach Leslie Frazier sees an onion when he sees the team's passing offense lately. Finishing under 100 yards passing for the second time in three games, Minnesota coaches plan to head into full-out evaluations of quarterback Christian Ponder, the schemes and game plans of offensive coordinator Bill Musgrave, the route running and separation...
Christian Ponder has been a sore point in the Vikings' passing game, but he isn't the only thorn causing irritation. We review the numerous aspects of the passing offense that went wrong, patched together with reaction from Leslie Frazier and others.
(Eds: APNewsNow. Will be updated. With AP Photos.) By DAVE CAMPBELL AP Pro Football Writer Minnesota's passing game has been sputtering. Tight end Kyle Rudolph might be one way to help get it going. Rudolph is a close friend of quarterback Christian Ponder. They were the team's first two draft picks last year, and they've forged an obvious connection on the field. Five...
Last week: 12 (-7) Record: 5-4 In his last 4 games, Christian Ponder completed 73 of 126 (57.9%) for 724 yards (5.7 YPA), 4 touchdowns, and 6 interceptions, all less than stellar team performances (0-3-1 ATS, 1-3 SU). The only reason it was even close against Seattle was because Adrian Peterson went nuts, but as talented as he is, he can't do it by himself. Even worse, their only...
Vikings News

Delivered to your inbox

You'll also receive Yardbarker's daily Top 10, featuring the best sports stories from around the web. Customize your newsletter to get articles on your favorite sports and teams. And the best part? It's free!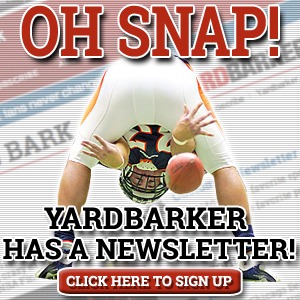 Latest Rumors
Best of Yardbarker

Today's Best Stuff

For Bloggers

Join the Yardbarker Network for more promotion, traffic, and money.

Company Info

Help

What is Yardbarker?

Yardbarker is the largest network of sports blogs and pro athlete blogs on the web. This site is the hub of the Yardbarker Network, where our editors and algorithms curate the best sports content from our network and beyond.