Found September 06, 2012 on The Jaggernaut:
The regular season kicks off on Sunday afternoon, as the Jacksonville Jaguars will head to Minnesota to play the Vikings. The Jaguars are much improved offensively from a year ago, and on paper, this is a game that the Jaguars should win. Personally, Iā€™m not really a believer that the past plays a part in the present with sports. Yet, itā€™s still worth a look. With that said, is history on the side of the Jaguars in the regular season opener? Jacksonville has played Minnesota four times. The Jaguars are 1-3 against the Vikings all-time, with Minnesota outscoring Jacksonville 110-71 (28-18 average game score, in favor of the Vikings). When playing in Minnesota, the Jaguars are 1-2. In their first road game of the year, the Jaguars are 7-10 (.412) all-time, with the average score of 20-16 in favor of the opponent. In 10 of their 17 seasons as a franchise (59%), when the Jaguars have won the preseason finale, they have lost the regular season opener, and vice...
Original Story:
http://www.thejaggernaut.com/2012-art...
THE BACKYARD
BEST OF MAXIM
RELATED ARTICLES
Wide receivers in the NFL have always been players that need at least three years before they break out, but because of the expansion of the passing game in college football has led to more wide receivers every year making an impact in their first year. In 2008, it was DeSean Jackson that sparked the Philadelphia Eagles offense to the NFC Championship game. In 2009, Mike Wallace...
With Week 1 of the NFL season already upon us, two of the leagueā€™s top runners are facing an uphill battle to get back into shape. Maurice Jones-Drew missed all of Jaguars training camp while holding out for a new deal, but he returned over the weekend without one. Adrian Peterson has been trying to make a rapid recovery from major knee surgery. While the Jaguars stood strong and...
JACKSONVILLE, Fla. (AP) -- The Jacksonville Jaguars will be without starting outside linebacker Daryl Smith for the season opener at Minnesota. Coach Mike Mularkey ruled Smith out Friday, saying he had a setback with his groin injury earlier in the week. The Jaguars also likely will be without cornerback Derek Cox. He is doubtful for Sunday's game. Receiver Justin Blackmon...
2011ā€™s 1st round draft pick stepped into the Jags line up as the starting QB, supplanting both Jacksonville fan favorite David Garrard and journeyman Luke McCown by Week 3.Ā  On paper that may sound impressive, but considering that the ā€œTeal Catsā€ finished 5-11, it could be (and has been) argued by many NFL experts that Blain Gabbart was not the best option as Jacksonvilleā€™s...
Minnesota Vikings running back Adrian Peterson showed some support to his buddy Maurice Jones-Drew some by also knocking his team.Ā  He says the Jaguars would be terrible if they didnā€™t have MJD. Peterson throws some support to his buddy MJD. ā€œHeā€™s their whole offense. Without him Jaguars would be terrible.ā€ ā€" Tom Pelissero (@TomPelissero) September 6, 2012 Iā€™m sure...
When the Jacksonville Jaguars take kickoff their 2012 NFL season this weekend, I will be looking for some key players. Players to begin their careers, extend their careers or come into the prime of their careers. Who are they? Letā€™s find out. The big news is obviously RB Maurice Jones-Drew and his return to the [...]
Maurice Jones-Drew has been briefed. He has heard all about Mike Mularkey's touchdown policy, the one in which the Jacksonville Jaguars coach donates money to charity every time a player scores and hands the ball to an official without any kind of celebration. Jones-Drew chuckled when asked whether he's going to comply with Mularkey's request. ''We're entertainers...
EDEN PRAIRIE, Minn. Adrian Peterson and Maurice Jones-Drew's common bonds as star running backs have allowed the two to develop a friendship over the years.The two were keeping a close eye on the other's situation this offseason as Peterson, the Minnesota Vikings' record-breaking back, was attempting a comeback from major knee surgery and Jones-Drew, the Jacksonville...
Jacksonville Jaguars (0-0) at Minnesota Vikings (0-0) I didnā€™t have the Vikings listed as one of my underrated teams in the league, but maybe I should have. They had incredibly bad luck during their 3-13 season last year, going 2-9 in games decided by a touchdown or less and had the point differential of a team that should have won 5 or 6 games. A full season of Christian Ponder...
If you tuned into the Giants vs. Cowboys game casual viewers heard a lot from a relative unknown. Kevin Ogletree thrived in Laurentā€™s old role. Catching two touchdowns, and showing he can run some f**kinā€™ routes. Not a surprise as I predicted a big night from whomever was there. Unfortunately, it wasnā€™t Dwayne Harris. My apologies only human. Robinson will have a difficult...
FOOTBALL! Do you know what's happening Sunday? Football. Vikings football. Real football, with real Vikings players, who are really going to run, and jump, and catch (hopefully), and tackle (maybe), and do all sorts of football STUFF for an entire game. AN ENTIRE GAME! It's - literally - been 37 years since the last day of Vikings football during the regular season. It'...
Jaguars News

Delivered to your inbox

You'll also receive Yardbarker's daily Top 10, featuring the best sports stories from around the web. Customize your newsletter to get articles on your favorite sports and teams. And the best part? It's free!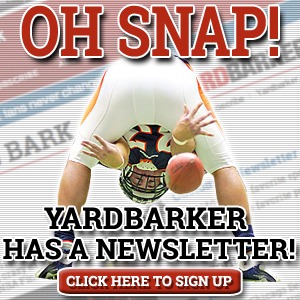 Latest Rumors
Best of Yardbarker

Today's Best Stuff

For Bloggers

Join the Yardbarker Network for more promotion, traffic, and money.

Company Info

Help

What is Yardbarker?

Yardbarker is the largest network of sports blogs and pro athlete blogs on the web. This site is the hub of the Yardbarker Network, where our editors and algorithms curate the best sports content from our network and beyond.