Found November 08, 2012 on Phin Nation:
The Miami Dolphins are halfway through the 2012 season and man, did it fly by!  The Dolphins are in a rebuilding year, though they won't admit it.  Some areas of the team are a little ahead of schedule, while others are disappointing to Dolphins fans.  On Tuesday, we asked you to vote and let us know what your grades were.  We've counted all of the hanging chads and below we'll give you our grades along with the PhinNation reader grades for comparison. Governer Romney/President Obama This is clearly and unscientific poll, but we were surprised to see that Mitt Romney won our informal poll.  He earned 52% of our readers votes compared to Mr. Obama's 48%.  Obviously, we all know that Mr. Obama won the election and it appears he will ultimately win Florida.  Interesting. Ryan Tannehill (PhinNation Readers – B, PhinNation Staff – B) PhinNation readers gave the Dolphins rookie quarterback a B (70% of the vote).  He also received an A from 25% of our readers.  We believe that Tannehill has done some good things, but at times looks like a rookie, which is to be expected.  Currently Tannehill has more interceptions than touchdowns, but we suspect that will change by the end of the season.  After a rough start to the season, Tannehill has posted QB ratings of 86 and higher the last 4 games.  He's shown the type of potential and improvement that lead us all to believe that he is the franchise QB we've been waiting for in Miami for a long time.  Tannehill has also shown excellent toughness. He is getting abused behind an offensive line that is suspect and yet he continues to get up after vicious hits.  This kid should only continue to get better. Dolphins Offensive Line (PhinNation Readers – C, PhinNation Staff – C) Once again, the PhinNation faithful agree with our grade, giving the Dolphins offensive line a C with 52% of the vote.  Surprisingly, 41% of you thought they deserved a B.  We believe a B might be too high because the line has struggled of late.  The Dolphins once potent running game has been slowed to a halt and Ryan Tannehill gets hit on a regular basis on passing plays. Dolphins Running Backs (PhinNation Readers – B, PhinNation Staff – C) We finally disagree, but not by much!  48% of you think the Dolphins running backs deserve a B, while 45% of you believe they deserve a C.  Early on, we thought the running game was awesome, but they have struggled since Reggie Bush injured his knee against the Jets. Reggie is still running pretty well, but he is dancing behind the line, which is leading to negative plays.  Daniel Thomas has been effective, but not that exciting.  We'd love to see more of Lamar Miller, but he'll only get on the field if he fully understands the playbook and improves his pass blocking. Dolphins Wide Receivers/Tight Ends (PhinNation Readers – C, PhinNation Staff – C) Again we agree!  We were tempted to give the Dolphins WRs/TEs a D, but there have been some bright spots.  47% of you thought a C grade was appropriate, while 37% of you thought a B was appropriate.  We think a B is too generous. Brian Hartline has played better than expected and Davone Bess remains a 1st down making machine.  The problem is the Dolphins have gotten very little out of any other receivers and their tight ends.  Anthony Fasano has been very good in some games, but disappears in others.  Charles Clay made a nice catch and run for a touchdown on Sunday, but that was his only catch.  The Dolphins need their WRs/TEs to help Ryan Tannehill more.  (cont'd on page 2, click below) Pages: 1 2
Original Story:
http://www.phinnation.com/dolphins-mi...
THE BACKYARD
BEST OF MAXIM
RELATED ARTICLES
It wasn't bad enough that one of his several mistress destroyed his marriage, but now it appears that one of the mistress believes in her heart that she can capture the lust filled heart of Chad Johnson, as it's being reported that Johnson is ready to marry the woman.According to a report from Sister2Sister, ex-wife of Chad Johnson, reality TV star Evelyn Lozada, is being...
The Miami Dolphins are trying to build a consistently winning football team. While doing so, the Dolphins are making strong efforts to reach out to fans.  This weekend we'll be attending the Dolphins 9th Annual Web Weekend.  Web Weekend is a special weekend when the Dolphins invite down a small group of owners of Dolphins blogs.  This will be our first Web Weekend and we can't...
So here we stand at 4-4. The Miami Dolphins are at .500 for the third time this season following a loss to the Indianapolis Colts last weekend. A team that most people projected to win five games or... Come here for the best Miami Dolphins blog on the web. We have all of the most up to date new and opinions on the Dolphins organization for its fans.
Last week: 12 (-2) Record: 4-4 In spite of a close road loss in a previously underrated Colts team, the Dolphins are still legitimate playoff contenders and if history is any indication, they're more likely to make it than some other borderline playoff teams in the AFC right now, other than San Diego. Every year, 5 new playoff teams make the playoffs that didn't make it the year...
BY NICK ST. DENISReggie Bush is the Miami Dolphins' most explosive offensive player, but his workload hasn't exploded as of late.His touches, in fact, have gone down at a steady pace over the last four weeks. He had 21 touches (19 rush, 2 receiving) four games ago against the Cincinnati Bengals, 17 (12 rush, 5 rec.) three games ago against the St. Louis Rams, 15 (14 rush...
BY NICK ST. DENISRyan Tannehill threw three interceptions in his first ever NFL start, a Week 1 loss to the Houston Texans.He's a quick-learner.Now entering Week 10, the first-year signal-caller hasn't thrown an interception since the end of September and has attempted 98 consecutive passes without getting picked off. He had six picks in his first four games."... he...
Ryan Tannehill was outshined by fellow rookie starter Andrew Luck in last Sunday's showdown of young quarterbacks. Tannehill has two opportunities to tie the game in the closing minutes or take the lead, but accuracy issues contributed to the offense short-circuiting in the 23-20 loss to the Colts. "We knew the game was in our hands," said Tannehill, who completed...
  We thank Daniel Eliesen of Phins Phocus for joining us in this week's question and answer exchange with a blogger from the other side.  My answers to his questions are here.  Following are his answers to my questions.   Total Titans:  After eight games, what can you tell us about Ryan Tannehill?  Can he be the franchise quarterback the Dolphins have been looking...
The Miami Dolphins are officially at the midway point in the 2012 season.  The Miami Dolphins currently sit at 4-4 an alone in second place in the AFC East, as well as one game back of the two AFC wild card spots.  The Miami Dolphins season has been a bit of a roller coaster as they started 1-3, then improved to 4-3 after a 3 game winning streak, only to fall back to .500 on Sunday...
Week 10 is not a week that will turn around your fantasy football season.You won't find many gems out there, yet there are a few safety valves that are worthy pickups if you need a bye-week substitute or want to take a flyer on a couple of gambles.
Waiver Wire Pick-ups of The WeekFor the full version, head over to FFChamps.com, or click here.  QUARTERBACKSRyan Tannehill, Miami DolphinsWeek 9 stats: 22/38, 290 passing yards, 1 TD, 0 INTTannehill hung tough at Indy and hasn't chucked an interception in any of his last four starts.The rookie field general is worth a look if you are in a tight spot at quarterback, as he has...
Dolphins News

Delivered to your inbox

You'll also receive Yardbarker's daily Top 10, featuring the best sports stories from around the web. Customize your newsletter to get articles on your favorite sports and teams. And the best part? It's free!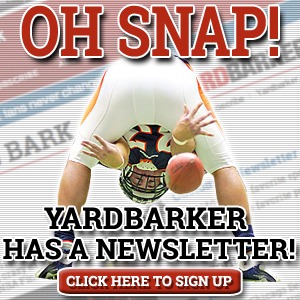 Latest Rumors
The Backyard

Today's Best Stuff

For Bloggers

Join the Yardbarker Network for more promotion, traffic, and money.

Company Info

Help

What is Yardbarker?

Yardbarker is the largest network of sports blogs and pro athlete blogs on the web. This site is the hub of the Yardbarker Network, where our editors and algorithms curate the best sports content from our network and beyond.