Found August 29, 2012 on Fox Sports Southwest:
Proving that you don't have to be a fan of the NFL to play in it, Ryan Tannehill revealed in Tuesday's episode of HBO's Hard Knocks that he basically has no idea which NFL teams are in which divisions The Miami Dolphins and former Texas A&M quarterback told backup quarterback Matt Moore he was "so lost on the divisions." "I know our division and that's about it," said Tannehill, a rookie who recently was named the Dolphins' starter. Moore then quizzed Tannehill on a few of them, which resulted in Tannehill guessing the NFC North included the New York Giants and the NFC East included the Kansas City Chiefs. "I wasn't a huge pro fan growing up," said Tannehill, who grew up in Big Spring, Texas. "I wasn't loyal to any one team, so I don't really know the divisions and even really conferences. I know most of the conferences, but some of those I really have no clue. And they don't make sense. You have the A...
Original Story:
http://www.foxsportssouthwest.com/08/...
THE BACKYARD
BEST OF MAXIM
RELATED ARTICLES
WAIT WHAT?
In an episode of Hard Knocks, rookie quarterback Ryan Tannehill admitted he does not know which teams are in what divisions and conferences in the NFL.
The Miami Dolphins believe that they have found their quarterback of the future.  In April, the Dolphins used their first round draft pick (#8 overall) on Ryan Tannehill; The first time they've used a 1st round pick on a QB since Dan Marino.  Tannehill has done a great job since joining the Dolphins, showing them [...]
As a rookie in the NFL, Ryan Tannehill still has a ton to learn. Between memorizing the plays, adjusting to lifestyle changes and dealing with an incredibly steeper level of competition, the transition from college to the pros is always a challenge for any rookie quarterback. However, most rookies likely already know what division every team is in. Understanding the geography of...
You would think that an NFL rookie quarterback would be able name some of the other NFL teams and the divisions that they play in but Dolphins quarterback Ryan Tannehill has no clue whatsoever. Watch as he attempts to name the entire NFC North but fails to come up with a single team in this clip from Hard Knocks: To be fair, Ryan's "not a huge pro fan" excuse...
Getty During Tuesday night's Hard Knocks episode on HBO, it was revealed that Dolphins rookie quarterback<a href=""I wasn't a huge pro fan growing up; I wasn't loyal to any one team," said Tannehill, "so I don't really know the divisions, and even really conferences. I know most of the conferences but some of those, I really have no clue. And...
Arm Strength: X. Arm Accuracy: X. Defense Reading: X. 6 foot 4, 210 pounds: Check. Seriously, that is the only reason he was even considered a prospect, and then he suddenly goes top-10 due to Mike "worst halftime speech" Sherman and the Dolphins. PS - Hot wife: X. Blonde Peggy Olsen is just as much overrated as this slot WR.
The NFL odds look to be in the Cowboys' favor for their preseason finale against Ryan Tannehill and the Miami Dolphins, but stranger things have happened, especially in exhibition play. Dallas is coming off a 20-19 win last week over the St. Louis Rams, though the score looked much closer than it really was. The Cowboys were actually up 17-3 after the first quarter and 20-6 at...
The buzz surrounding Hard Knocks has dissapated since the dramatic release of Chad Johnson from the Miami Dolphins.  On this week's episode though we got a classic Hard Knocks moment showing Dolphins rookie QB Ryan Tannehill channeling his inner Ryan Lochte.  Watch as Tannehill tries to vaguely guess which NFL team is in which NFL division, saying the Kansas City Chiefs play...
Today on ESPN Radio, hosts Mike Salk and John Kincade took turns taking shots at the Dolphins after last night'sepisodes Hard Knocks.  Whether it was Vontae David calling his Grama or Ryan Tannehill not knowing the NFL divisions, the two ESPN radio hosts thought that last night's episode was another reason why the Hard Knocks and the Dolphins might not be the best fit....
Congratulations to the Miami Dolphins for providing more headlines off the field rather than on it this preseason!  The preseason is finally over, but not without embarrasments exascerbated by being on national TV on Tuesdays.As tough as it was to watch last night's last preseason contest, I mustered up the courage to lower the volume a bit on my laptop so I didn't have...
Throughout this season, Dolphins fans Vinny Ginardi and super-guest blogger Patrick Dillon will discuss each episode of the HBO series Hard Knocks. The two will exchange their thoughts on each episode and the ins and outs of the 2012 Miami Dolphins. They are hoping this will not be the most entertaining part of the season. Vinny Ginardi:  Ted Ginn. Brandon Marshall. Vontae...
The Dallas Cowboys and Miami Dolphins squared off on Wednesday night in Arlington in both teams final preseason game for 2012. It was the final game before Dallas and Miami make their roster cuts down to 53 players. Typically in the final preseason game the starters sit while the second and third team players see extensive playing time so the coaches can better evaluate them. Ryan...
NFL News

Delivered to your inbox

You'll also receive Yardbarker's daily Top 10, featuring the best sports stories from around the web. Customize your newsletter to get articles on your favorite sports and teams. And the best part? It's free!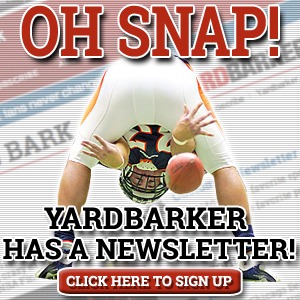 Latest Rumors
Best of Yardbarker

Today's Best Stuff

For Bloggers

Join the Yardbarker Network for more promotion, traffic, and money.

Company Info

Help

What is Yardbarker?

Yardbarker is the largest network of sports blogs and pro athlete blogs on the web. This site is the hub of the Yardbarker Network, where our editors and algorithms curate the best sports content from our network and beyond.