Found July 19, 2012 on The Jersey Chaser:
Add it to the list of silly NFL fines like Tweeting during games and the wrong shoes color, but Miami Dolphins players will be fined $10,000 for playing Angry Birds. The team distrbuted players iPads to learn the 2012 playbook under the condition it be used for team purposes.
New head coach Joe Philbin will fine players $10,000 for visiting sites Youtube and Twitter or downloading a list of apps not related to plays.
Despite the restrictions, players are still happy to be in a digital world. Dolphins rookie QB Ryan Tannehill said, "We went from a playbook that was five inches thick to a thin iPad. It's a lot easier to carry around and study anywhere. Plus, when it comes to film, you can watch it on the plane, take it to your house, wherever. You don't have to be at the facility."
Original Story:
http://thejerseychaser.com/2012/dolph...
THE BACKYARD
BEST OF MAXIM
RELATED ARTICLES
GAMES PEOPLE PLAY
The Dolphins have provided players with iPads but have instituted strict policies and fines for inappropriate use, including a $10K fine for downloading Angry Birds.
Another NFL season is just around the corner, and at the beginning of each new season 32 teams all have an initial goal to become..
Getty Images According to Mike Florio of ProFootballTalk.com, the Miami Dolphins are insisting that rookie quarterback Ryan Tannehill include offset language in his contract. "It's believed that teams are pushing for offset language at the specific direction of the NFL's governing body," wrote Florio. The reason teams want the offset language is because they don't want...
Getty Images CBS NFL analyst Phil Simms told the Miami Herald that he would take Miami Dolphins quarterback Ryan Tannehill over last year's first round quarterbacks Jake Locker, Blaine Gabbert, and Christian Ponder. "I would have taken him before [2011 first-rounders] Jake Locker,Blaine Gabbert or Christian Ponder," CBS' Phil Simms told us. "He made more NFL throws...
Ahh, Chad Ochocinco. Although some view him as a clown in the media for his crazy antics and his life on Twitter, no one can take away the fact that he's never been in trouble. Okay, he's had a few fines from the League Office for his on-the-field  stunts, but off the field, his rap sheet is pretty damn clean. He took to his website and wrote his peers on how to stay out of...
Getty Images Some of the Miami Dolphins wide receivers are starting to get a little impatient when it comes to finding out who'll be their starting quarterback heading into the season. "At some point we got to start working with one guy as opposed to the rest," receiver Brian Hartline told the South Florida Sun-Sentinel. "You want to know sooner than later," said wide...
Now that the Miami Dolphins are using iPads as their playbook, they have a lot of rules for their players to abide by, or their pockets will be a little lighter at the end of the day. "They gave us a long list of things you're not supposed to do," said Dolphins rookie quarterback Ryan Tannehill. If a player forgets to bring their iPad playbook to a team meeting, they'll be...
  Hard Knocks: Training Camp with the Miami Dolphins Hard Knocks is less than a month away, premiering August 7th on HBO.  After what seemed like an eternity in deciding on a team, the Miami Dolphins were selected.  And, after watching the trailer, it's amazing to consider how excited one can get for football season to finally arrive.  Just watching slo...
Here is the trailer of HBO's "Hard Knocks: Miami Dolphins". The series is set to begin on August 7th, 2012 Hard Knocks: Training Camp with the Miami Dolphins  
We know Chad 'Ochocinco' Johnson loves attention. His latest ploy while working out in LA- and presumably building a case for or interest in his upcoming reality show with his new bride, Evelyn Lozada, now Johnson. But what is the end goal of setting up fictional confrontation with rappers who still have a toe in [...]
In a conversation with Ian Rappaport of NFL.com, former Pittsburgh Steelers linebacker Joey Porter says he is planning on retiring this year as a member of his original NFL team. Porter, drafted by Pittsburgh in the 3rd round of the 1999 draft, said he has already talked with Steelers President Art Rooney II and GM Kevin Colbert. "I already talked to the Steelers, put some...
It's been over 4 weeks since my last blog but I have a pretty good excuse, as I have been having the time of my life on an experience of a lifetime exploring Thailand. That being said the focus is now shifted back 100 % to the best team in pro sports: the Miami Dolphins. I want to thank Mick and JP who stepped up on the site while I was gone. While I have a lot of catching up...
Dolphins News

Delivered to your inbox

You'll also receive Yardbarker's daily Top 10, featuring the best sports stories from around the web. Customize your newsletter to get articles on your favorite sports and teams. And the best part? It's free!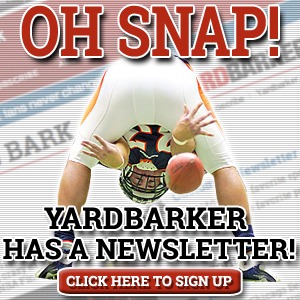 Latest Rumors
The Backyard

Today's Best Stuff

For Bloggers

Join the Yardbarker Network for more promotion, traffic, and money.

Company Info

Help

What is Yardbarker?

Yardbarker is the largest network of sports blogs and pro athlete blogs on the web. This site is the hub of the Yardbarker Network, where our editors and algorithms curate the best sports content from our network and beyond.