Found August 15, 2013 on BlackSportsOnline:
Just for the record Driver also said the Packers would win the Super Bowl and Aaron Rodgers is one of the best quarterbacks in the league. Unfortunately for Driver it was his other quote that caught the attention of everyone else. "We've always said that the quarterback is the one that needs to take the pressure off everyone else. If a guy runs the wrong route, it's easy for the quarterback to say, 'Hey, I told him to run that route' than for the guy to be like, 'Well, I ran the wrong route.' Sometimes you ask Aaron to take the pressure off the guys so we won't look bad, but he didn't want to do that. He felt like if you did something bad, you do it. But I think that's the difference. You want that leadership, and I think sometimes you may not feel like you got it. You have to earn that respect at the end of the day, and I think that's what Greg was probably referring to." I get what Driver is saying and maybe it would be nice from time to time if Rodgers didn't call his teammates out, but it isn't Rodgers' job to be their friends. Many would argue that it is better not to baby your teammates and they should be held accountable. Obviously, Rodgers isn't well-liked but some of his current and former teammates, but once again his job is to win football games and if he hurts your feelings in the process, so be it.
Original Story:
http://blacksportsonline.com/home/201...
THE BACKYARD
BEST OF MAXIM
RELATED ARTICLES
IN MY DAY...
Packers quarterback Aaron Rodgers says things were much different when he was in college and the way it is now makes him feel bad for Johnny Manziel.
Mind, body, soul, wallet - it definitely is good to be Aaron Rodgers. Set to turn 30 in December, the Green Bay quarterback believes he is in tip-top shape, his intellect and grasp of the offense have never been sharper, his role as the team's leader is unquestioned and, as the NFL's highest-paid player after his five-year, $110 million contract extension in April, his future...
  Packers quarterback Aaron Rodgers told Peter King of SI.com that every offseason he focus'  on a couple of things he wants to improve. This past offseason Rodgers worked on his deep throws. "Tom Brady told me after the '07 season — we got to play a little golf, and I picked his brain — that you should work on at least one or two things every off-season," Rodgers...
When it comes to the many adventures of Johnny Manziel, there are generally two lines of thought. On one side, you have people who think he is a spoiled college kid who needs to focus less on partying and more on football. On the other, there are people who say a 20-year-old kid is entitled […]
Aaron Rodgers is great. But you still shouldn't draft him in the first round of your fantasy football draft. The Shakespearien soliloquy has nothing on this fantasy question that seems to be more popular than ever in 2013.  In fact, I actually am finding myself growing more irritable as each new day seemingly brings the same question:  "Should I consider drafting a quarterback...
The Johnny Manziel reality show has had everyone in the sports world talking. The latest person is Aaron Rodgers who was asked about the media by Peter King but went on to talk about Johnny Manziel: "I feel bad for Johnny Manziel. I mean, he's made some decisions … I just think, he's a 20-year-old kid, and I wish he could just live like a 20-year-old. "Ten years ago, when...
He's widely considered the best quarterback in the NFL, he's thrown 84 touchdown passes and led the Packers to a total of 26 wins the last two seasons, so why in the world are so many people speaking out against Aaron Rodgers? Everything began when wide receiver Greg Jennings left Green Bay to sign with the Minnesota Vikings. Ever since he has signed in Minnesota Jennings has...
Green Bay Packers quarterback Aaron Rodgers says his arms and legs feel fresh, which he attributes to coming into camp in the best shape of his career and to a reduced workload. Rodgers is on a snap count in training camp for the first time in his nine-year career. "It's been a lot lighter, and I've appreciated it," 
When Aaron Rodgers showed off his accuracy with the deep ball early in training camp fans in attendance and on the internet were impressed. Hitting such a deep target is no easy thing--although it would have been interesting to see him do it multiple times...but I digress... Tony Romo and the other Dallas Cowboys quarterbacks were showing off their skills at practice recently...
The list of people supporting Johnny Manziel seems to grow by the day. Vikings running back Adrian Peterson said the Texas A&M should be able to make money . Packers quarterback Aaron Rodgers wished Manziel could just be a normal 20-year-old. The school's chancellor even defended Manziel and said "he's a good kid." The school's athletic director, Eric...
Fantasy Football is back and leagues are starting to draft there teams. In looking at draft strategies this year, the quarterback position is deeper than normal.  I think there are a lot of quarterbacks that can get you solid points later on in you draft. In recent years, quarterbacks like Aaron Rodgers and Drew Brees would go in the 1st round because of their inflated passing yards...
The Packers first preseason game did not go as smoothly as most would have hoped.  They were shut out 17-0 at home at the hands of the Arizona Cardinals, and aside from their first offensive possession they were unable to sustain drives when Aaron Rodgers exited the game. As coach Mike McCarthy said after the game there was plenty of room to grow, and he was right, but where exactly...
Packers News

Delivered to your inbox

You'll also receive Yardbarker's daily Top 10, featuring the best sports stories from around the web. Customize your newsletter to get articles on your favorite sports and teams. And the best part? It's free!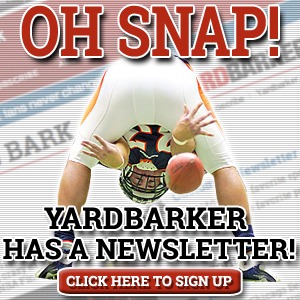 Latest Rumors
Best of Yardbarker

Today's Best Stuff

For Bloggers

Join the Yardbarker Network for more promotion, traffic, and money.

Company Info

Help

What is Yardbarker?

Yardbarker is the largest network of sports blogs and pro athlete blogs on the web. This site is the hub of the Yardbarker Network, where our editors and algorithms curate the best sports content from our network and beyond.