Found January 02, 2013 on Football Nation:
PLAYERS:
Tom Brady
,
Mark Sanchez
,
Ben Roethlisberger
,
Santonio Holmes
,
Kurt Warner
,
Larry Fitzgerald
TEAMS:
Arizona Cardinals
,
New England Patriots
,
New York Jets
,
Pittsburgh Steelers
,
Houston Texans
,
Baltimore Ravens
,
Green Bay Packers
Ladies and Gentlemen, as another exciting playoff tournament starts this weekend in the National Football League don't be shocked by any of the results.   Don't be shocked during the playoffs if your team gets blown out at home, on the road, wins a close one or blows out a number one seed.   You can get out your thesaurus and be disappointed, discouraged, elated, or any of the other ways to show distress or excitement but don't be shocked.   Don't be shocked because of these two things: a 42 point turnaround in a few weeks and the 2008 Arizona Cardinals.   Let's review.December 6, 2010, the New York Jets brought a sterling 9-2 record, very good defense, and serviceable offense to Foxboro, Mass.   The New England Patriots brought an equally sterling 9-2 record, Tom Brady, and a serviceable defense to the game.   On paper this should have been a 23-20 or 27-24 titanic struggle between divisional foes that knew each other well.   Instead it was a football nightmare for the Jets and a 7 on
Original Story:
http://www.footballnation.com/content...
THE BACKYARD
BEST OF MAXIM
RELATED ARTICLES
It was 12 years ago that the last NFL dynasty began. It was a cold and snowy night in New England, and Tom Brady appeared to have literally dropped the ball on the Patriots magical season. Charles Woodson had just come from the edge and knocked the ball out of Brady's grasp after he pulled back a pass attempt and the Raiders recovered the ball with and prepared to run the clock...
The days leading up to the NFL playoffs are filled with analysis, forecasts, breakdowns, and various mental masturbations in anticipation of the games that will decide the participants in the Super Bowl. Fans can, and will, hang on every word of their favorite players. New England Patriots fans heard from their favorite quarterback today, as Tom Brady met the media. He touched on...
Tom Brady is one of the greatest players to ever play in the NFL. The 3-time Super Bowl winner, Brady is having another great season (4,827 yards, 34 TDs) for the No. 2 seed in the AFC.Not only is Brady great on the field, he adds another dimension to your palate with his own special sauce.HT: @BleacherReport
A.B. I love a good photoshop regardless of how cheesy it may be. Plus, if there was an official condiment of The Awesome Boston, you have to figure it would be Brady's Awesome Sauce. Think Rex Ryan uses it on his cheeseburgers?
Since Ray Lewis announced his pending retirement yesterday, the Ravens have been all over the news. Bill Belichick hurled praise at the 17-year linebacker yesterday and today was Tom Brady's turn.CSNNE:"He was -- he still is an incredible player and a competitor," said the Patriots' quarterback before Thursday's practice. "Like I said, I know so many people...
The bye week can be a complicated one for NFL teams. With no opponent to prepare for, practice becomes much different. For the Patriots this week, they worked on themselves. And despite a 12-4 record, they apparently had a lot to work on. Tom Brady told the media on Thursday the team was given a packet on what they had to do better. Wide receiver Deion Branch also mentioned that...
1. Tom Brady. Leader of the best offense in the NFL. Turns ordinary joes into superstars. 16-6 record in the playoffs including five Super Bowl appearances. 109-24 touchdown to interception ratio the last three seasons. Passed for 4,827 yards and led Patriots to 49% third down conversion rate in 2012. 2. Peyton Manning. Four-time MVP. League leader in Total QBR, and Top 3 in touchdowns...
BY DAN BEGNOCHEA victory for the Cincinnati Bengals and Baltimore Ravens on Sunday would set up the fourth and would-be final playoff matchup between Ray Lewis and Tom Brady.For Brady, that last game could be bittersweet."I always enjoy beating the Ravens so, yeah, anytime I can beat those guys," the New England Patriots quarterback joked to reporters Thursday while speaking...
Brady. Peterson. Manning. All names synonymous with individual success, accolades and just flat out dominance. Now they all share the same stage in the rigorous MVP debate.Tom Brady remained his usual dominant self once again, while Peyton Manning and Adrian Peterson returned from serious injuries and played like they never left.Brady was consistent throughout the season from a statistical...
Tom Brady and Peyton Manning... this rivalry is old-school. There is no question that as the NFL evolves from smash mouth football towards a finesse based delicate league, the play of the quarterback is at a premium. In years past, a team could win the Super Bowl by having a dominant defense and bad to mediocre offense. A team could win the Super Bowl by having a dominant rushing...
As every NFL fan knows, the 2012-13 regular season is over. For fans of the 20 teams who missed the playoffs, they are in mourning I am sure. Of course, being a fan of the game, I miss it also.
I don't care if that's the worst title for an article I've ever written. Not my chair, not my problem. The AFC Playoff picture was just about done. Except it was more of a mosaic on several different tiles and the tiles had yet to be place next to one another. Basically, the paintings on said tiles were complete but the artist was like, "Nah, chill. I'm finna let these...
NFL News

Delivered to your inbox

You'll also receive Yardbarker's daily Top 10, featuring the best sports stories from around the web. Customize your newsletter to get articles on your favorite sports and teams. And the best part? It's free!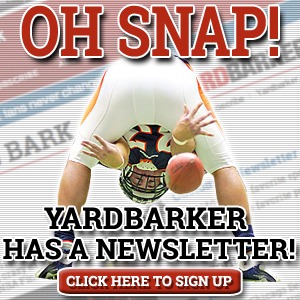 Latest Rumors
Best of Yardbarker

Today's Best Stuff

For Bloggers

Join the Yardbarker Network for more promotion, traffic, and money.

Company Info

Help

What is Yardbarker?

Yardbarker is the largest network of sports blogs and pro athlete blogs on the web. This site is the hub of the Yardbarker Network, where our editors and algorithms curate the best sports content from our network and beyond.