Found February 26, 2013 on NFL Draft Zone:
Draft Zone Spotlight: Tim Sauer, OT, University of Northern Iowa Northern Iowa is famous for putting hogs into the NFL.  Tim Sauer is the next big hog that could make the NFL.  Last year, no one was talking about L.J. Fort and he ended starting week one for the Cleveland Browns. Sauer is by far one of the biggest men I have watched on film, at 6'8, 304 pounds, he led the UNI team to 1637 rushing yards, and the line itself only allowed 11 sacks last year.  That is amazing.  If you look in the NFL, you probably don't realize how many NFL players came from little ole UNI, but let me help you refresh your mind.  Brad Meester, Chad Rinehart and Austin Howard all started for their prospective teams last year.  Could Tim Sauer be next? We shall see…. How many teams were recruiting you coming out of high school and how did you make your decision? I had about 6 FCS schools, and 4 FBS schools recruiting me coming out of high school. The decision was quite easy when it came down to who was offering what. UNI, was the clear cut winner. They had the best major program that I was interested in, their program had a strong tradition of winning, and the facilities and coaching staff were amazing. Who was your favorite NFL team growing up, and did you have a player you rooted for? I have always been a Minnesota Vikings fan. My favorite players to watch were either Randy Moss or John Randle. At your position, how do you break down film, please inform our readers what you look for when breaking down film? When I would be watching film, I would watch teams that had a similar offense to what we ran. I would typically try to have at least 3 different teams film to watch. From there I would then have the clips broken down into the popular formations that we would be running that week.  From there, I would watch to see what formations they would stunt or twist out of. After that I would have the clips broken down into how many times they blitz/pressured out of 3rd and short, 3rd and medium, and 3rd and long.  In our film room we have a section of film called "Big Plays." This is the opposing teams big plays against the team we are playing that week. I love seeing what others teams did to score, and I love seeing how the defense reacts after they let up a score. When analyzing film, I'm really looking to see if the defense has any "tells" or tips anything off by the way the lineup. Finally when watching film I get the depth chart of the opposing teams defense and I learn the starters and back up numbers. By doing this I can see if the defense end rotate series or if the defensive end likes to swim, bull rush, or try to beat a tackle outside with speed rush. Do you consider yourself a quiet leader or an outspoken role model? I consider myself a quiet leader. If you could take one day back and erase it from your past what day would you erase? I would erase the day I failed my driver's test for the first time. I got the cone stuck between the wheel and the car while I was doing my parallel parking. I told all my friends that I would pass it the first time, and I failed, it was embarrassing. Do you have any hobbies, if so tell the world what it is? I love random sport facts, I am a sports junkie. I love looking up information on professional and college sports and teams. My favorite information is learning how teams got their names. Who was the toughest player you have ever played against? Brendan Kelly from Wisconsin was the toughest player I ever played against. He is so  athletic and lanky, he has longer arms then I do and that made it a challenge to play against him. What is the best accolade/award you have ever received from playing football? In high school I received the teams " Pat Tillman award". This is awarded by the football program to the player who best exemplifies Tillman's willingness to help the team on the field and out in the community. If it was your last meal, what would you eat? I would have a big glass of sweet tea, sweet potatoes fries, steamed asparagus, beef brisket, and for dessert I would have strawberry cheese cake. Before the game, what song might I hear on your ipod? I can't pick one song, but Ill listen to anything by the artist Machine Gun Kelly. http://www.youtube.com/watch?v=TqyaFq4cGGI Do you have any pre game rituals? I don't have that many pre game rituals. After I get all my gear on I'll sit and listen to music and ill go through the notes and game plan that we have gotten throughout the week. Other than that I make sure that I have the same athletic trainer tape my ankles and tape my wrist for game days If you could pick out your biggest weakness what would it be? My biggest weakness would be changing center of gravity when I get a bull rush from  a defensive end. Have you talked to any NFL scouts throughout this process, and what feedback are you getting? I have not talked to any NFL scouts throughout this process yet. If you could compare your play to someone in the NFL, who would it be? I would like to say Nate Solder, the offensive tackle for the New England Patriots. What is the most tragic event in your life that has happened and how did you bounce back? The most tragic event in my life was in a 6 month span, I tore my labrum, got mono, lost my starting spot in the opening weeks and my grandmother died.  After being hurt physically, mental, and emotionally, I had the support of my family and teammates and I just keep busting my butt and eventually earned by starting spot back for the last half of the season. Everyone asks this question but I'm curious to know what will you buy first with your first NFL pay check? The first pay check will go to a new car for my parents. They have helped me so much to get me to where I am a today. If you could meet one person, dead or alive who would it be and why? I would love to talk to former UCLA Bruins basketball coach John Wooden. I have read two of his books and I think how he coached, influence people and how he lived his life is amazing.
Original Story:
http://feedproxy.google.com/~r/nfldra...
THE BACKYARD
BEST OF MAXIM
RELATED ARTICLES
People are always talking about the Browns, it seems. Usually I'm one of the ones talking the most, but I don't really feel like it right now. So to prove it to you, I'll talk Browns just enough to tell you why it's kind of boring to me right now. Brandon Weeden's name has been in the news because nobody can predict the future. Really, that's what it comes down to, right...
According to Matt Miller of Bleacher Report, the Cleveland Browns love former West Virginia quarterback Geno Smith in this year's draft.  They didn't expect him to be available when they go on the board with the sixth pick, but now that the Chiefs traded for Alex Smith, they might be able to snatch him up. I don't think the new Browns regime believes they have their quarterback...
Clevaland Browns quarterback Brandon Weeden joined The Hooligans on WKNR in Cleveland to talk about what he needs to do for the upcoming 2013 season to get his teammates and the new coaching staff behind him.
Cleveland Browns rookie running back Trent Richardson spoke to NFL Network reporter Steve Wyche at the NFL combine, and said his fellow rookie quarterback Brandon Weeden had trouble reading defenses. He also said the coaching staff had to shorten the playbook in order for Weeden to be effective. Weeden is caught in a change of coaching staff's and will be in a battle for his...
Brandon Weeden has a new owner, general manager, head coach, and overall system.  That normally doesn't bold well for a quarterback that wasn't hand-picked by the incoming coach. Weeden may not be the favorite to start in his coaches eyes, but according to the Cleveland Plain Dealer, Weeden has "no doubt" that he'll be the starting quarterback for the Browns this coming...
Brandon Weeden has a new owner, general manager, head coach, and overall system.  That normally doesn't bold well for a quarterback that wasn't hand-picked by the incoming coach. Weeden may not be the favorite to start in his coaches eyes, but according to the Cleveland Plain Dealer, Weeden has "no doubt" that he'll be the starting quarterback for the Browns this coming...
While We're Waiting serves as the early morning gathering of WFNY-esque information for your viewing pleasure. Have something you think we should see? Send it to our tips email at tips@waitingfornextyear.com. Good news for Cavs fans or extreme overconfidence- "SI: Can you get this done? And is it hard that after winning five championships you're battling to make the playoffs...
There was a really good piece by Joe Crea in the Plain Dealer last week about an influx of new businesses and other development in Cleveland's Collinwood neighborhood ("where Frankie Yankovic first learned to polka") and its center, the Waterloo Road District, home of one of the best concert venues (and brunch spots) in the U.S.A., the Beachland Ballroom. The article contains...
I stuttered like a fool to open the podcast this week. Scott Raab is a pretty regular guy who sets you at ease, but I still managed to stutter right into the opening just the same like a nervous Nelly. Anyway, after letting him laugh at me, Scott and I spent a nice amount of time discussing the news of the day in longer form. Of course, to keep up with Scott Raab you can follow him...
NFL News

Delivered to your inbox

You'll also receive Yardbarker's daily Top 10, featuring the best sports stories from around the web. Customize your newsletter to get articles on your favorite sports and teams. And the best part? It's free!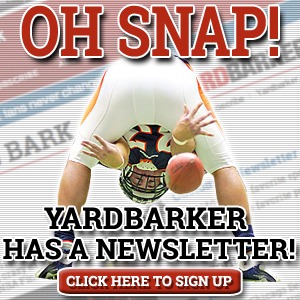 Latest Rumors
The Backyard

Today's Best Stuff

For Bloggers

Join the Yardbarker Network for more promotion, traffic, and money.

Company Info

Help

What is Yardbarker?

Yardbarker is the largest network of sports blogs and pro athlete blogs on the web. This site is the hub of the Yardbarker Network, where our editors and algorithms curate the best sports content from our network and beyond.