Found July 01, 2013 on StraitPinkie.com:
Drew Bledsoe is known for his great career as a quarterback in the NFL most notably for the New England Patriots. Bledsoe was the focal point of the Patriots offense which was the reason why he drafted number one overall in 1993 from Washington State University. The two time All-Pro also played for the Buffalo Bills and Dallas Cowboys. Now retired from football Drew has pursued another career. He founded the Doubleback Winery located near Walla Walla, Washington. Along with his friend and co-founder, Chris Figgins they strive to make an outstanding cabernet sauvignon. Drew takes his new career very seriously. He looks to educate people on the fact that great wine can come from other states than just California. For more information on Doubleback click here. Drew is also a proud father of four children. Bledsoe and his wife take a hands on approach to parenting. He and his parents created foundation called Parenting with Dignity. I had the great pleasure to chat with Drew about football, wine, and fatherhood. Art Eddy: Before we get into your playing days in the NFL, I first want to start off by talking about your vineyard, Doubleback Winery. What made you get involved in the wine making industry? Drew Bledsoe: Wine is a passion of mine and my wife as I was playing. As I started to look at life after football and what I wanted to do and how I wanted to spend my days, wine was something that had an allure for me that went in a lot of different directions. It was something that I felt I could learn about for the rest of my life and still not know everything. I felt like it was something that would get me out of the bed in the morning and get me excited about what I was doing. When you are in the wine business you are always around interesting people, great food, and great wine. So far it has been everything we had hoped it would be. It has been really successful for us. It has been a ton of fun at the same time. AE: Do you find it hard for people to get past the notion that in the United States only great wines come from California? DB: Yea, the American population in general, if you get outside the Northwest, when they think if fine red wine they think of California. They think about Napa and Sonoma. While that is challenging for us right now it also gives us a huge opportunity for growth. Washington has continued to grow, but we got a market out there that still, in the broader market, still doesn't grasp the quality of wine coming out of Washington state, particularly in Walla Walla. We do some tastings from time to time. There was actually one here this last weekend up in Walla Walla. It was our wines versus the best out of Napa. Our wines stand up just fine against the very best from Napa at generally a fraction of the price. If we can get the wine in the glass and let people try it all of a sudden it is a real eye opener. This is not just another wine region. It is a wine region that is producing some amazing stuff and at generally a more reasonable price point. AE: I know with wine you usually pair it up with a certain foods. Do you have a favorite meal to go with your wine? DB: With our wine we strive to make a cabernet (sauvignon) that's a little more subtle. It has a little more nuance to it. It is not so overpowering. Because of that it is a lot more versatile with what you can pair with it. We have done things like scallops. My favorite pairing right now is lamb. We have a wood fire oven here at the house. We throw some rack of lamb in the wood fired oven and that shows just amazingly with our wines. AE: Which was a tougher challenge for you playing in the NFL or starting up your own business? DB: There are a lot similarities really. It is highly competitive. You got to have a great team around you. You got to be excellent in every area from your production to your bottle. How it looks on the table. Your story behind it. The authentic nature of our story is a big advantage because I grew up here in Walla Walla. If you are excellent at all of those things you can be successful which is similar to football. In football you can't be good at just one thing. You got to be great in all phases to be really successful. The biggest difference from football to wine is if I made a decision playing football I knew instantly if it was a good decision or a bad decision. In wine it can take up to seven to ten years before you really know about the implications of the decisions you made. AE: Now let's talk about your great NFL career. In 1993 you were the number one overall draft pick in the NFL. Did that add more pressure for you to make sure you succeeded in the league? DB: When you are playing the position of quarterback there is pressure on you all the time. You either love that or you don't. I personally really enjoyed it. I enjoyed being the focal point of an organization and being the guy that had to carry the big part of the burden. I relish that challenge of knowing that everyday an entire organization of the other side of the ball tried to devise personnel and schemes to try and shut me down. To go out and try to be successful in spite of that was a great challenge. I love that. Pressure is not necessary a negative thing. Often times it is a positive thing if you embrace it from that standpoint. AE: You played for three very different coaches in New England with Bill Parcells, Pete Carroll, and Bill Belichick. How big of a contrast were those three coaches? DB: It really wasn't. The coaches that are successful share they share far more in common than people might think. If you are going to be successful you got to be attentive to all the details. You got to guide your team. You got to make sure you focus on the important parts of the game, executing consistently, eliminating distractions, and all those kinds of things. Beyond that all you are really talking about is personality differences. Those personality differences were pretty dramatic between Parcells, Pete, and Belichick. You learn to deal with that and communicate in different ways. Parcells was loud and in your face all the time. Pete was more of a positive motivator. Bill was all business all the time. The kinds of things that you actually have to focus on to be successful they were surprisingly similar. AE: Speaking of threes you played for three NFL teams, the Patriots, Bills, and Cowboys. How was the transition for you to play with those three different teams? DB: The first move was challenging. Going from New England where I was there for nine years where I had come pretty accustomed on how everything works and then moving to a new organization with the Bills. Once you made the move the first time it is not that big of a deal the second time. Part of it to was from a pride standpoint it was a bit of an eye opener. When you are in there you think that you are pretty important to this organization, then you realize that you move on and the organization continues on. Once you realize that you are a cog in the machine that when your tenure is done someone is going to move in and replace you then you understand that and move on down the road. The first move was a bit of an eye opener for sure. AE: What will you remember most about your career? DB: There are a lot great memories. More than anything it is the relationships that you have that you look back on with the most fondness. I have developed relationships with some truly amazing people with people I played with, coaches, owners and other across the board. In terms of certain games and memories there are some that stand out. My second year in the league when we came from behind to be the Minnesota Vikings in overtime. The year that I got hurt and Tommy played so well that I couldn't get my job back, but I got to come in and play in the AFC Championship game against the Steelers to where I was able to help get us to the Super Bowl. There are a lot of those memories that I look back on very fondly. The nice thing is that when you retire the negative memories fade away. AE: Now turning to fatherhood. Tell me about foundation Parenting with Dignity. DB: This is something that grew from my parents. They were both school teachers for a bunch of years. They started working in the communities where we lived taking skills they learned in the classroom and on the sports field and applying them to parenting. They developed a curriculum around that. Our program really has two major messages. Number one is that our kids are going to make the biggest decisions in their lives and we are probably not going to be there when they make those decisions. So our only chance is to communicate effectively our morals and our values to our kids so that they have a framework to make their own decisions. The other major tenant that we teach is that the ideas in your head will rule your world. How you view the world will ultimately determine the decisions that you make. Our biggest defense for our kids in this big, wide world that they are going out in is to help them develop their ideas and world view so that they can make conscious decisions. The challenges our kids face today are totally unique. The amount of information that they have access to in the palm of their hand with a smartphone, on the internet, and on TV all of those things are unique. They are bombarded with messages all day. If they don't have a pretty clear view of who they are and what they are about then those influences can take over. Our biggest challenge is to try and help our kids to develop on how they see the world so that they can make the good decisions for themselves. AE: You are the proud father of four. What is the best thing about being a dad? DB: The kids wake up in the morning and come and give me a hug. Life doesn't get much better than that. Watching them as they get older and watch them choose their own path. The decisions and directions that they choose to go maybe isn't the direction I would have chosen for them. So far our kids are making great decisions for themselves. They are unique. It's not my life being lived over again. It is their very own. It is a little hard sometimes to take the hands off the wheel with your kids and recognize that they are going to do their own thing. AE: What are some pieces of advice that you have given to your kids that you will always want to stay with them? DB: As parents the most important thing that your kids have to know is that everything you do for them comes from a place of love. They understand that any decisions or guidance you have given them is only given because you want them to be successful. If you do that you eliminate some of the push back that are natural in those kinds of relationships. One thing is that every once and a while when you are faced with these big decisions you need to take a step back and see if this is a smart decision or not. If they will just do that as opposed to making a decision that is right in front of them they have a pretty solid chance of making good decisions. So far they have been able to do that, but I know that those situations are going to continue to present themselves as they move forward. To listen to the entire interview click here!
Original Story:
http://www.straitpinkie.com/sports/dr...
THE BACKYARD
BEST OF MAXIM
RELATED ARTICLES
With all the talk of red flags on players coming out of college as tight end Aaron Hernandez faces murder charges, one scout gives us his take on scouting players and the very involved process of background checking. NFL.com analyst Daniel Jeremiah estimates that scouts now devote 75 percent of their time to background and character research. That's a lot of time. While some...
The Dallas Cowboys have been horrendously mediocre for the past decade, but recently, it isn't due to lack of talent. Here are the Top 10 Dallas Cowboys currently wearing the Star. The post Top 10 Current Dallas Cowboys appeared first on The Dallas Sports Rant.
Do you know who Dallas Cowboys center Phil Costa is? Me either but the 4th year undrafted-NFL vet proposed to wrestling legend Hulk Hogans, daughter Brooke on Friday in Las Vegas. Of there are photos of the big moment and the Hulkster himself seems to approve. Congratulations to the happy couple.   It's OFFICIAL! @MizzHogan & #PhilCosta r getting married. Whole family is...
According tom Tim MacMahon of ESPNDallas.com, defensive end Anthony Spencer is likely playing his final season with the Cowboys in 2013. It appears nearly certain that this will be Spencer's final season with the Cowboys after a mutual decision to halt talks about a long-term contract extension well in advance of the July 15 deadline for franchise players. The sides made precious...
Former Dallas Cowboys Pro Bowl wide receiver Drew Pearson hasn't always been a Dez Bryant fan. As recently as last October, the original No. 88 was criticizing the current No. 88 for not living up to the expectations of the number that was also worn by Pro Football Hall of Famer Michael Irvin. But Pearson seems to be buying in to the success Bryant had during the second half...
Dallas Cowboys wide receiver Cole Beasley is not the tallest player on the 53-man roster in Dallas, in fact he is the smallest. But the undersized slot receiver can jump as good as anyone else on the team. The evidence comes in the form of him throwing down a few dunks with ease. Hops for days. [DC Fanatic] Article found on: Next Impulse Sports
Terrell Owens no longer owes Uncle Sam for unpaid taxes dating back to his days with the Dallas Cowboys. Owens recently paid off a tax debt of 430,000, according to TMZ.com. The former Cowboys wide receiver is currently not on an NFL roster and hes looking for employment. According to TMZ, a federal tax lien was filed against Owens in February, claiming he owed on his income taxes...
Tweet Dallas Cowboys wide receiver Cole Beasley doesn't look that intimidating on the football field. Standing just 5'8" and weighing only 180 pounds, his stature isn't one that really screams elite athlete. Beasley caught just 15 passes in his rookie season last year for only 128 yards. However, this video of him throwing down some [...]
Pop open the Champagne and warm up the barcode scanners at Target for the wedding gift registry, Phil Costa and Brooke Hogan are engaged! It all happened Friday night in front of the Eiffel Tower-- in Las Vegas-- when the Cowboys offensive lineman got down on one knee to ask Brooke, daughter of legendary WWE wrestler Hulk Hogan, her hand in marriage; which was all documented in...
With Aaron Hernandez facing murder charges, and scouts and executives wondering how his violent tendencies slipped under the radar, the question of proper background checks prior to the NFL Draft have now come up. Former Cowboys scout Bryan Broaddus joined G-Bag Nation on 105.3 FM The Fan last week and talked about athletes that had personal baggage and might have been too dangerous...
With Aaron Hernandez facing murder charges, and scouts and executives wondering how his violent tendencies slipped under the radar, the question of proper background checks prior to the NFL Draft have now come up. Former Cowboys scout Bryan Broaddus joined G-Bag Nation on 105.3 FM The Fan last week and talked about athletes that had personal baggage and might have been too dangerous...
And here we go again with more drama for the Dallas Cowboys. During an offseason when Jerry Jones asked Tony Romo to work l…
NFL News

Delivered to your inbox

You'll also receive Yardbarker's daily Top 10, featuring the best sports stories from around the web. Customize your newsletter to get articles on your favorite sports and teams. And the best part? It's free!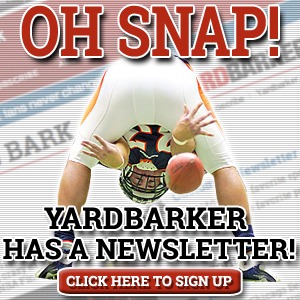 Latest Rumors
Best of Yardbarker

Today's Best Stuff

For Bloggers

Join the Yardbarker Network for more promotion, traffic, and money.

Company Info

Help

What is Yardbarker?

Yardbarker is the largest network of sports blogs and pro athlete blogs on the web. This site is the hub of the Yardbarker Network, where our editors and algorithms curate the best sports content from our network and beyond.