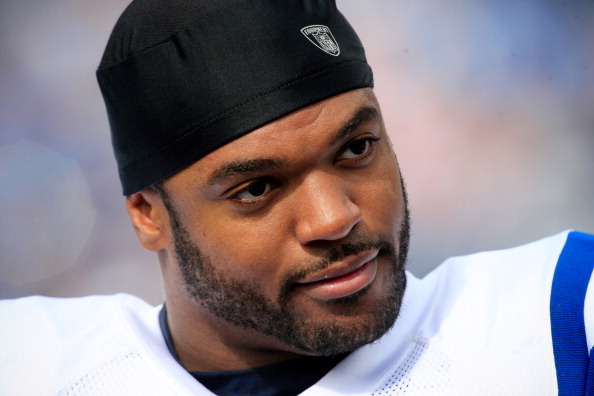 Prior to this season, Dwight Freeney called Peyton Manning his teammate for an entire decade. Now, it would be Freeney's job to try to level Manning in the event that the Indianapolis Colts played the Denver Broncos in the playoffs this year, which is still a possibility since both teams have a 4-3 record. If the matchup were to take place, Freeney would have no problem hitting his good friend. In fact, he would enjoy it. "Peyton obviously is the staple of Indianapolis and this organization for years," the defensive end told our friends Dave Dameshek and Adam Rank during their Tuesday podcast. "I went after him in practice year in and year out and never got a chance to hit him. So yeah, I would love to hit him." The only difference is when Freeney was going after Manning in practice, that red shirt Peyton was wearing told him he had to put the brakes on. The navy and orange colors of the Broncos would not send the same message. Dameshek pointed out that Freeney made the comment in a friendly manner, but he did say he would be "excited" to play the Broncos in the playoffs if that's what it came down to. We may already be used to the sight of Peyton in a Broncos jersey, but seeing Freeney sack him would still be pretty bizarre. H/T Around the League
MORE FROM YARDBARKER:
Best athlete by state all time
MORE FROM YARDBARKER
NFL News

Delivered to your inbox

You'll also receive Yardbarker's daily Top 10, featuring the best sports stories from around the web. Customize your newsletter to get articles on your favorite sports and teams. And the best part? It's free!