Found November 07, 2012 on Buzz On Broad:
PLAYERS:
Andy Reid
,
Steve Spagnuolo
,
Leslie Frazier
,
Ron Rivera
,
Pat Shurmur
,
Donovan McNabb
,
Jon Runyan
,
Corey Simon
,
Brian Westbrook
,
Lito Sheppard
,
Jeff Garcia
,
Kevin Kolb
,
Michael Vick
TEAMS:
Philadelphia Eagles
,
St. Louis Rams
,
Minnesota Vikings
,
Carolina Panthers
,
Cleveland Browns
,
San Diego Chargers
,
San Francisco 49ers
,
Arizona Cardinals
From Day 1, Andy Reid's reputation has been as a man with a plan.  He was the guy in control and knew what to do for any situation that arose. Reid was a relative unknown at the time he was hired in 1999 because he was just a quarterbacks coach in Green Bay.  However, Jeff Lurie and Joe Banner noted how impressive he was during the interview process because of how organized he was. He had an extremely detailed plan for how to build a successful football team, all neatly organized in a thick binder. When Reid was hired, he set forth his plan by carefully assembling an excellent coaching staff.  He brought in the revered Jim Johnson to run the defense as well as other notable assistants such as Steve Spagnuolo, Leslie Frazier, Ron Rivera, Pat Shurmur and Brad Childress...all of whom went on to become a head coach (or currently are). The next part of Reid's plan was to bring in some established veterans, particularly on offense, to help get the ball rolling.  At wide receiver, Irving Fryar and Jeff Graham were shipped out and replaced by Charles Johnson and Torrance Small. Starting QB Bobby Hoying was replaced by Doug Pederson.  He also brought in two new starting offensive linemen as well as a new kicker and punter.  Reid was reshaping the team. In April of that year, knowing he was equipped with the second overall draft pick, Reid continued with his plan and drafted Donovan McNabb, who was to be his franchise player for years to come. He planned all along to bring McNabb along slowly and let him get used to the NFL while Pederson held down the fort.  Reid realized he'd need a full season to get McNabb ready to play QB the way he wanted him to. More after the jump... In 2000, Reid signed Jon Runyan, whom he termed as the best right tackle in football at the time.  Having Tra Thomas already at left tackle, Reid was able to now have "bookends" to solidify the offensive line for years. That same year, he also drafted stout defensive tackle Corey Simon and brought in tight end Chad Lewis.  All three players would ultimately play at a pro bowl level. Reid's plan was starting to come together.  He had an exciting young QB with a good offensive line and put the right man in charge of an excellent defense mostly leftover from the Ray Rhodes era. The key thing was, he and his staff new how to utilize their talent and both sides of the ball had excellent game plans. The team then began it's run of conference title game appearances and, thanks to a great draft in 2002 when he brought in the likes of Brian Westbrook, Michael Lewis, Sheldon Brown and Lito Sheppard, the team was in a position to challenge for years. Every move Reid ever made was calculated.  The players and coaches he brought in and the players he let walk away from Philadelphia were very good decisions through the first half of Reid's tenure. However, after the pinnacle of reaching the Super Bowl and going through the T.O. debacle in 2005, things starting getting a little shaky in Philadelphia. In 2006, the team started a mediocre 5-5 and McNabb was injured.  Jeff Garcia came in and created some magic and the team went on a run to the playoffs.  In 2007, the team went 8-8 and McNabb had struggled and missed time again. Plus, it was in that year when Reid drafted Kevin Kolb with their first pick in the draft and caused a little bit of a stir.  This may have been the first real crack in Reid's grand plan. However, he did seem to still have the answers as he was still able to right the ship in many ways.  The biggest example was his benching of McNabb in 2008.  After that, McNabb led the team on a Cinderella-ish run to another conference title game appearance...and a game they damn near won (probably should have, of course). However, after that season is when some out-of-character planning and decision-making started to take place. First, was Reid's decision to sign Michael Vick.  Think back to how you and/or most of America felt about Vick at that time.  It was a shocking move and seemed to be completely un-Reid-like. Then, after a 2009 season that ended with back-to-back ass-kickings at the hands of the hated Cowboys, Reid decided to shock the world again by trading Donovan McNabb to a division rival. He then anointed Kevin Kolb as the starter for 2010 and even though Michael Vick was on the team, there would be no open competition.  Kevin Kolb was the man. Then after exactly one-half of football in the 2010 season opener, Michael Vick became the starter and Kolb was ultimately traded away. That was probably the first realization that Reid no longer had a plan and was flying by the seat of his pants. Then, after the 2010 season, this is where Reid completely lost it. He unfortunately lost the great Jim Johnson before the 2009 season but had replaced him with Johnson understudy Sean McDermott.  At least that was logical. However, McDermott wasn't cutting it so Reid had to make another change.  We all know what happened next...the hiring of his offensive line coach to be his defensive coordinator. This was the oddest and most asinine decision he ever made and has ultimately become a large reason for his undoing this year. Furthermore, Reid's brain must have been fried at the end of 2010 because he bought into the notion that Vick had once again become a franchise QB who was worth millions of dollars and should be the one to lead this team for years to come. Then there was more un-Reid-like decisions when the team rounded-up every free agent they could find before the 2011 season.  The whole "build through the draft" philosophy was gone or just not working due to draft failures. The hiring (and then firing) of Castillo combined with giving Vick the keys to the franchise, have proven to be very costly mistakes and obviously not the right decisions. The plan, if there was one, was backfiring before the train could even leave the station. Perhaps Reid has just been in one place too long.  It's not fresh anymore.  He's a man that has been through a lot both personally and professionally and it seems to have taken its toll. He just seems worn-down anymore.  He's been piece-mealing things together for the past two years and it's just not working out.  He no longer seems to have a plan, or at least a good one. Sometimes when things get stale, it's hard to refresh them without a change of scenery, which is what I think Reid needs. I will always admire Reid for what he has accomplished here and for how he carries himself as a person.  His players as well as numerous people all around the NFL respect him. Unfortunately, he was unable to realize his plan here in Philadelphia and it'll be time to move on after this season. He'll have to dust off that old binder, change a thing or two, and start over. Follow Dave Stoessel on Twitter for more Eagles news and discussion!
Original Story:
http://www.buzzonbroad.com/2012/11/ea...
THE BACKYARD
BEST OF MAXIM
RELATED ARTICLES
Philadelphia Eagles head coach Andy Reid used to be the man with a plan.  That was his reputation from the day he interviewed with Jeff Lurie and Joe Banner about the Eagles' vacant head coaching position in 1999. Reid was a relative unknown at the time because he was just a quarterbacks coach in Green Bay.  However, Lurie and Banner noted how impressive he was during the interview...
Just how bad are the 2012 Philadelphia Eagles?  If not for a key lucky break in each of their three wins, Andy Reid's team would be 0-8 right now. Just a mere two weeks ago, I posted an article titled 10 Reasons to Remain Optimistic About the Philadelphia Eagles' 2012 Season.  The Eagles were 3-3 at the time and my thought pattern was that you could see the Eagles' record...
Andy Reid is fat and his son was a junkie. That's pretty much the gist of these tweets from angry Eagles bros after last night's 28-13 loss to the Saints. It was a pretty ugly game from the start so you know frustrations were running high from Philly fans. After Vick's fifth or sixth sack it got really bad. @jojobasedraichu dropped this gem: "If I catch that f*ck ***** Andy...
Coach Andy Reid says he still believes the Philadelphia Eagles can turn their season around. The Eagles (3-5) have given him little reason to truly think that, though. They were sloppy and battered in a 28-13 loss to New Orleans on Monday night. They failed to score a touchdown in five trips inside the red zone and Michael Vick was sacked seven times. Reid says the Eagles are only...
"Hit 'em when they're up, hit 'em when they're down..." That old song "Dirty Laundry" could easily apply to the media blast the Eagles organization is currently getting. Suddenly every radio show host and female sideline reporter is a football expert. They know what's wrong with the Eagles...and they know how to fix it---"fire the Reid...
We've seen it long enough and some of us are sick. Andy Reid and his commitment to Michael Vick is not only dumbfounding, it has cost the Philadelphia Eagles their season.Throughout the first six games, it seemed Vick did everything in his power to spell the Eagles' demise.The Eagles could have lost every game but somehow Philadelphia managed to crawl into their bye week...
Let's jump right into it and state the very obvious fact: Perhaps the best way for Andy Reid and the Philadelphia Eagles to make their football worlds better is to part ways and start new.
John Czarnecki from the NFL on Fox joins Fox Sports Tonight to discuss the struggles of Andy Reid and Michael Vick and head coaches worried about job security.
When the Philadelphia Eagles take on the Dallas Cowboys on Sunday, there will be a lot at stake for both teams. At a disappointing 3-5 record, both teams trail the New York Giants in the NFC East by 2.5 games at the midway point in the 2012 NFL season. With both teams having Super Bowl aspirations entering this year, things have not gone at all according to plan. With that being...
With both teams  3-5 the Dallas Cowboys and Philadelphia Eagles game on Sunday afternoon has taken on added importance. It should come as no surprise that coaches Jason Garret and Andy Reid are on the hot seat as both teams have under achieved and are coming off consecutive losses. The first game between the Cowboys and Eagles this season will be played at Lincoln Financial Field...
To no one's surprise (except maybe Andy Reid's), New York Jets head coach Rex Ryan was named the most overrated head coach in the NFL.  The Sporting News conducted a mid-season survey of 103 current NFL players from 27 teams and Rex topped the list. The rest of the list breaks down as follows: Rex Ryan, Jets (35 votes) Bill Belichick, Patriots (16 votes) Andy Reid, Eagles (9...
NFL News

Delivered to your inbox

You'll also receive Yardbarker's daily Top 10, featuring the best sports stories from around the web. Customize your newsletter to get articles on your favorite sports and teams. And the best part? It's free!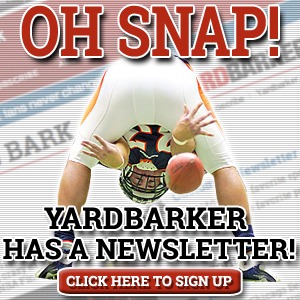 Latest Rumors
Best of Yardbarker

Today's Best Stuff

For Bloggers

Join the Yardbarker Network for more promotion, traffic, and money.

Company Info

Help

What is Yardbarker?

Yardbarker is the largest network of sports blogs and pro athlete blogs on the web. This site is the hub of the Yardbarker Network, where our editors and algorithms curate the best sports content from our network and beyond.