Found November 19, 2012 on The Juicy Online:
Many of the Philadelphia Eagles players REALLY BELIEVE, in their hearts, that their head coach, Andy Reid, will be fired at the end of the season.According to the Philadelphia Inquirer, three veteran players said, on Sunday after the Eagles 31-6 loss to the Washington Redskins, that their loss to the Redskins was the finally nail in the coffin for their head coach."I know it. I know it," said one defensive player, who requested to be anonymous due to the sensitive nature of the subject. "And the only reason I'm here is because of Andy. Some vets have been talking about how the next (coach) may want his own guy."Despite having the strong feeling that this is Reid's last season in Philadelphia, many players are remaining loyal to Reid. Their are some (a few) like tackle King Dunlap, who said that they believed they still have a chance to turn the season around and save Reid's coaching job with the Eagles."In my opinion, he's the best coach in the NFL," Dunlap said. "I can't imagine them getting anyone better to replace him."
Original Story:
http://feedproxy.google.com/~r/mediad...
THE BACKYARD
BEST OF MAXIM
RELATED ARTICLES
Andy Reid will not be coaching the Philadelphia Eagles past the 2012 NFL season. I know it, you know it, Reid knows it. Everybody knows it, and it is the right decision, regardless of how supportive of Reid Eagles' owner Jeffrey Lurie has been through the years. It is time for a change. But for anyone in Philadelphia who expects Reid to quit during this season, well, that is just...
According to Les Bowen of Philly.com, even though the Eagles lost their sixth straight game yesterday, head coach Andy Reid's job is safe for at least this week. Now that the Eagles are 3-7 and clearly out of the NFC playoff race, Reid is all but done in Philly.  I can't imagine him sticking around after this season.  It's time for the Eagles front office to bring in a new...
Categories: BREAKING NEWS Coaching Staff Eagles NewsTags: Andy ReidJeffrey LuriePhiladelphia EaglesIf you were hoping that Eagles head coach Andy Reid was going to step down before the season ends, it's not going to happen.  Today the head coach was very consistent in communicating his mindset at the time. "I'm standing in front of the team and telling them, 'These...
I admire Andy Reid for hanging in with his assignment until the very end... And let's face it, until the Eagles are mathematically eliminated from the 2012 divisional race in the NFC East, there is a case to be made for Reid's stubborn clinging to his mission's objective... But barring a modern-day Miracle of Lourdes, Reid's tenure is over in Philadelphia. ...
Image via USA Today Andy Reid's job as head coach of the Philadelphia Eagles is safe at least through Monday night, per a report in the Daily News. And if you're hoping that Reid will show mercy and throw himself on the sword of unemployment, you're out of luck. It ain't happening. Reid was asked whether his own leadership has been rendered ineffective in trying to motivate...
Many Philadelphia Eagles fans have been clamoring for rookie QB Nick Foles to start a game in place of veteran QB Michael Vick. Those fans got their wish on Sunday and the results were disastrous.  The Eagles were defeated by their divisional opponent, the Washington Redskins 31-6 on Sunday afternoon and the question now needs to be asked- will head coach Andy Reid last through...
The Philadelphia Eagles have no doubt one of if not the most talented teams in the NFL.Well, on paper at least.From the fastest player in the league (DeSean Jackson), to the 'best' cornerback tandem in the league.After a beat down by the Washington Redskins, the Eagles have now lost six games in a row. Andy Reid had never had a team lose five in a row, much less six.Despite...
Taylor Swift's "We Are Never Ever Getting Back Together" has become the go to song to parody. The latest? Casey Conklin: We Are Never Ever Gonna Win With Andy. "And your, funny way managing of... Full story at Bob's Blitz ~ http://www.bobsblitz.com
As fans of our respective teams and a community of football fans and analysts we are quick to talk about which coaches are on the 'hot seat'; who is likely to lose their job and what we'd do if we held the keys to a franchise without considering the actual ramifications of making that decision. … 
For all you Philadelphia Eagles fans who aren't exactly pleased with head coach Andy Reid, this song parody might be the best thing you see all week. It uses Taylor Swift's hit song, "We are never ever getting back together" as the inspiration and it might be the best parody song we've seen in awhile:
Eagles head coach Andy Reid said quarterback Michael Vick's concussion is "improving" during Monday's press conference, per Geoff Mosher.   Reid: mike Vick is improving. Took concussion impact test but still below baseline. Still at stage 1 — Geoff Mosher (@GeoffMosherCSN) November 19, 2012   Although it's unlikely, Reid hinted towards the possibility of Vick being...
The Eagles were anything but a picture of confidence as they prepared to walk onto FedEx Field on Sunday. Image via the Philadelphia Eagles. The Philadelphia Eagles may not win another game in 2012. It's not a statement made to be alarmist. It's one that may well be the reality. I'll still be watching/suffering through ever single game. But there are no longer any expectations...
NFL News

Delivered to your inbox

You'll also receive Yardbarker's daily Top 10, featuring the best sports stories from around the web. Customize your newsletter to get articles on your favorite sports and teams. And the best part? It's free!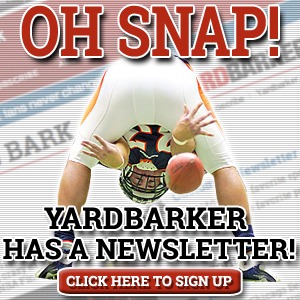 Latest Rumors
Best of Yardbarker

Today's Best Stuff

For Bloggers

Join the Yardbarker Network for more promotion, traffic, and money.

Company Info

Help

What is Yardbarker?

Yardbarker is the largest network of sports blogs and pro athlete blogs on the web. This site is the hub of the Yardbarker Network, where our editors and algorithms curate the best sports content from our network and beyond.