Found November 23, 2012 on StraitPinkie.com:
Edgerrin James was an All-Pro running back for the Indianapolis Colts. Earlier this year the Colts inducted James into the Colts Ring of Honor. The former Miami Hurricane had a great college and pro career. He was part of the great Colts offense that had Peyton Manning, Marvin Harrison, Reggie Wayne, and Dallas Clark. I had the great pleasure to chat with James about football, his foundation, and fatherhood. Art Eddy: First off are you surprised on how well the Colts are doing with rookie quarterback Andrew Luck at the helm? Edgerrin James: I am not surprised. Once he signed up with team and after talking to a bunch of the players and coaches on the staff they said he was going to be super good. He is ahead of his time. This is happening right now, but they expected it. AE: Earlier this year you were inducted into the Indianapolis Colts Ring of Honor. What was your reaction when you got the call? EJ: It is one of those things that you always want to happen when you step foot in the NFL organization. You say I want to be one of the guys that are remembered. I want to be a guy that actually leaves his mark. This is one of the goals and to actually have happened was great. It was a great feeling. It's a mission accomplished. It is one of those things that you set out to do and to actually have it happen is a great feeling. AE: Did any player inspire you to play football? EJ: I am from South Florida. In Florida all you do is play sports. So football is kind of embedded in us. When I was coming up the player that I used to like to watch was Walter Payton. Watching Walter Payton run and play the way he played the game that was one thing that always inspired me. Getting into the running back position is the one thing that seemed so easy and I was able to do it so effortlessly so it paved the way for me to be a running back. AE: The trio of you, Peyton Manning, and Reggie Wayne were a triple threat. How was it to play with them? EJ: It was great. I played with Marvin (Harrison) as well. So it was more than a triple threat. Me, Peyton, Marvin, we had a great offense, Reg (Wayne), but to play in a great offense like that we all had one common goal. We wanted to go out and produce and do whatever it takes to win. When everything comes together like that, that is what you want to end up getting. You want to get good results. AE: Is there one game or moment that sticks out to you in your college or NFL career more than others? EJ: Nah because I played so many games that not one game stands out. Everything is situational. You had a certain game that you were good at running the ball. There were certain games that you were good at on the pass receiving end or pass blocking, so no I cannot identify one game that stands out for me. AE: You have set up the Edgerrin James Foundation in 2000 to as you state to improve the decision-making process of the youth and young adults, enhancing the quality of their lives and empowering them to make positive contributions to society. What made you decide to create this foundation? EJ: I have always been attracted to the kids and the youth because I know the importance of reaching the youth. That is always one thing that I want to stay close to. I want to stay close to them to make sure that a lot of those kids make the right decision. Growing up as an African American you see so many mistakes that guys make. It has become the domino effect. That initial mistake is the one that usually carries over to this or that and it is never ending. So you want to try and stop it before it starts. So I want to start at ground level to get to the kids as much as I can. Try to help them as much as I can to make sure that they don't make a mistake and then go on to try an fulfill a promising life. AE: Your foundation helps out people all year round, but especially now around Thanksgiving you guys provide food to those in need. Tell us a bit about that program. EJ: It has been a program that we have been doing for years. It is where we feed people in the inner city in Miami where I grew up. So I just make sure that I am always doing something in every area. AE: You are father and I always like to ask other fathers this question. What is the main thing you strive to teach your kids? EJ: Well I just try to make sure my kids are out and doing the right thing and fulfilling a lifestyle that has no boundaries and no limits. They are not limiting themselves to nothing so trying to expose them to a bunch of things that is going on in the world. Give them a chance to travel and make sure they are just good people. Everything is brought up around principle to make sure they are solid and there is no lying, stealing, and cheating and teach them the importance of family. To listen to the entire interview with Edgerrin James click here to go to the Life of Dad podcast page.
Original Story:
http://www.straitpinkie.com/sports/ed...
THE BACKYARD
BEST OF MAXIM
RELATED ARTICLES
WOMAN OF HER WORD
A Colts cheerleader promised to shave her head in support of Chuck Pagano if fans donated at least $10,00 to leukemia research. They have donated over $22,000.
To support leukemia research, Colts cheerleader Megan M. told fans that if they donated a combined total of over $10,000 to the cause by November 25th, she would shave her head, just as many Colts players have already done to support their head coach Chuck Pagano.
Last weeks game was another step in the development of Andrew Luck.  Colts fans don't need to get down too much. After going a red hot 13-1 in week 11, I went 2-1 on Thanksgiving day.  For the season that makes it 106-57.  I'm still in striking distance of .750 for the season. Let's take a look at week 12. Minnesota at Chicago - The Vikings are coming off their...
Many players on the Indianapolis Colts have decided to shave their heads in honor of head coach Chuck Pagano who's been battling leukemia. Now a Colts cheerleader has decided to shave her head.  She's been identified as Megan M. and she announced on November 11th that if Colts fans raise over $10,000 in money that will go towards Leukemia research by November 25th, she will...
"With the first pick in the 2012 NFL Draft, the Indianapolis Colts select Andrew Luck, quarterback, Stanford"With those 17 words spoken by NFL Commissioner, Roger Goodell, the Indianapolis Colts ushered in a new era of Colts football. Since 1998, the only thing Colts fans have known and cared about has been Peyton Manning. And now, just like that, the future Hall-of-Famer...
The Indianapolis Colts have been raising money towards leukemia research since head coach Chuck Pagano was diagnosed with the disease. The team has raised the money via sales of CHUCKSTRONG shirts and wristbands. A few weeks ago Colt players began to shave their heads. Over thirty Colt players have shaved their head for the cause. Soon after Colts' mascot Blue threw out the idea...
Buffalo Bills (4-6) at Indianapolis Colts (6-4) I've called Indianapolis a perpetually underrated team all year. Starting week 2, they were home dogs for Minnesota, 3 point home favorites for Jacksonville, touchdown home dogs for the Packers, 3.5 point road dogs against the Jets, 1 point home favorites for Cleveland, 3.5 point road dogs against the Titans, home dogs for Miami,...
One of the more entertaining games of the early slate of games, if you like offense, will be the (4-6) Bills taking on the (6-4) Colts. This game has wild card implications for both squads as Buffalo is looking to get in, while Indianapolis is looking to cushion their lead. It features two of the games more explosive offenses, with both teams being able to move the ball down the...
The Indianapolis Colts are looking for a bounce back game after giving up a boatload of points, 59 to be exact, last weekend to the New England Patriots. The Buffalo Bills are looking for a two game winning streak after working over the Miami Dolphins last week in Buffalo.Looking at both squads and their respective match-ups, here are three bold predictions for the game this coming...
The Buffalo Bills will play the Indianapolis Colts on Sunday at Lucas Oil Stadium. The game will take place at 1 p.m. EST on CBS. While the Colts remain in contention for a playoff spot the Bills have failed to meet early season expectations. So what is the line for the Bills and Colts game? The Colts are a 3.5 point favorite this week. The total points or over/under for the game...
After allowing a punt return for a touchdown in a loss to the New England Patriots last week, Indianapolis Colts interim coach Bruce Arians knew something needed to be done about the team's return coverage, and fast. He'll find out just how much improvement can be done in one week Sunday when his team faces off against the Buffalo Bills, who tout the league's most explosive...
NFL News

Delivered to your inbox

You'll also receive Yardbarker's daily Top 10, featuring the best sports stories from around the web. Customize your newsletter to get articles on your favorite sports and teams. And the best part? It's free!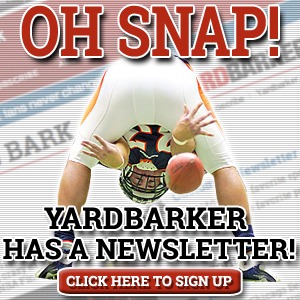 Latest Rumors
Best of Yardbarker

Today's Best Stuff

For Bloggers

Join the Yardbarker Network for more promotion, traffic, and money.

Company Info

Help

What is Yardbarker?

Yardbarker is the largest network of sports blogs and pro athlete blogs on the web. This site is the hub of the Yardbarker Network, where our editors and algorithms curate the best sports content from our network and beyond.