Found August 21, 2012 on 60 Max Power O:
PLAYERS:
Eli Manning
,
Brett Favre
,
Ben Roethlisberger
,
J.P. Losman
,
Aaron Rodgers
,
Tom Brady
,
Joe Montana
,
Terry Bradshaw
,
Peyton Manning
,
Tony Romo
,
Dan Marino
,
Troy Aikman
TEAMS:
New York Giants
,
Minnesota Vikings
,
Pittsburgh Steelers
,
Green Bay Packers
,
New England Patriots
,
Dallas Cowboys
,
San Diego Chargers
 Some time ago my fellow writer Michael Samuels II wrote about how the New York Giants quarterback Eli Manning is neither an elite quarterback nor is he a Hall of Fame quarterback. I am a person that lives for a healthy debate, so I am here to disagree with Michael on both aspects of a) being elite and b) being a Hall of Famers.
              Let's take a look at Eli Manning's career as a whole. In his 8 years as the "Quarterback of the Future" for the New York Giants, Eli has yet to miss a game. His touchdown to interception ratio is 185-129. At first glance, these aren't stellar numbers, but in Eli's case the numbers don't tell the entire story. Yes, he's thrown 14+ interceptions in all but two seasons and 20+ in two seasons, but we don't bring down soon-to-be Hall of Famer Brett Favre for the same thing. His regular season play has been his downfall in most conversations though his play in the postseason carries his legacy. 
  In 2004, Eli Manning was drafted first overall by the San Diego Chargers. There were 3 other quarterbacks taken in the first around after Manning: Phillip Rivers, 4
th
, Ben Roethlisberger, 11
th
, and J.P Losman, whom was taken 22
nd
. Only Ben Roethlisberger has won a Super Bowl (2) out of this bunch and he played poorly in his first appearance. Outside of Aaron Rodgers, no other quarterback that has been drafted after Eli has even appeared in the Super Browl as the starting quarterback. Eli has won two Super Bowls whilst winning the MVP twice in the game. He's gone 4-0 in his last two playoff appearances and in each SB appearance has outplayed Tom Brady both times (both included game-winning 4
th
quarter touchdown passes from Manning). In the history of the NFL, the only players that have won multiple Super Bowl MVP awards are Brady, Joe Montana, Terry Bradshaw and Bart Starr. Montana, Bradshaw and Starr are all in the Hall of Fame and we know that Brady is well on his way. I'd like to also mention that Eli has been very clutch of late. Sixteen fourth quarter touchdowns, which is the most all-time, and eight game winning drives isn't something that you look over when making Eli's case.
  As critics we often kill players for lackluster regular season play and yes, Eli has had a few seasons that he probably wishes he had back, but as he's grown so has his game. In the playoffs during his last two runs, which ended in Super Bowl victories, Eli has carried his team in a way that only his older brother Peyton Manning has done once. The relation between Eli and Peyton is somewhat hinders what Eli has done as we've, at times, all wanted Eli to be as good as Peyton was aesthetically. He's not Peyton. He's not Brady. He may not even be Aaron Rodgers when it is all said and done at the end of his career, but when you say elite you have to mention Eli amongst the Brady's, Brees, and Rodgers. He could have easily turned out to be Tony Romo, but he's on a path creating his own legacy and as his career furthers on I feel he will make a definite case as a soon to be Pro
Football
Hall of Famer. Someone tell Dan Marino, Steve Young and Troy Aikman to scoot over because Eli is coming soon. Will he go above them? No doubt he won't, but beside them won't look as bad. 
Please join us on our Facebook Page and follow us on Twitter @DailyShootout
Be sure to check out other great articles at DailyShootout.com.
Original Story:
http://www.60maxpowero.com/patriots/c...
THE BACKYARD
BEST OF MAXIM
RELATED ARTICLES
Direct TV's fairy commercials to support their NFL Sunday Ticket are a bit ironic. Football..fairies…players…tights…anyway, this reel signals the return of Peyton Manning. As we will soon be reminded when he's in motion, his brand shows up more than just on the field.
If quarterbacks were judged by MVP awards and commercial appearances, Denver's Peyton Manning would undisputedly be the greatest of all time. From wiping the windshield, to giving wet willies, to getting a massage, to 'cut that meat', to 'orange barrel, reroute!', to telling on Eli for locking him in a closet, Peyton has pretty much done it all. Below are outtakes...
Against popular belief, just because you self-proclaim yourself to be elite, doesn't mean your elite.  If that was the case, Joe Flacco and Jamarcus Russell would already be in elite status.  Against New York Giants fans and ESPN's so-called "experts" belief, winning a Super Bowl doesn't make you elite either, which keeps Brad Johnson and Trent Dilfer out of this class...
Russell Wilson stands at a mere 5-foot-11 and 206 pounds, on a good day. But at that diminutive stature, many big-time NFL pundits would say Wilson has no place playing quarterback in the league. Right? Well, in college, the talented quarterback only threw for 3,000 yards in three consecutive seasons. He also tossed just 109 touchdowns to 30 interceptions over his four-year career...
AP According to Bill Williamson of ESPN.com, Denver Broncos quarterback Peyton Manning has had problems throwing the ball to his right side. "It appears that one of the biggest challenges for Denver Broncos quarterback Peyton Manning as he comes back from a serious neck injury is throwing to his right. "ESPN guru John Clayton pointed it out to me this summer. While he thought...
Denver Broncos News Denver Broncos fans got their first taste of the Peyton Manning no huddle offense on Saturday night.  It was exciting to see it work well, but its too bad it ended in frustration. Hopefully, we'll see it all come together at least once before the regular season. [DenverBroncos.com & Denver Post] Meanwhile, the Broncos defense has shown its a work in progress...
Coming off injury Peyton Manning is a sexy pick to finish among the elite quarterbacks this season. All reports from camp hint towards a full recovery from neck surgery. With young receivers Eric Decker and Demaryius Thomas expectations are high in Denver. Peyton is no slouch to the spotlight leading the Colts to a bowl victory in 2006. One of Manning's biggest knocks throughout...
AP Detroit lions defensive tackle Ndamukong Suh isn't looking to clean up his reputation.  Instead he wants to take down more quarterbacks. "I love hitting Aaron Rodgers, Jay Cutler. Ben Roethlisberger, I would like to go against him, because they say he's one of the hardest to take down," Suh said, via NFL.com. "I see that as a challenge, so I would love to take him down...
Denver Broncos News The Denver Broncos are feeling a bit chippy about their performance against the run, so its a good thing another strong rushing attack is on the docket this weekend. [DenverBroncos.com] When was the last time the Broncos were in the top 6 from odds makers to win the Super Bowl? I'm betting it was somewhere around 2006… [First & Orange] Derek Wolfe and...
The Patriots once again lost in the Super Bowl to the Giants thanks to yet another late 4th quarter comeback drive orchestrated by Eli Manning. And there was a great rejoicing. Since then, the Patriots have been mostly busy getting trying to suppress the events of the Summer of Gronk, as well as signing eight thousand other tight ends. Five Fast Facts About The Greatriots: - Josh...
NFL News

Delivered to your inbox

You'll also receive Yardbarker's daily Top 10, featuring the best sports stories from around the web. Customize your newsletter to get articles on your favorite sports and teams. And the best part? It's free!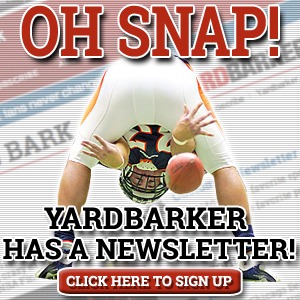 Latest Rumors
The Backyard

Today's Best Stuff

For Bloggers

Join the Yardbarker Network for more promotion, traffic, and money.

Company Info

Help

What is Yardbarker?

Yardbarker is the largest network of sports blogs and pro athlete blogs on the web. This site is the hub of the Yardbarker Network, where our editors and algorithms curate the best sports content from our network and beyond.