Found December 09, 2012 on Fox Sports:
PLAYERS:
Roger Goodell
,
David Wilson
,
Gale Sayers
,
Devin Hester
,
Christian Ponder
,
Corey Wootton
,
Andrew Luck
,
Derrick Morgan
,
Will Witherspoon
,
Andy Dalton
,
Marvin Jones
TEAMS:
New York Giants
,
Chicago Bears
,
Minnesota Vikings
,
Indianapolis Colts
,
Tennessee Titans
,
Cincinnati Bengals
The NFL has been accused in the past of trying to turn the game into flag football. Does it really want to now lend credence to that by getting rid of an exciting, but sometimes dangerous, part of the game? Reports have been flying this week that the NFL's competition committee would look at the possibility of eliminating kickoffs in the name of player safety. In a recent Time magazine piece, commissioner Roger Goodell discussed a kickoff proposal with Rich McKay, the head of the committee, that would allow the kicking team the option of having a fourth-and-15 from its own 30-yard line rather than engaging in a kickoff play. Are you kidding me? That's a ridiculous proposal. Goodell saw firsthand this weekend the impact that kickoffs have on games. While at MetLife Stadium, the commissioner watched the Giants earn a team record 287 yards on kickoff returns -- including a game-changing touchdown early against the Saints. With the game scoreless and New York driving, New Orleans returned an interception 73 yards for a 7-0 lead. Thirteen seconds later, the score was tied thanks to a David Wilson 97-yard kickoff return. In a manner of seconds, momentum swung to the Saints then back to the Giants -- which helped them take the lead just five minutes later and ride that wave to a vital victory (as divisional rivals Washington and Dallas all won earlier in the day and are breathing down their necks). This isn't about the Giants alone. Sure, it benefitted them this week -- but how many game-defining plays have happened during kickoffs this season? Last season? All-time? Gale Sayers, Brian Mitchell, Devin Hester -- these are some of the marquee names that changed games with their performances on kickoffs. Why would the league want to eliminate these types of players and plays? I understand the league wanting to make the game safer. Kickoffs do create one of the most dangerous situations in the game as players collide at high speeds. But last year's rule change helped. With kickoffs taking place from the 35-yard line rather than the 30, the percentage of kickoffs returned by the receiving team went down from 80.1 percent in the 2010 season to 53.5 percent in 2011, and concussions dropped 40 percent from 2010 to 2011 according to the NFL competition committee report. It's a small sample size, but in today's afternoon games we had 128 kickoffs and no major injuries that we saw. There are many ways to make the NFL safer. Eliminating one of the most exciting parts of the game should not be one of them. After sitting through 10 years' worth of competition committee meetings, I think they will look at this proposal, roll their eyes, and move on to the next subject within minutes. Your job is safe, David Wilson. Here are some other plays that caught my attention on Sunday afternoon: Chicago at Minnesota Situation: The Vikings had the ball, second-and-8 on their own 31 with 4:42 remaining in the first quarter. Minnesota led 14-0. The Play: Minnesota quarterback Christian Ponder drops back and has to scramble to avoid defenders. He is brought to the ground by defensive end Corey Wootton but throws the ball sideways and it appears the Bears recover it. However, Ponder is ruled to have been down before the throw, losing 14 yards on the sack. My Take: There are certain sayings in the officiating world that are not in the rule book and never will be. One has to do precisely with this play. The saying is "Don't let the quarterback do a bad thing when he is falling backwards on the way to the ground." Referees are told to rule forward progress or rule him down to prevent a cheap intentional grounding call or a fumble. That's exactly what referee Walt Coleman did here. In some ways it's for the protection of the quarterback, but it's mainly to prevent the cheap penalty or cheap turnover. Besides, in this play it's clear that Ponder's progress was stopped and he was being driven backward before attempting to throw the pass. Tennessee at Indianapolis Situation: The Colts had the ball, third-and-3 on their own 39 with 4:56 remaining in the first half. The Titans led 10-7. The Play: Colts quarterback Andrew Luck gets taken down by Titans defensive end Derrick Morgan, but he appears to throw the ball away just before getting sacked -- and right into the hands of linebacker Will Witherspoon, who turns it into a pick-6. It is reviewed, but the play stands. My Take: Based on the one television replay that I saw that came up after the commercial break, I'm surprised this call was not reversed to a sack. The issue is when did this replay shot come up? We don't know, because it was in commercial. At the game site, there are no commercials shown to the replay booth. While we're at home watching ads, the booth is seeing multiple replay angles and making its decision. Luck's left knee was down and the ball was still in his hand. I know there has to be indisputable visual evidence to overturn a call made on the field, but it appeared to me there clearly was in this case. Even in replay, they'll freeze the video when it shows a knee on the ground and the ball still in the passer's hand. Either they didn't see the proper shot, or they didn't feel it was enough to overturn. But in my mind, it clearly should have been overturned. Dallas at Cincinnati Situation: The Bengals had the ball, second-and-goal on the Cowboys' 7 with 9:43 left in the third quarter. Cincinnati led 13-10. The Play: Cincinnati quarterback Andy Dalton scrambles and finds receiver Marvin Jones in the end zone for a touchdown. A flag is thrown for an illegal touching of the pass, resulting in a five-yard loss and a replay of down. My Take: Lesson learned from Tampa Bay -- you can legally chuck a receiver out of bounds beyond five yards if the quarterback is out of the pocket. That's precisely what happened here when Jones caught a pass for what appeared to be a touchdown. Jones was chucked out over the end line, but it was well after Dalton had left the pocket therefore Jones was ineligible to be the first player to touch the ball after Dalton threw it. When he was indeed the first player to touch it, it created the five-yard penalty. By the way, this is reviewable. If they had called it a touchdown and missed the receiver being out of bounds, they could have reviewed it and turned it into a penalty for an illegal touch.
Original Story:
http://msn.foxsports.com/nfl/story/mi...
THE BACKYARD
BEST OF MAXIM
RELATED ARTICLES
LONG NIGHTMARE IS OVER
Former NFL commissioner Paul Tagliabue has vacated the suspensions and fines imposed upon Saints players as a result of the NFL's Bountygate investigation.
Today Sports Business Journal released their annual list of the most influential executives in sports and ESPN President John Skipper topped the list ahead of NFL commissioner Roger Goodell: Those major pro sports commissioners may be in the news much more than a largely anonymous figure like John Skipper, but ESPN is worth more than all those major pro sports league....
NFL Playoffs – Punt (Photo credit: ron.diel) Let's fast forward to next year's NFL season.  Imagine that it is December 15, 2013, it is week 15 and it is your team versus a division rival and this game implicates who goes to the playoffs.  Now the opposing team has just scored a touchdown and your team is down by six points with less than five seconds to go in the game. ...
Former NFL Commissioner Paul Tagliabue has wiped out punishments against the four players in the New Orleans Saints "Bountygate" case. Tagliabue had been appointed by NFL Commissioner Roger Goodell to hear the players' appeal in the case since it was perceived that Goodell could not be seen as a neutral party in any kind of punitive discussion. Tagliabue found that...
Since Paul Tagliabue retired as NFL commissioner in 2006, the league has undertaken the direction of something most closely compared to a dictatorship. Roger Goodell, who was chosen as Tagliabue's successor, has had considerably more to deal with in his now six-year term as commissioner, but he's also instituted much harsher and more stringent policies than ever before seen...
Paul Tagliabue has lifted all suspensions related to the Saints bounty scandal. (Credit: Associated Press) Four players that played for the New Orleans Saints had been previously suspended by commissioner Roger Goodell for their roles in the Saints pay-for-injury scandal led by former defensive coordinator Gregg Williams. Now after fighting for a fair and open appeal, current Saints...
  King Solomon solved a thorny legal question with a decision to split a baby in half. It was the stuff of Biblical legend. Retired NFL Commissioner Paul Tagliabue split the baby today by giving all sides in the New Orleans Saints Bountygate scandal a face-saving way to claim a win. Tagliabue deserves a paragraph when they re-edit Scripture. Current NFL Commissioner...
Paul Tagliabue affirmed the findings of NFL commissioner Roger Goodell in the league's investigation of the New Orleans Saints' bounty program, but vacated all discipline issued to players who were punished, league spokesman Greg Aiello announced on Twitter. As a result, the suspensions of Saints linebacker Jonathan Vilma, defensive end Will Smith, Cleveland Browns linebacker...
Former NFL commissioner Paul Tagliabue has issued a ruling regarding the the player suspension appeals in the New Orleans Saints' bounty case. After current commissioner Roger Goodell recused himself from the situation, Tagliabue maintained that the League's findings against Anthony Hargrove, Will Smith, and Jonathan Vilma were factual but rescinded the suspensions set fourth upon [...]
NFL News

Delivered to your inbox

You'll also receive Yardbarker's daily Top 10, featuring the best sports stories from around the web. Customize your newsletter to get articles on your favorite sports and teams. And the best part? It's free!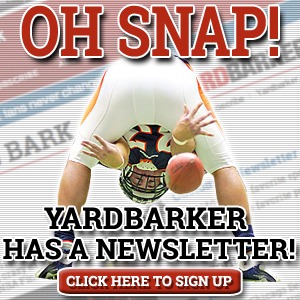 Latest Rumors
The Backyard

Today's Best Stuff

For Bloggers

Join the Yardbarker Network for more promotion, traffic, and money.

Company Info

Help

What is Yardbarker?

Yardbarker is the largest network of sports blogs and pro athlete blogs on the web. This site is the hub of the Yardbarker Network, where our editors and algorithms curate the best sports content from our network and beyond.