Found January 25, 2013 on Football Nation:
Eli is better than Peyton. Trent Dilfer? He's better than Dan Marino.Every year the media fuels the foolish fire claiming wining a  Super Bowl makes a quarterback elite. Once a quarterback wins, BOOM! He goes from a good quarterback to magically this amazing elite quarterback. One game, whether the Super Bowl or not does not define a quarterback's eliteness.I would take Peyton over Eli in a heartbeat. Eli may have more rings, but Peyton is by far a better quarterback than his younger brother. As for Marino? I would take him over every quarterback that has ever won the big game not named Montana, Elway or Brady.Where are the elite quarterbacks in the NFL this year? Brady, Manning, Rodgers, Brees, Roethlisberger are all watching the Super Bowl at home. I guess one of them will lose their elite status because every year the same discussion appears, "Is QB X elite now that he has made it/won the big game?" The answer is no. Super Bowls aren't a reflection of great quarterbacks; they are...
Original Story:
http://www.footballnation.com/content...
THE BACKYARD
BEST OF MAXIM
RELATED ARTICLES
  Baltimore Ravens quarterback Joe Flacco is having one of the most prolific playoff runs in NFL history. His eight touchdown passes currently rank him third all-time for most touchdowns thrown in the postseason without an interception.  Joe Montana (11) and Steve Young (9) both went on to win the Super Bowl as did Drew Brees, Troy Aikman and Phil Sims, all tied with Flacco at...
We already know Baltimore Ravens quarterback Joe Flacco isn't going anywhere and will be back in 2013 no matter what.  It will come down to whether they can get an extension done before free agency begins in March. ESPN's John Clayton says if Flacco gets hit with the franchise tag, the Ravens will owe him $14 million in 2013.  He's looking at making $20 million per season...
If you'd predicted a Colin Kaepernick vs. Joe Flacco match-up for Super Bowl 47 in Week 10 of the NFL season, you might have been ridiculed as being ignorant or crazy. Or both. At the time it was virtually unthinkable.Colin Kaepernick was an inexperienced second-year backup to veteran Alex Smith who was sporting a lofty 104 quarterback rating.This coming on the heels of last...
When Ravens quarterback married Dana Grady in Westmont, NJ back in 2011, the couple took all the expected pictures (see above). But photographer Jason Prezant also got a few that you guys did not.... Full story at Bob's Blitz ~ http://www.bobsblitz.com
Maybe Delaware is the new Quarterback U. When Joe Flacco takes the field with the Baltimore Ravens against San Francisco, he'll be the second former Blue Hens quarterback to start a Super Bowl. Rich Gannon was the first with Oakland 10 years ago. That's more than powerhouses USC, Texas, Oklahoma and Florida combined. It's one more than Miami, Michigan, Tennessee, Penn...
The 49ers, not the Ravens, are going to win the Super Bowl, so says Tecmo Bowl. The folks who do modern-day simulations of NFL games using the classic video game plugged in the teams competing in Super Bowl XLVII. And bad news for Joe Flacco and the Ravens; they don't claim the Lombardi Trophy. It was, however, a tight game heading into the fourth, deadlocked at 17. But then the...
Baltimore Ravens' quarterback Joe Flacco is scheduled to become an unrestricted free agent in 2013, but odds are the Ravens will use their franchise tag on Flacco for 2013. There are two reasons for this prediction. The first reason, the Ravens almost always wait to negotiate big contracts until after the season is over. Take defensive tackle Haloti Ngata who received the tag in...
With the Superbowl just over a week away, it's time for a little preview before we make our prediction for the big game this time next week! OFFENSE The offensive performance of the Ravens is completely reliant on how well Joe Flacco can continue to play. We've seen the past few weeks that when he is playing with confidence and hitting his...
We are not Jim and John. Neither of us coach the Baltimore Ravens or the San Francisco 49ers. We never played in the NFL.  We live vicariously through players like Tom Brady and Aaron Rodgers, Arian Foster and Adrian Peterson, Calvin Johnson and Andre Johnson, imagining every Sunday, placing ourselves in the cleats, pads and jerseys of the games greats, deriving an entire range...
The Baltimore Ravens have an opportunity to place the franchise tag on Joe Flacco this offseason. Every time the Ravens use the franchise tag on a player, that player usually signs a major contract by the end of the offseason. Terrell Suggs in 2009, Haloti Ngata in 2011 and Ray Rice in 2012 are proof of that prediction having a strong chance of becoming a reality in 2013. What will...
No NFL fan would argue that today's league is a passer's league, a quarterback's league. And with each new Super Bowl winning quarterback, the media quickly anoints that player into the "elite" status.But the favored quarterback to win this year's Super Bowl has not even started a full season in the NFL. After starting Quarterback Alex Smith suffered a concussion in November...
You can talk all you want about "teams of destiny", but it all boils down to one essential fact: winning teams usually out-work and out-practice their opponents. Ray Rice's "Hey-Diddle-Diddle" 4th-and-29 conversion, Joe Flacco's 70-yard miracle bomb to Jacoby Jones with 30 seconds left in regulation in Denver... these sorts of things seem to reek...
NFL News

Delivered to your inbox

You'll also receive Yardbarker's daily Top 10, featuring the best sports stories from around the web. Customize your newsletter to get articles on your favorite sports and teams. And the best part? It's free!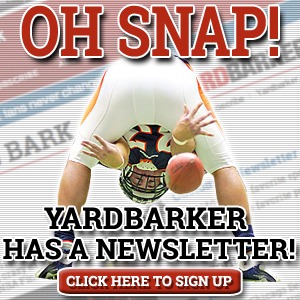 Latest Rumors
The Backyard

Today's Best Stuff

For Bloggers

Join the Yardbarker Network for more promotion, traffic, and money.

Company Info

Help

What is Yardbarker?

Yardbarker is the largest network of sports blogs and pro athlete blogs on the web. This site is the hub of the Yardbarker Network, where our editors and algorithms curate the best sports content from our network and beyond.