Found April 17, 2013 on Pro Football Zone:
San Diego Chargers safety Eric Weddle is releasing a book next month titled No Excuses, No Regrets The Eric Weddle Story by Trent Toone.Below is an overview of the book from BarnesandNoble.com Eric Weddle has developed a reputation as one of the NFL's best defensive minds, a fundamentally sound tackling machine, and a reliable last line of defense in the secondary for the San Diego Chargers. Prior to the 2011 season, the Chargers made Eric one of the highest paid safeties in league history by signing him to a five-year, $40 million contract. "Honestly, who would have ever thought I would be at where I am today?" Eric said. "I was a kid who loved sports, who struggled, who was benched, who was injured, but I didn't let the little things get me down. The little things don't affect who I am or what I'm about, but they drive me to do better. To get better today, you must demand more than you did yesterday. Winners pay the price to reach their goals."Weddle's story is about overcoming adversity and accomplishing impossible dreams. It's about an athlete who surprised his family and friends by joining the Mormon church, and about how his faith has continued to bless his life. It's a story about epic wins and devastating losses, confidence and character. It's a story of a man who values his family above all else. In short, it's a story about living each day with no excuses and no regrets.Interview with Eric Weddle: What is your football philosophy? Good question. I think mine would have to be to get the most out of every day. In the NFL, you are not guaranteed tomorrow, only the moment. So what will you do with it? Attitude will always be the same and in the back of my mind, I always ask myself, 'Do you want to be good or do you want to be great?' My actions and attitude will easily express that answer. Live and play like it's your last game so you don't have what ifs or regrets."What do you want people to take away from the book? "That anything you personally want in life, you can have. A lot of people have told me what I can't do in this life and that burned inside me every day. But I also surrounded myself with people who believed in me, supported and pushed me. Basically, what I'm saying is stay true to yourself and what you are and what you're all about. Don't ever let someone tell you that you can't do something. You define and decide your life and legacy, nobody else."What do you do to stay positive in life, on and off the field? "I am the luckiest/most blessed man in the world. I am playing the game I so dearly love and can support my family by doing so, how could I not be happy and positive every day? I'm never satisfied with being average. I can't stand losing. It is not what I am about and never will be. So waking up at 5 a.m. every morning for work and getting home at 7 p.m., it makes it all worth it to see the smiles on my kids' faces when I get a hug and kiss from them when I step through the door. This is an opportunity of a lifetime and I never forget that. It's always in my head. Finally, when I may be feeling down, or tired, or mad, I take a second and ask myself if I would rather be doing anything else in the world right now than playing in the NFL? The answer is a quick 'No' and my attitude changes immediately for the better."Chargers' fans definitely need to check out Weddle's book. Need NFL Tickets?
Original Story:
http://profootballzone.com/nfl/eric-w...
THE BACKYARD
BEST OF MAXIM
RELATED ARTICLES
SAY WHAT?
With new head coach Mike McCoy now at the helm, Chargers safety Eric Weddle believes that San Diego could very well be the best team in the NFL.
San Diego Chargers safety Eric Weddle told the San Diego Union-Tribune that new head coach Mike McCoy comes across very confident."He comes off very headstrong, very confident, knows what he wants–and we're here to win a championship," Weddle said.Weddle says McCoy's confidence is rubbing off on the team."We're not here just to be .500," Weddle said. "We're not...
Philip Rivers is the leader of a San Diego Chargers team that is under new management. With that, comes the consensus feeling that  he is standing at the crossroads of his career with the Bolts. Please click here to read this story. The post San Diego Chargers Philip Rivers stares down negative speculation appeared first on Players View.
You can never knock an athlete for having faith and confidence in their team, I mean what are you as an athlete supposed to say, yea we suck. What you can do is drug test athletes, and the NFL needs to hit San Diego safety Eric Weddle with a random right now.  Weddle has confidence in his team, so much so that he told the U-T San Diego that the "Chargers are the best team in the...
New Chargers' general manager Tom Telesco has his work cut out for him after former general manager AJ Smith left the team depleted of talent. He has many options with the 11th overall pick in this years draft. Michael Gehlken from the UT San Diego writes that Telesco considers trading one of them, if the situation calls for it.Telesco has received "just a couple" trade-related...
New coach Mike McCoy is winning over his players one by one, Philip Rivers gushed about working with the quarterback guru. Now from the defensive side, safety Eric Weddle is feeling something special happening in Southern California. Weddle may be wearing some rose colored glasses but his enthusiasm shows the excitement McCoy has brought to the team. "Now, shoot, I feel...
The month of April is a special time for all NFL teams, as each has return to work and officially begun their pursuit of capturing the Lombardi Trophy next season.Every team's front office is finalizing their draftboard by numerically ranking every collegian available in the 2013 NFL Draft.This is an important draft especially for general manager Tom Telesco and the entire San...
Chargers News

Delivered to your inbox

You'll also receive Yardbarker's daily Top 10, featuring the best sports stories from around the web. Customize your newsletter to get articles on your favorite sports and teams. And the best part? It's free!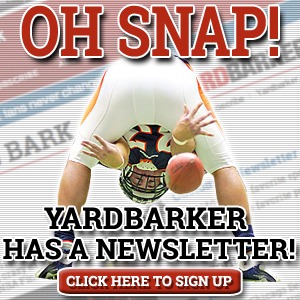 Latest Rumors
Best of Yardbarker

Today's Best Stuff

For Bloggers

Join the Yardbarker Network for more promotion, traffic, and money.

Company Info

Help

What is Yardbarker?

Yardbarker is the largest network of sports blogs and pro athlete blogs on the web. This site is the hub of the Yardbarker Network, where our editors and algorithms curate the best sports content from our network and beyond.