Found November 21, 2012 on Down and Distance:
After speculating that ESPN's Jon Gruden plans to leave for the NFL following this season, Sports-Illustrated's Peter King's comments were edited from the PTI interview on Wednesday (Credit: AP Photo) There have been multiple reports over the past few months that former Raiders and Buccaneers coach Jon Gruden is interested in returning to the game. With a number of high profile jobs, such as the Eagles and Cowboys, possibly becoming available at the end of the season, now would be the perfect time for Gruden to return. Unfortunately, Gruden is currently making a lot of money with ESPN for announcing during Monday Night Football. On Wednesday, ESPN's Pardon The Interruption, hosted Sports-Illustrated's Peter King for an interview about football. During the interview, King was asked about Gruden and hinted that the bosses at ESPN would be plenty mad if Gruden left for the NFL. Instead of airing those comments, ESPN edited the interview and removed King's comments about the company. King's full comments were, "I think at some point Jon Gruden definitely will go back to a sideline. I think your bosses at ESPN would be miffed, to put it mildly, if that happened this year, for a very simple reason: They dumped Jaws out of the booth to give the booth totally to Gruden. And if he takes off this year, I think there would be a lot of dissatisfaction, naturally. But I think the one thing Gruden will look at — that I would, too — is, Am I going to have a chance to win with the quarterback? Why are the Indianapolis Colts succeeding? Because they have Andrew Luck. Why if there was talent around RG3 would the Redskins be succeeding? Because they've got a mature, good quarterback. Dolphins are better than we thought they would be. They have a quarterback. Russell Wilson in Seattle. If you don't have a quarterback, if I'm Jon Gruden, there's no way I'm going. I'm not going to try to replicate what happened in Tampa, when I had to take Shaun King and Brad Johnson and all those guys and try to win with them. I'm going to a place where I know I have a chance with a quarterback." According to ProFootballTalk, ESPN responded to requests about why that clip was removed. ESPN told PFT that the interview ran long and had to be cut down. Follow us on Twitter @DownandDistance Down and Distance Executive Editor - Brett Krummenacker @BKrumm_SKThe post ESPN removes reference to Jon Gruden leaving from PTI broadcast appeared first on DOWN & DISTANCE.
Original Story:
http://sports-kings.com/downanddistan...
THE BACKYARD
BEST OF MAXIM
RELATED ARTICLES
Wouldn't it be great to get Jon Gruden out of broadcasting? Then we wouldn't have to hear about how EVERY NFL player is the best at his position. Well maybe he'll leave the booth for an SEC college football gig. Or Chucky will make his decision based on the winner of this weekend's "fired bowl." Derek Dooley is gone after three losing seasons at UT, and if the Vols fall...
If Jon Gruden wants to leave his cushy gig as a Monday Night Football analyst, he would be wise to move to the college game, rather than try his hand at a return to the NFL. The move from broadcast booth back to the sidelines isn't a common one, and there's a reason for that. It's a hard transition. The best thing a coach can do is just keep working. The time and stress required...
Max Wittek: Meet the USC Backup QB Who Can Keep Notre Dame Out of the BCS Title Game – The Big Lead "Hey Grude" Anthem to Jon Gruden, Arkansas' next Head Coach – Southern Gameday The ACC should add Louisville, not UConn, now that Maryland has left – SB Nation Westboro Baptist Has the Worst College Gameday Signs – Friends of the Program Johnny Football handling the Heisman...
Like clockwork, the yearly rumors of Jon Gruden's departure from the ESPN booth to coaching are starting up in full force once again.  In 2012, the sheer number of reports and rumors circling around Gruden have been more voluminous than ever before.  (Putting to doubt the "exclusivity" of that exclusive five year contract Gruden signed with ESPN, naturally.)  Everyone...
  It's surprising to me, albeit only mildly, that no one has re-hashed the whole Shaun King-John Gruden debacle, what-with all the chatter about Gruden possibly landing a job in the college football ranks come 2013. I mean, it wasn't all that long ago that King was pointing a not-so-nice finger at Mr. Gruden—essentially calling him a liar—and saying he wasn't a coach...
If you are still for some reason reading major sports outlets instead of just getting your Vikings news from sites like THIS, then maybe you've already seen Peter King's newest "Monday Morning Quarterback." If you have already read it, I am so sorry for your soul, because you have terrible taste in reading material. If you haven't, then let me share with you...
College Football The Florida State "UNCONQUERED" statue was vandalized – Throw The Flag Weekend Watch List: Enjoy rivalries like Notre Dame-Southern Cal while you can – CBS D. Dodd Video: Former Vols' QB Erik Ainge talks Jon Gruden and Tennessee – Saturday Down South Clarifying Virginia Tech AD Jim Weaver's comments about the SEC – Washington Post Georgia's staff...
This video from Bangor, Maine's WVII is one of the rarest sights in television - a news anchor quitting on the air.  In this case, a pair of them.  Anchors Cindy Michaels and Tony Consiglio quit the station at the end of their 6 PM telecast Tuesday night.  The Bangor Daily News cites lengthy disagreements between the station's management and the anchors over the direction...
According to Peter King of SI.com, if Steelers quarterback Ben Roethlisberger rushes back to the field, he could end up suffering nerve damage in his right shoulder. Roethlisberger has no sense when he'll be able to return. But according to Dr. Clark Fuller, the director of Thoracic Surgery at St. John's Health Center in Santa Monica, Calif., Roethlisberger has to be careful...
Colts News

Delivered to your inbox

You'll also receive Yardbarker's daily Top 10, featuring the best sports stories from around the web. Customize your newsletter to get articles on your favorite sports and teams. And the best part? It's free!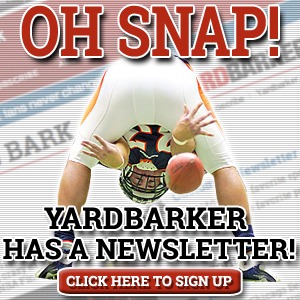 Latest Rumors
Best of Yardbarker

Today's Best Stuff

For Bloggers

Join the Yardbarker Network for more promotion, traffic, and money.

Company Info

Help

What is Yardbarker?

Yardbarker is the largest network of sports blogs and pro athlete blogs on the web. This site is the hub of the Yardbarker Network, where our editors and algorithms curate the best sports content from our network and beyond.