Found July 03, 2012 on Sports Blog Net:
ESPN's NFL analyst Ron Jaworski has ranked the top 30 quarterbacks in the league in his "QB Countdown Series." Last week, he ranked Detroit Lions Matthew Stafford as the No. 14th best QB and Minnesota Vikings Christian Ponder as the No. 28th best QB a couple of weeks ago. The NFC North is
arguably the best division of quarterbacks in the league
. The NFC East and NFC South are very talented as well. He ranked Bears quarterback Jay Cutler as No. 8 in his rankings on Tuesday. Cutler has many haters and many fans out there. Clearly Jaworski is one of his fans.
Here's what he had to say
on SportsCenter today about Cutler. "Physically, Cutler is as talented as any quarterback in the NFL. He's a power thrower with good accuracy. He has deceptive athleticism and movement. Not many bring the skill that Cutler has." "Cutler is a big-time arm talent. One part of his game that I really like is his ability to step up in the pocket and drive the ball at the intermediate and deeper levels. He's an aggressive and confident downfield thrower. There's no hesitation at all. He turns it loose. He intuitively understands the NFL passing game. He knows when you get man coverage it's on the receivers to win. Cutler's going to throw the ball. "Overall, I'm absolutely wowed by Cutler's ability to throw the football, even going back to his college career at Vanderbilt. Sure, he's exhibited some inconsistency in his six years in the NFL. He must clean up some poor decision-making tendencies. Of course he has to do that. But, if he can he will move into my top five."
What do you think about the list so far? Do you think Cutler is ranked in the right spot? Many believe he isn't a top 10 quarterback, but with the moves the Bears have made this off-season its hard to argue he won't be one this season right? Brandon Marshall, Alshon Jeffery, Michael Bush, Evan Rodriguez, Mike Tice (OC) will be big help on the field for Cutler.
Jake Perper
is the owner and head writer for Bearsbacker.com. Follow him on Twitter, @Bearsbacker and on Facebook for up to the minute news about the Bears.
Original Story:
http://bearsbacker.sportsblognet.com/...
THE BACKYARD
BEST OF MAXIM
RELATED ARTICLES
ESPN's NFL analyst Ron Jaworski has ranked the top 30 quarterbacks in the league in his "QB Countdown Series." Last week, he ranked Detroit Lions Matthew Stafford as the No. 14th best QB and Minnesota Vikings Christian Ponder as the No. 28th best QB a couple of weeks ago. The NFC North is arguably the best division of quarterbacks in the league. The NFC East and NFC South are...
Congratulations everyone, we're into July now and that means the home stretch of the NFL off season! The Bears report to training camp in just 23 days, when nuggets will start to leak out through the impromptu press conferences held as the players unload their vehicles in the Olivet Nazarene parking lot. The first practice of the 2012 season is just 24 days away with the first...
First off, let me say I fully expect Matt Forte to come to his senses and sign something before training camp starts. I do not see any scenario playing out that has Forte staying home. He'll be a Chicago Bear in 2012, and while I don't think they need him as much as he needs the Bears, he's still a damn good tailback. Having him around will make the offense that much...
Kellen Davis set for bigger role - With Martz gone, Kellen Davis will be asked to do more than block and should thrive in an expanded role. [Video] NFL Live debates Mike Tice getting rid of the seven-step drop - Former DE and OL players explain why the seven-step drop is so hard to pass protect for / easy to tee off on. Who was it the other day who left a comment disparaging...
We've got Bush T...   2011 Recap:  Forte was enjoying a pretty productive season with his highest YPC of his career with 4.9 and his 4.3 receptions per game were also a career high.  His issue was TDs.  Forte only scored 4 total TDs, including only 3 rushing.  Prior to 2011, he had never missed a game, as he had played in a perfect 60 for 60 games.  A sprained knee...
With the exception of RB Matt Forte, it's not often you see an offensive player from the Bears show up on a top-10 list. At least, not for good reasons. Typically, Bears QB Jay Cutler shows up around the middle of the pack when rankings and lists show up in the offseason, but ESPN analyst Ron Jaworski has him ranked in the top-10. // ><!-- //--><! <![CDATA...
Getty Images Chicago Bears running back Matt Forte has made it clear that he's healthy and ready to go after missing most of the 2011 season after suffering a knee injury.  He says he's been able to work out a little harder this offseason because sitting out the remainder of last season helped him to heal quicker. '"I've been lifting a little harder this offseason and...
Matt Forte's stock in mock drafts has taken a little bit of hit with the possibility of holdout looming over him. Adam Schefter had some good news (or good speculation as it were) for Forte owners. The NFL insider thinks the Bears will loosen the purse strings by the July 16th deadline whereby teams can extend players they have slapped with the franchise tag.
I've never been much of a "Bulletin Board Material" guy, but it's hard to imagine that Bears stud linebacker Brian Urlacher didn't achieve that with his comments in regards to the NFC North yesterday. "If you look at what we did last year before Jay (Cutler) got hurt, we won five in a row. When Jay went down, you saw what happened after that. When we're healthy, I...
Would it surprise you if I said that Chicago Bears linebacker, Brian Urlacher, was dating a Real Doll? You know, one of those Japanese dolls that are built life size, with real soft skin, gentle hair, and "workable" parts? Because that is pretty much what this thing, Jenny McCarthy, looks like that recently graced the cover of the magazine for true gentlemen recently, Playboy...
Despite what the statistics say, Lovie Smith doesn't think the Bears struggled in pass defense last year. With the same system for the fourth straight year, the Lions are ahead of the offseason installation game. Packers linebacker A.J. Hawk hasn't been a big playmaker on defense, but the Packers believe he has been productive enough. Get those stories and many more.
[caption id="" align="alignnone" width="600"] The Saints, Giants and Packers won Super Bowls without elite o-lines, can the Bears be next?[/caption] As has been discussed quite often in the Windy City, the Chicago Bears' offensive line hasn't really been a bright spot over the last few years, and it's largely been a unit with a lot of shuffling...
NFL News

Delivered to your inbox

You'll also receive Yardbarker's daily Top 10, featuring the best sports stories from around the web. Customize your newsletter to get articles on your favorite sports and teams. And the best part? It's free!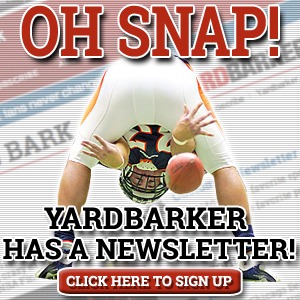 Latest Rumors
The Backyard

Today's Best Stuff

For Bloggers

Join the Yardbarker Network for more promotion, traffic, and money.

Company Info

Help

What is Yardbarker?

Yardbarker is the largest network of sports blogs and pro athlete blogs on the web. This site is the hub of the Yardbarker Network, where our editors and algorithms curate the best sports content from our network and beyond.