Found February 13, 2013 on Purple Jesus Diaries:
Filed under "Topics I Can't Believe I Still Have to Slow-Talk to your Morons About," people are apparently still discussing whether or not the Minnesota Vikings should trade wide receiver Percy Harvin. I know. It's god damn ludicrous. You know what someone asked me the other day in regards to this? They asked, "But if we sign Percy long term, how are we going to be able to re-sign Phil Loadholt?!" The answer is no one gives a ****, because passable right tackles are more common than Prince going down on your mom in 1983. Why would you even ask this question? The best player in the history of the NFL and Jesus Christ reborn, Adrian Peterson, agrees with us. In an interview this week with KFAN radio, he had the following to say: Peterson made his comments Tuesday in an interview with KFAN-FM in Minneapolis when he was asked whether he thought the Vikings would deal Harvin this offseason. "To be honest with you, I don't know if we will or not. But me, individually, and giving you my opinion, I wouldn't trade him for nothing," Peterson said. Now, I know ... Who ever listened to Jesus when he was alive, right?! I mean, let's just stone this Adrian Peterson and hang him to a cross, or something. What a bunch of wackadoo ideas this guy is espousing! What has he done, just ran for 1,598 yards this season with a sports hernia? Why would we want to take his opinion on player talent and roster moves?! Oh wait, there's more: Peterson, who won the MVP award after his 2,097-yard season, said Harvin is too special a talent to trade away. "To do the the things that he's able to do, I don't think there will be a player able to do it better than him. Ever," he said. So, you have the best football player to ever play the game talking about a player that is currently on the Vikings roster, saying there will never be another player than this player in question, and YOU WANT TO TRADE THIS PLAYER?! Honestly, what the hell is wrong with you people? I mean, I always knew I hated a certain percent of Vikings fans that were out there, but this is getting ridiculous. I call you morons the "Moss-assins", or, people who drove public opinion in favor of trading Randy Moss out of town during his prime because he was right about how stupid this team was then. You assholes also cheer for Matt Birk, spilt your seed in your pants when Brett Favre signed, and now want Percy Harvin off the roster. Have you yet realized that every side of an argument you take concerning the Vikings is the wrong side? Because it is, and you are, and you need to shut your mouth holes. I swear to God, if this team trades Percy Harvin because the majority of Vikings fans get all up in arms about it, I will straight disown this team. I will personally hunt you down in every corner of the internet and lambaste you all for being morons detrimental to Vikings fandom and society in general. In conclusion, Percy stays, you GTFO. [follow]
Original Story:
http://www.purplejesusdiaries.com/201...
THE BACKYARD
BEST OF MAXIM
RELATED ARTICLES
Here it is one week after the last game of the NFL season was played and Minnesota wide receiver Percy Harvin is at the top of the headlines again like he was before the season started.Think about it, with all the noise and hype Harvin likes to raise in the offseason, his lackluster play on the field and injury-prone seasons have trumped all the racket the media makes about him.Over...
The Percy Harvin saga continues with a new report suggesting that the wide receiver might be seeking a deal worth $12 million per year. Now Harvin is a talented player, but character and injury issues will likely prevent the receiver from landing a contract that he might desire. The number he reportedly is looking at is what Larry Fitzgerald and Calvin Johnson currently earn and...
Ian Rapoport of the NFL Network says he spoke with two NFL executives and one told  him that he would be shocked if the Minnesota Vikings received more than a third round pick in return for Percy Harvin. Heard from 2 NFL execs on possible Harvin trade: 1 spoke of how complex finding value is. Another said he'd be shocked at better than a 3rd — Ian Rapoport (@RapSheet) February...
General manager Rick Spielman and the key members of the Minnesota Vikings will head to the annual scouting combine in Indianapolis later this month after weeks of evaluating the current roster. Judging the annual crop of college players auditioning for the draft will be just a part of the agenda for Minnesota. Spielman will be making the rounds as he usually does, meeting with agents...
A Minnesota Vikings team source told Josina Anderson of ESPN that they shouldn't get rid of wide receiver Percy Harvin. "He is a star athlete who is a great player. Is he a volatile guy? Yes. Can he be managed? Yes. For me he is not an issue. You just have to be able to deal and manage star players. I don't think we should be at the point of being done with him." With Harvin...
You'll have to excuse the sub-par level of reporting that this site is usually known for when dealing with this story. Admittedly, I've brushed off following this "Vikings trading Percy Harvin" news bit for so long because I thought it was just some big joke that people were discussing online the past couple days. Ha ha, funny one guys! Yeah, Percy should be traded...
According to ESPN's Josina Anderson, a high-ranking Vikings source informed her that WR Percy Harvin is targeting a deal similar to that of Calvin Johnson and Larry Fitzgerald. Johnson received an eight year deal worth $132 million and includes $60 million guaranteed while Fitzgerald signed an eight-year deal that totaled $128.5 million and included $50 million guarantees...
Percy Harvin has been the subject of a lot of talk around the Minnesota Vikings lately. His future with the team is questionable, and now it looks as though the team will actively seek to trade him.  Sources tell WCCO's Mike Max that the main reason that Harvin left the team this season was not his injury, but instead it a blowup he had with Vikings head coach Leslie Frazier...
Jason La Canfora of CBS Sports writes that even though Percy Harvin is a legitimate difference maker, the Minnesota Vikings are unlikely to get "fair value" in return for him. La Canfora mentions that talks between the Vikings and Harvin have gone "pretty much nowhere" and he would be surprised to see any "monumental breakthroughs" when they meet at next week's Scouting...
Evidently, the Minnesota Vikings feel electrifying slot receivers, who are just as dangerous in the return game, grow on tree. Sources for CBS Sports confirm that Percy Harvin is now on the trading block.During four abbreviated seasons in the Great White (NFC) North, Harvin has racked up 29 all-purpose touchdowns (20 receiving, 5 returning and 4 rushing) for the Minnesota Vikings...
The Minnesota Vikings are reportedly going to pursue a trade of wide receiver Percy Harvin this offseason, but this wouldn't happen if running back Adrian Peterson was in charge. Peterson told Paul Allen of KFAN yesterday that, if it were up to him, he wouldn't trade Harvin. "To be honest with you, I don't know if we will or not," Peterson said.  "But me, individually...
NFL News

Delivered to your inbox

You'll also receive Yardbarker's daily Top 10, featuring the best sports stories from around the web. Customize your newsletter to get articles on your favorite sports and teams. And the best part? It's free!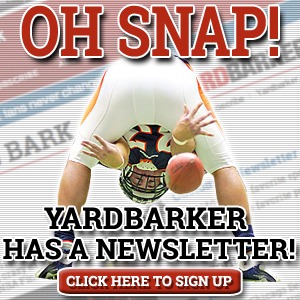 Latest Rumors
Best of Yardbarker

Today's Best Stuff

For Bloggers

Join the Yardbarker Network for more promotion, traffic, and money.

Company Info

Help

What is Yardbarker?

Yardbarker is the largest network of sports blogs and pro athlete blogs on the web. This site is the hub of the Yardbarker Network, where our editors and algorithms curate the best sports content from our network and beyond.