Found November 13, 2012 on Extra Pine Tar:
The Patriots are having trouble in defending anybody. Their defensive line doesn't seem to be getting to the quarterback, their inside linebackers are terrible in pass coverage and their secondary is a rotating band of misfit draft picks who  routinely get benched in favor offensive players. They gave up 31 points to the Bills last week. It's a bad, bad situation over in Foxboro. The good news is that the Patriots brought in Aqib Talib and his suspension is over, so he will likely be on the field this weekend. As long as he has two arms, he'll be an improvement of Alfonzo Dennard. But lest you think the Patriots have stopped there, fear not. Bill Belichick is steadfast in his pursuit of improvement, even if the defense has been horrible five-plus years now. No one's counting. That's why Belichick brought in a few new guys today to see if he could turn things around. This is from some guy named "Field Yates" at ESPNBoston.com: Finally, the Patriots worked out a pair of linebackers on Tuesday, according to a source: Mister Alexander and Dom DeCicco. Alexander was released by the Texans on Oct. 31, while DeCicco was last with the Bears, who released him on Aug. 29. Don't worry about Dom DeCicco. I'm sure he's horrible, just like most of the castoffs we bring on board midseason who inevitably last two games and then get cut. No, I won't you to focus on the other man there – Mister Alexander. He's a linebacker, and according to his not-so-extensive Wikipedia page, he was cut by the Texans and played his college ball at Florida State. Being a Seminole, that would explain the reason that his parents couldn't come up with a name for their son other then MISTER. There are only two logical scenarios for how this happened. The first is sort of a "Who's on first" situation, where Mister Alexander's parents – Mr. and Mrs. Alexander – went to the hospital and wound up confusing the hell out of the doctor. Doctor: Mr. Alexander, it's a boy Mr. Alexander: One day, he'll be the next Mr. Alexander Doctor: Who's the first Mr. Alexander? Mr. Alexander: Well I'm Mr. Alexander, sir.  Mrs. Alexander: You sure are, big boy. Mr. Alexander: Quiet, Mrs. Alexander. Not in front of the Doctor. Doctor: Well Mr. Alexander, your son looks just like you. Mr. Alexander: Gonna go grow up to be quite a man. Mrs. Alexander: Let me hold my little Mr., Doctor. Doctor: Mrs. Alexander, here's you're little Mr. Mr. Alexander: I thought I was your Mr. Alexander?  Mrs. Alexander: Shhhh, he's asleep. (Doctor walks away befuddled, signs birth certificate with name "Mister Alexander") Or, scenario 2, in which the Alexander family just decided that "mister" was a strong name: Mr. Alexander: Mrs. Alexander, what should we name our boy? Mrs. Alexander: Let's name him Mister. Mr. Alexander: I love you Mrs. Alexander. Mrs. Alexander: I love you, Mr. Alexander. And I love you (patting her stomach) Mister Alexander (everybody laughs. Mr. Alexander proceeds to mount Mrs. Alexander while Mister Alexander cries) I'm already looking forward to his first meeting with Bob Kraft. Alexander: Mr. Kraft, it's great to finally meet you. Kraft: I'm sorry young man, it's hard to keep track of all the faces coming and going here at the Stadium. What is your name? Alexander: I'm Mister Alexander, sir. Kraft: (laughs) I like a proper gentleman! I'm Mr. Kraft! But you can call me Bob – all the guys do. What may I call you? Alexander: Mister, sir. Kraft: (awkwardly laughs) Okay son, that's very good. What's your name. Alexander: It's Mister, Bob.  Kraft: You have some nerve you little ****.  Alexander: Bob, I thought we were friends? I'm sorry. Kraft: Nice to meet you, "Mister." ******* kids… Alexander: Why does this keep happening? And that's how you have to keep yourself entertained when you have the worst defense in the NFL for the second consecutive year. Here's to hoping that the Pats give Mister Alexander a shot. He can't be any worse then Mr. Gregory, Mr. Chung, Mr. McCourty, Mr. Ninkovich or Mr. Spikes.
Original Story:
http://www.extrapinetar.com/2012/11/1...
THE BACKYARD
BEST OF MAXIM
RELATED ARTICLES
New England Patriots wide receiver Wes Welker was among several players not to participate in Wednesday's practice, while tight ends Aaron Hernandez and Rob Gronkowski were limited. Welker has been dealing with an ankle injury since early Oct., but it hasn't received much notice as the speedy slot receiver has continued to play through it. He appeared to reinjure the ankle...
Patriots fans have become accustomed to the sight of Danny Woodhead emerging from the backfield and breaking into the clear for big gains, but even many of them were amazed just how open he was Sunday against the Bills. Woodhead scored on two big plays to keep the Patriots ahead, once again appearing to get lost in the defensive shuffle long enough to do some serious damage. While...
During his long tenure with the New England Patriots, Bill Belichick has encountered many Quarterbacks. On Sunday, he'll be coming up against one of the most special prospects to come out of college in the last 12 years. Rookie QB Andrew Luck is having an amazing year, on the wave of the momentum brought by the rallying force of Chuck Pagano. Combine this with a heavyweight...
There was a lot of criticism heaped on the Patriots when they traded a fourth-round pick in 2013 for troubled cornerback Aqib Talib and a seventh-round pick. But after watching how terrible the Patriots were in pass coverage on Sunday, you can't really blame them for jumping on the deal. The transition from the Tampa Bay Buccaneers to the New England Patriots may not be an easy...
Per a tweet from the Patriots official Twitter feed and a report from Chris Reidy of the Boston Globe, New England Patriots All Pro tight end Rob Gronkowski was presented with a life-size replica of himself as part of the Dunkin' Donuts "DD Gronkoff" FaceBook Sweepstakes. The cake, created by Montilio's Baking Co., used enough ingredients for 15 sheet cakes, but as you...
Patriots step on the gas - BostonHerald.com: Good analysis from Jeff Howe on Jermaine Cunningham and...
Ranking the Top 10 Games in the Colts vs. Patriots Rivalry | Bleacher Report: New article up on...
Patriots LG Logan Mankins hobbled off the field with a lower leg injury Sunday against the Bills. RG Dan Connolly also left the game with an injury. The questionable status of two starting offensive linemen was enough motivation for the Patriots to make some roster moves.
This is a Patriots blog but Pat Tillman will always have a place here.  Thank you to all the veterans out there!
FOXBORO, Mass. — Stevan Ridley nearly pulled off his fifth 100-yard performance of the season on Sunday, yet he wasn't even the star of the Patriots backfield in the win. Danny Woodhead, the elder statesman on the Patriots running back depth chart, busted out one of the biggest games of his NFL career with a pair of touchdowns and contributions in every facet of the offense....
Bills quarterback Ryan Fitzpatrick was none too pleased with what Patriots linebacker Brandon Spikes did on Sunday during New England's 37-31 win over Buffalo at Gillette Stadium. Fitzpatrick, who was visibly upset with Spikes following a questionable hit during the game, carried that frustration with him to the postgame news conference where he called Spikes a "punk." Running...
Bill Parcells still believes in the Patriots. The legendary head coach hasn't coached in New England in nearly 15 years, but he still maintains a tight connection with close friend and current coach Bill Belichick. And Parcells admitted Monday that he's been in touch with Belichick — even claiming that this year's Patriots team is better than the Super Bowl runner-up of a...
NFL News

Delivered to your inbox

You'll also receive Yardbarker's daily Top 10, featuring the best sports stories from around the web. Customize your newsletter to get articles on your favorite sports and teams. And the best part? It's free!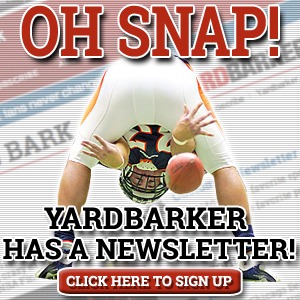 Latest Rumors
Best of Yardbarker

Today's Best Stuff

For Bloggers

Join the Yardbarker Network for more promotion, traffic, and money.

Company Info

Help

What is Yardbarker?

Yardbarker is the largest network of sports blogs and pro athlete blogs on the web. This site is the hub of the Yardbarker Network, where our editors and algorithms curate the best sports content from our network and beyond.