Found July 20, 2013 on Rumors and Rants:
In the past week, the only story that hasn't changed about Heisman winner Johnny Manziel's exit from the Manning Passing Academy last weekend is our own. That's because it happens to be the truth. But even our source with ties to the camp, who was tuned in well enough to know what was going on, didn't have access to all the story's details. Friday afternoon we were contacted by another source who is even more well-connected to camp's inner workings and therefore needs to remain unnamed. This person not only verified that what our original source had was completely true, but shared with us new information regarding the details of Manziel's departure. Basically it boils down to this: Manziel apparently lied to his own mother about his reason for missing camp meetings on Saturday morning, misled the media on SEC Media Day and threw Alabama quarterback A.J. McCarron under the bus by forcing him to answer questions about why he didn't wake Manziel up on Saturday morning. What McCarron h...
Original Story:
http://rumorsandrants.com/2013/07/exc...
THE BACKYARD
BEST OF MAXIM
RELATED ARTICLES
Source: Dustin Bradford/Getty Images North America Peyton Manning and the Denver Broncos are a near-lock to win the AFC West this season but there are concerns. Despite returning to the field and appearing in every game last season for the Broncos there are still some concerns about Manning's ability to grip the ball. The Denver Post notes that Manning and the offense appears to...
According to Jeff Legwold of the Denver Post, there still some questions about Peyton Manning's physical limitations going into the upcoming season. Talk to most anyone in and around the Broncos and the word most associated with Manning is "comfort," as in an increased comfort level with the team's offense, personnel and his surroundings. There are some small questions about...
    In 2012, Peyton Manning was the Comeback Player of the Year for the Denver Broncos. Will he now be able to lead his Broncos squad to the Superbowl in 2013? For the past couple days I have brought to you who I thought would be the top ten fantasy running backs in 2013. In this 2-part series, I will now be presenting to you my top ten fantasy quarterbacks , while comparing my...
Johnny Manziel's offseason has taken more twists and turns than a road course. So, why should it be any surprise that on Saturday another bombshell dropped. The website Rumors and Rants busted the story last week that the Heisman Trophy winner from Texas A&M was asked to leave the Manning Passing Academy early. CLICK HERE: Greg Couch says Manziel's playing the Internet...
The Denver Post reports there are still "small questions" about Peyton Manning and the strength of the quarterback's right hand and right triceps. Forced to miss the entire 2011 campaign after undergoing four neck surgeries in 19 months, the 37-year-old Manning tossed 37 touchdowns, against 11 interceptions, for 4,659 yards last autumn. Winning the Associated Press' 2012...
The Johnny Manziel, Manning Passing Academy fiasco just keeps getting better and better. Rumors And Rants, who first broke the story about Manziel being kicked out of the Manning Passing Academy, is reporting that Manziel not only overslept the morning he was kicked out of the camp, but he was also allegedly an hour away in New Orleans partying on Bourbon street around 4 a.m. Of...
VIA TwitterBy:Jeremiah Short, Feature WriterI have a confession: I don't like Johnny Manziel. I'm not talking about Johnny Manziel the football player. I'm talking about Johnny Manziel the person.Manziel talent is unquestioned. He beat Alabama. He led his team to an 11-2 record. And he's the first player in history to win the Heisman as a freshman.Why don't I like Manziel...
Rumors and Rants reported that 20-year-old Johnny Manziel was sent home from the Manning Passing Academy by Archie Manning himself because he was hung over. PR people interceded and the story was quashed. But? R&R is back: Basically it boils down to this: Manziel apparently lied to his own mother about his reason for missing camp meetings on Saturday morning, misled the media...
Every year, analysts take their shots at picking Super Bowl teams and winners, and every year, there's one or two teams picked that don't  make much sense. That's not the case here. There are certain teams around the league that are in the tournament every single year (at least seemingly), and there are teams that are never there. With sites to bet on the NFL online...
I have no problem with Johnny Manziel living the life. I have no problem with him enjoying it. We'd all take the fame, publicity, girls, fun, parties, perks etc. if we were in his position. And let's not forget, he's only 20 years old. When I was 20, they didn't even have MySpace yet. I'd shudder to think about TwitPics and Instagrams of my U of I days. However, I was always...
Crimson Tide News

Delivered to your inbox

You'll also receive Yardbarker's daily Top 10, featuring the best sports stories from around the web. Customize your newsletter to get articles on your favorite sports and teams. And the best part? It's free!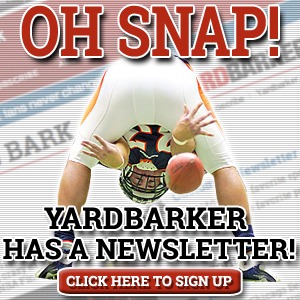 Latest Rumors
Best of Yardbarker

Today's Best Stuff

For Bloggers

Join the Yardbarker Network for more promotion, traffic, and money.

Company Info

Help

What is Yardbarker?

Yardbarker is the largest network of sports blogs and pro athlete blogs on the web. This site is the hub of the Yardbarker Network, where our editors and algorithms curate the best sports content from our network and beyond.