Found August 14, 2012 on Grits Blitz:
Another week and we have another sweet three hours of preseason football.  I believe the most dedicated of us in the Falcons fandom will be able to muster watching until about halftime, or slightly longer than the starters will play.  What do I want to see?  Pretty much what I saw last week... just more.  To make sure I am not cheating, the Grits Blitz family is making sure I do not copy from last weeks article. Roddy loves playing the Bengals. Do I like Julio Jones?  Answers to this, and five important things to watch, after the jump.
1.  More Julio
- Guess what? I got a fever, and the only prescription is more Julio!
Julio Jones rocked some faces off last week with a ridiculous six catches for 109 yards and one touchdown.  In one quarter.  This man is a monster who made two separate quality Ravens corners look like a couple of hobbled Allen Rossums.  Rotoworld has Julio behind only Calvin Johnson (who?) in fantasy this year and the first preseason game showed that if anything, Julio is being underrated.  
The success of Julio also relates squarely to the new offensive scheme.  The offense became everything it should have been last year.  Explosive plays left and right, Ryan airing it out and competent blocking.  I need to see much more of this if only to show that was not just a few lucky plays.  Currently filled with cautious optimism, I think Dirk Koetter may make a much more robust offense than anything Mike Mularkey scrawled together.
2.  None Terrible Blocking
- The offensive line may be looking at a big turn around.
Pat Hill's coaching may be as great as his mustache and our offensive line may be our most improved spot.  Garrett Reynolds, a gigantic right tackle who was plugged into right guard last year, was expected to be in a fight for a roster spot.  Instead, Reynolds started and looked pretty good.  Oh, and he's slated to start again, even ahead of our first pick Peter Konz.  I'm still unsure if this was a weird dream or if it actually happened, but the announcers were complimenting Sam Baker on his blocking.  And they were oddly right.  With the offensive line playing like it did last week, I'm good with keeping it.  If we can continue our team is suddenly short on major weak spots.
3.  Third Down Defense
 - Lets switch it up and try to have some this year.
Did anyone ever feel like Brian VanGorder spent so much time perfecting first and second down schemes... that he just ran out of time to game plan third down?  Third and short, third and long, third and 99 yards to go, VanGorder would give up the entire field.  Of course, Mike Nolan's speciality is third down and it showed last week.  Perhaps my standards are low after four years with VanGorder but Nolan took the Ravens first string offense to the woodshed (until we moved to second string).  Even for the usual vanilla scheming in preseason, THAT was some pretty exotic stuff for this team.  I want to see more continued success on third down.
4.  Less Chris Redman
 - No Chris Redman would be an acceptable amount.
I have vivid memories of my very well-reasoned belief Chris Redman should start in 2008, with Atlanta taking Glenn Dorsey 3rd overall and Brian Brohm sitting on the bench for a year or two.  Recipe for a dynasty, right? What I am trying to say is I was a big Redman fan but he has outstayed his welcome.  Like everything associated with the Twilight franchise, I want to see less, and preferably none of him.  Redman looked far past his prime last week as he turned in a Tebow-esque one completion for eight yards on six attempts.  He looked very poor last preseason as well and is only inhibiting development of a young backup quarterback in either John Parker Wilson, in his fourth pro season, or undrafted free agent Domonique Davis.  Redman should be getting a few reps in the 4th quarter as his time in the NFL is over.
5.  Special Teams Play - Replacing Eric Weems. Harry Douglas is playing this week and is slated to return punts.  He may need a good showing after Domonique Franks lit up special teams against Baltimore.  With Weems in Chicago, Atlanta is trying to replace a quality special teamer who played both returner positions and the gunner position.  The front office may shuffle around positions a bit after losing Akeem Dent to a concussion on special teams last week, and plug in those with only limited play time.
Original Story:
http://www.gritsblitz.com/2012-articl...
THE BACKYARD
BEST OF MAXIM
RELATED ARTICLES
FLOWERY BRANCH, Ga. More than the shorn locks that gave him a new offseason look, Julio Jones performance in the Falcons first preseason game last Thursday against Baltimore certainly created a buzz. In one quarter, the 6-foot-3 Jones caught six passes for 109 yards and a touchdown totals that have not gone unnoticed. In his Monday Morning Quarterback column this week, Sports...
FLOWERY BRANCH, Ga. Falcons head coach Mike Smith on Monday ruled out middle linebacker Akeem Dent (concussion), the likely starter at that spot, for Thursday's second preseason game against Cincinnati at the Georgia Dome. That means that Dent, a second-year player out of the University of Georgia who played almost exclusively on special teams last season, will miss valuable...
The Fantasy Football season is almost upon us, and many leagues are already holding their drafts. For those who have already done so, then this article will not help you all that much. But if you are like me, and try to hold your online or live draft closer toward the end of the preseason to avoid an injury wiping out your team before the regular season even starts, then you still...
Roddy White doesn't shy away from the diva tendencies of many successful receivers. He's still confident and outspoken, but White has taken on a different role for the Atlanta Falcons this season. For the first time in his eight-year career, White is no longer the Falcons' undisputed best player at his position, not with Julio Jones entering his second season. White...
We already chronicled Kat Majester's attempt to qualify for the London Olympics. Not even expected to be close to qualifying in the pole vault, Majester nearly made the team. Now Kat is moving on to the next phase her life:  Atlanta Falcons cheerleader. The NFL's new bad girl of cheerleading made her professional debut on Thursday and instantly becomes one of our heros – if...
As he prepares for his fifth season as starting quarterback of the Atlanta Falcons, Matt Ryan is grateful for all the rest he can get. The Falcons' coaching staff films each pass Ryan throws in practice before and during the season to give the team an exact number of the wear and tear on his right arm. It's an approach Atlanta started in 2008 when general manager Thomas...
The great thing about the NFL is that there are so many positions that every year, there is almost always at least one player who has a breakout year on every team, no matter how good or bad the team is. This is the part in a 32 part segment detailing one potential breakout player for the 2012 NFL season on each NFL team. For the Atlanta Falcons, that player is wide receiver Julio...
FLOWERY BRANCH, Ga. (AP) -- Roddy White doesn't shy away from the diva tendencies of many successful receivers. He's still confident and outspoken, but White has taken on a different role for the Atlanta Falcons this season. For the first time in his eight-year career, White is no longer the Falcons' undisputed best player at his position, not with Julio Jones entering...
It's time to look at which Falcon players have improved their stock and those that have not after the first preseason outing. This is mostly looking at who shined and who did not against the Ravens. Stock Up QB Dominique Davis – Davis benefited greatly from the lackluster night by both Chris Redman and John Parker Wilson. Besides Wilson running an effective 2-minute drill...
Falcons News

Delivered to your inbox

You'll also receive Yardbarker's daily Top 10, featuring the best sports stories from around the web. Customize your newsletter to get articles on your favorite sports and teams. And the best part? It's free!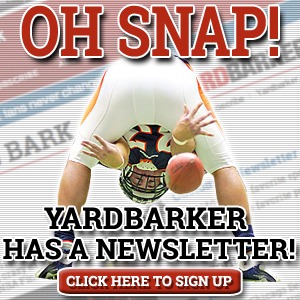 Latest Rumors
Best of Yardbarker

Today's Best Stuff

For Bloggers

Join the Yardbarker Network for more promotion, traffic, and money.

Company Info

Help

What is Yardbarker?

Yardbarker is the largest network of sports blogs and pro athlete blogs on the web. This site is the hub of the Yardbarker Network, where our editors and algorithms curate the best sports content from our network and beyond.