Found December 04, 2012 on Fox Sports South:
FLOWERY BRANCH, Ga. With 4:25 left in regulation and his team leading the New Orleans Saints by seven points, Falcons head coach Mike Smith elected to try a 55-yard field goal. If Falcons kicker Matt Bryant had missed and Bryant was coming off a game in which he uncharacteristically missed two of three attempts the Saints would have had the ball at the Falcons 45-yard-line and plenty of time to score. It was the kind of difficult choice that, if it went wrong, would echo others in the Falcons difficulties against their NFC South archrivals over the years. Smiths somewhat risky strategy paid off, as Bryant nailed the kick and the Falcons prevailed 23-13. Asked about the decision after the game, Smith regarded his questioner with the kind of look that said, Thats why they pay me the big bucks. Thats a big decision, he said. There are a lot of decisions that are made and I had all of the confidence in the world in Matt Bryant and that he would make that field goal. We knew if we didnt get the outcome, our defense would go out there and make the play to keep them off. It was a no-brainer in my mind. To Smith, it might have seemed like a no-brainer, but his kicker thought the move veered from his coachs past decision-making. I was kind of surprised we were attempting it just because our style of football that wasnt necessarily our style of football, so I was surprised, Bryant said. Pregame, you go out and hit them from 58 (yards), so as far as being able to do it, theres not a doubt. It was fun for him to say, Go out there and get those three points. So that was good, but that hasnt necessarily been the norm, so I guess I was a little surprised, too. The 55-yarder was Bryants second of the season, both being his longest since he kicked a 62-yarder in 2006. Since replacing Jason Elam in 2009, he has ranked among the NFLs best. Last season, his 93.1 percentage (27 of 29) was best in the NFL, according to the Falcons, and the 30 consecutive kicks he made between 2010 and 11 represent the longest streak in team history. This season, his 119 points rank third in the league and both his 29 field goals and 34 attempts are tied for second in the league. However, his 85.3 percentage has dipped below his performance of the last two seasons (he also was above 90 percent in 2010), which were the two best of his career. Thirteen kickers who have a minimum of 18 attempts have higher percentages than Bryant this season. Still, his performance this season is more in line with his career percentage of 84.2 during his 11 years in the NFL. That Bryant had arguably his worst day as a Falcon against his former team, Tampa Bay, would seem like it wouldnt sit well with the kicker, saying on Tuesday that itll be 20 years down the road and it still wont change the fact of how business was done there. Nonetheless, he said that didnt change the fact missing the kicks felt the same as it would against any other opponent. You want to go there, you want to have your best game. Period, he said. No matter where youre at. You want to have your best game there, too. Would it have hurt any less if happened in Detroit? No. Bryant was able to live that one down because the Falcons won the game. The strangest occurrence involving one of his missed kicks happened with the first one, a 22-yarder. A miss from between 20 and 29 yards is extremely rare. In the NFL this season, teams have attempted 169 kicks from that range -- with only three misses, giving a success rate of 98.2 percent. First, Bryant called timeout before the try, as the play clock was running down and he did not want to have to rush the kick. Even after that, the kick hooked left badly Bryant said you could count on one finger the number of kicks he has made with the Falcons that have looked like that. After viewing the tape, Bryant said there was a mistake with the operation among the trio of rookie long snapper Josh Harris, holder Matt Bosher and himself. Weve had 34 attempts as this little group together -- field goals, Bryant said. I dont know how many extra points Ive had (32), so lets say theres been over 60 attempts weve had in game situations. Other than the very first game where I ended up kicking Boshers hand on one of the extra points, everythings been good. Bryant did not specify what the issue was other than calling it a snafu and just a little operational thing between the three of us. It just cant happen, he said. He seemed to say that it was a one-time occurrence and that the trio had straightened it out. Thats probably why Smith had the confidence in him to make the big kick that helped to put the Saints away last Thursday. Matt Bryant is a guy that makes plays like that all the time, Smith said. Hes made them for us since hes been with us.
Original Story:
http://www.foxsportssouth.com/12/04/1...
THE BACKYARD
BEST OF MAXIM
RELATED ARTICLES
FLOWERY BRANCH, Ga. To look at the arc of the career of Falcons cornerback Christopher Owens from a certain direction, one can see a downward trend. As a rookie in 2009, Owens started six games. Then it was three the next season, two last and just one this one in 12 games. Yet on Thursday, when Falcons starting left cornerback Asante Samuel went out of the game on the third play...
The Atlanta Falcons aren't putting much significance on winning the NFC South for the second time in three years. Receiver Roddy White and several teammates say Atlanta has bigger goals - like earning the top playoff seed, winning the conference and winning the franchise's first Super Bowl. Linebacker Sean Weatherspoon and running back Michael Turner agree that the Falcons...
For the second time in three seasons the Atlanta Falcons have captured the NFC South title and for the second time in three seasons they also have a chance to earn home-field advantage throughout the playoffs in their conference. At this point, it would be an upset the Falcons (11-1) did not earn the top record in the NFC. They hold a 2-game lead over San Francisco (8-3-1) for the...
When Brent Grimes went down in the very first game, everyone wondered how the Atlanta Falcons would cope without one of their best cornerbacks. When Asante Samuel banged up his right shoulder, the question came up again. Turns out, the Falcons' secondary is doing just fine. Robert McClain, a former seventh-round pick who was cut by his last two teams, has helped make up for...
Hot News for DE Ray Edwards
The Falcons, speeding off to an 11-1 record through the season's first thirteen weeks, clinched the NFC South on Thursday with a win over the Saints.  They have done so with a lineup on the offensive side of the ball that is almost identical to last year's squad, and that helped the team to a (still not shabby) 10-6 finish and a wild-card entry to (and first-round exit from...
While the Atlanta Falcons wrapped up the NFC South title last week, they have their eyes set on a larger goal. Hoping to inch closer to securing the conference's No. 1 seed, the visiting Falcons try for a sixth consecutive victory over the Carolina Panthers on Sunday. While Atlanta (11-1) is usually led by an offense that ranks seventh in the league in scoring at 26.4 points...
Atlanta at Carolina Sunday, 1:00 p.m. ET, at Bank of America Field, Charlotte - TV: FOX; DirecTV: 705 *TV announcers: Gus Johnson, Charles Davis, Kristina Pink *Keys to the game: The Falcons are finally settling into a groove with the ground game. RB Jacquizz Rodgers has had more carries than Michael Turner in each of the past two games, and his ability to cut back and hit...
NFL News

Delivered to your inbox

You'll also receive Yardbarker's daily Top 10, featuring the best sports stories from around the web. Customize your newsletter to get articles on your favorite sports and teams. And the best part? It's free!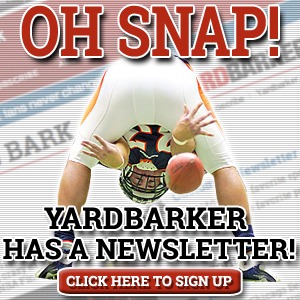 Latest Rumors
The Backyard

Today's Best Stuff

For Bloggers

Join the Yardbarker Network for more promotion, traffic, and money.

Company Info

Help

What is Yardbarker?

Yardbarker is the largest network of sports blogs and pro athlete blogs on the web. This site is the hub of the Yardbarker Network, where our editors and algorithms curate the best sports content from our network and beyond.