Posted April 22, 2013 on AP on Fox
PLAYERS:
Thomas Dimitroff
,
Julio Jones
,
Matt Ryan
,
Roddy White
,
Tony Gonzalez
,
John Abraham
,
Michael Turner
,
Dunta Robinson
,
Tyson Clabo
,
Todd McClure
,
Steven Jackson
,
Osi Umenyiora
TEAMS:
Atlanta Falcons
,
Kansas City Chiefs
Trader Thomas. The Gambler. Monty Hall Jr. Whatever you want to call him, Thomas Dimitroff clearly relishes his reputation on draft day. The general manager of the Atlanta Falcons is always ready to make a deal. This year is no different. Dimitroff is positioned for another busy draft, holding the 30th overall pick and plenty of extra selections in the later rounds to restock the roster of a team that came up just one win shy of the Super Bowl last season. ''We're going to be active,'' Dimitroff vowed. ''Now, active might be up, down or around. But we're definitely looking to continue bolstering this roster. There's still places on the roster we can continue to build up in order to help us achieve the ultimate goal we want here.'' The Falcons, once a perennial doormat, have become one of the NFL's winningest franchises since Dimitroff took over as GM and Mike Smith was hired as coach in 2008. Under that duo, Atlanta has put together five straight winning seasons, four playoff appearances and two division titles. Last season, the Falcons came tantalizingly close to the second Super Bowl appearance in franchise history, losing at home to San Francisco in the NFC championship game. The 49ers rallied from an early 17-point deficit for a 28-24 victory, preserving the triumph by making a fourth-down stop at their own 10-yard line with just over a minute remaining. For the Falcons, a bitter disappointment. For Dimitroff, the chance to start remaking the roster. He's certainly shown a willingness to pull off bold moves, most notably in 2011 when he put together a huge package for the chance to draft receiver Julio Jones. While some thought the Falcons overpaid, it's hard to argue with how it turned out - Jones made the Pro Bowl in just his second season, teaming with quarterback Matt Ryan, receiver Roddy White and tight end Tony Gonzalez to give the Falcons one of the league's most dynamic offenses. Since then, Dimitroff has gotten plenty of calls wondering if he's ready to make another blockbuster. ''I like that people are open to giving us a ring on potential deals,'' he said with a sly grin. ''It's just about doing the right thing for this organization.'' Atlanta came oh-so-close to making the Super Bowl with one of the NFL's oldest rosters, a situation the youthful-looking GM intends to change going into the next season. Dimitroff already made some painful moves by ditching defensive end John Abraham, running back Michael Turner, cornerback Dunta Robinson and offensive tackle Tyson Clabo - decisions that were largely related to their ages (all are in their 30s) and hefty salaries. Also, longtime starting center Todd McClure retired. ''It's tough anytime you lose starters and talented football players,'' Dimitroff said. ''We made some very difficult decisions this year.'' The Falcons made a couple of significant additions in free agency, signing running back Steven Jackson and defensive end Osi Umenyiora. But it's clear they intend to build most of their depth through the draft, with much of the focus likely to be on the defensive side. Cornerback is a glaring need, with only four on the roster after the Falcons released Robinson and lost Brett Grimes and Christopher Owens in free agency. Even with the signing of Umenyiora, the team still needs more players who can put pressure on the quarterback, a major weakness last season. Gonzalez passed on retirement at age 37 to play at least one more season, but Dimitroff might have his eye on someone to eventually take over at tight end. In addition to the late pick in the first round, which Dimitroff sees as a valuable bargaining chip, the Falcons have their regular picks in every other round, plus an extra choice in the fourth and three additional selections in the seventh - all awarded by the NFL as compensation for past losses in free agency. In all, Atlanta has a total of 11 picks over the three-day, seven-round draft, which begins Thursday night. It would be a major surprise for Dimitroff, with so many picks, to go through the draft without at least a little wheeling and dealing. But it's highly unlikely he'll pull of a Jones-like deal, if only because he feels this class is short on high-profile players but long on depth at a number of positions. In all likelihood, the success of this draft will be determined by the subtle moves rather than anything flashy. ''It's very important for us to come into every draft with an open book, to let everyone know we're open to doing business,'' Dimitroff said. ''But we're never flippant about it at all. It's very important to utilize all your picks, whether you've got 11 picks or five picks. When it's necessary, you've got to move up or down.'' Dimitroff likes drafting from the 30th position - especially since he didn't even have a first-round pick last season, trading it away for Jones. The GM might be able to use some of his later choices to move up a few places, perhaps to land one of the top-rated cornerbacks, or he might be willing to move back if some sought-after quarterbacks slide to late in the first round. Those sort of players won't be of interest to the Falcons - Ryan is expected to sign a new long-term deal after the draft - but might be coveted by other teams as future starters. ''We can move in either direction,'' Dimitroff said. Sounds like he's ready to make a deal. --- Follow Paul Newberry on Twitter at www.twitter.com/pnewberry1963
Original Story:
http://msn.foxsports.com/nfl/story/Fa...
THE BACKYARD
BEST OF MAXIM
RELATED ARTICLES
NFL News: The Atlanta Falcons waived wide receiver Kerry Meier on Monday who played a total of 12 games for them, specializing on special teams. A fifth-round pick from 2010, he will be trying to brew up some interest around the league to extend his playing career. Players like this though usually last only a few seasons, so don't be surprised if he calls it a career before too...
1. Defensive End: Edwards and Abraham were the starters at this time last year, and both have been released since. Umenyiora was signed, but he's an average starter at this point in his career at best. They also have no one across from him. They will need to take a defensive end with one of their first two picks. They've also been rumored to be considering trading up for...
Defensive tackle Jonathan Babineaux said Tuesday he'd like to see the Falcons make defense their top priority in this week's NFL draft. Some important names were missing from the 2012 defense when Atlanta returned this week to begin its offseason program. Defensive end John Abraham and cornerback Dunta Robinson were released. Cornerbacks Brent Grimes and Chris Owens and...
ATLANTA Matt Ryans offseasons have mostly resembled an ocean of calmness in past years. For the Falcons quarterback, who offers an air of unflappability, little appears to distract him from his stated goal of winning football games. This offseason, a couple of factors some under his control, some not have derailed him a bit. Ryan being Ryan, they are mostly small ripples but...
Zoneblitz.com is going team by team reviewing 2012 and getting a sneak peak into 2013 by doing Q&A's with different team blogs around the internet. We had the opportunity to answer some Falcons questions for them.  Here is one of the questions from the Q&A:   Zoneblitz: What do you think of the release of Michael Turner and the signing of Steven...
One of the great things about Twitter is that you can quickly get a sample of what the fanbase is thinking. This evening I asked the Atlanta Falcons fanbase who they would target if the Falcons decided to trade up in the draft (as has been heavily rumored). I also asked them to put themselves in the position of armchair GM and asked what they would do in the first round. Here are...
The Atlanta Falcons had been criticized heading into 2012 for going out with a whimper two seasons in a row to the tune of blowout losses in the playoffs. The Falcons answered those doubters last season, winning one game before bowing out in a tightly contested NFC Championship game. So where do the Falcons go from there? Matt Ryan's continued development is key as is finding some...
The other day I looked at Tyler Eifert as a potential Falcon. In a sum-up, I think Atlanta has to select a pass catching tight end who can manage some semblance of blocking. Our team has moved to a pass heavy offense and an excellent blocker has limited use in our offense.  Maybe someone like this?   Tyler Eifert fits that bill but does not feel to be great value...
Every team in the NFL takes a different approach to the draft process. Some teams adhere to the so-called "best available player" strategy, or BAP. Others declare themselves to draft on the basis of needs, such as the Atlanta Falcons. Still others use other obscure ways of picking their players. The Raiders for instance used to seemingly draft on the basis of pure athleticism...
ATLANTA FALCONS (13-3) 2013 Draft Picks: 30 (1st), 60 (2nd), 92 (3rd), 127 (4th), 133 (4th), 163 (5th), 198 (6th), 236 (7th), 243 (7th), 244 (7th), 249 (7th) 2012 Early Draft Selections: OC/OG Peter Konz, WISC (55, 2nd), OT Lamar Holmes, SMSP (91, 3rd) Decision Makers: GM Thomas Dimitroff, Head Coach Mike Smith The Falcons current regime finally broke through last season by winning...
NFL News

Delivered to your inbox

You'll also receive Yardbarker's daily Top 10, featuring the best sports stories from around the web. Customize your newsletter to get articles on your favorite sports and teams. And the best part? It's free!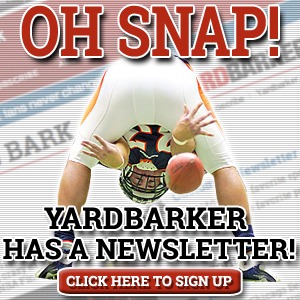 Latest Rumors
The Backyard

Today's Best Stuff

For Bloggers

Join the Yardbarker Network for more promotion, traffic, and money.

Company Info

Help

What is Yardbarker?

Yardbarker is the largest network of sports blogs and pro athlete blogs on the web. This site is the hub of the Yardbarker Network, where our editors and algorithms curate the best sports content from our network and beyond.