Found August 08, 2012 on Fox Sports South:
PLAYERS:
Mike Smith
,
Brent Grimes
,
Dunta Robinson
,
Christopher Owens
,
Tony Gonzalez
,
Robert McClain
,
Darrin Walls
,
Dominique Franks
,
Asante Samuel
,
Terrell Thomas
,
Prince Amukamara
,
Bruce Johnson
,
Kendall Wright
,
Damian Williams
,
Nate Washington
,
Matt Hasselbeck
,
Anquan Boldin
,
Torrey Smith
,
Jacoby Jones
,
Sean Weatherspoon
TEAMS:
Atlanta Falcons
,
Tennessee Titans
,
New York Giants
,
Baltimore Ravens
,
Notre Dame Fighting Irish
FLOWERY BRANCH, Ga. With the Falcons' two starting cornerbacks banged up and each sitting out at times in practice this week, head coach Mike Smith said on Tuesday that he had not made a determination yet as to whether they, along with a few others, would play in the team's first preseason game on Thursday at the Georgia Dome against Baltimore. The Falcons did not hold a media availability on Wednesday so fans and media alike will not know until Thursday evening whether Brent Grimes (foot) and Dunta Robinson (right ankle) will play against the Ravens. In addition, Christopher Owens, a four-year veteran who has filled in as a starter and also knows how to play the nickel position for the Falcons, did not practice on Monday or Tuesday with a hamstring injury, further depleting the Falcons' first- and second-team defenses of cornerbacks. "We hope that we get an opportunity to get him back here as soon as possible," Smith said of Owens, "but as you know those hamstrings can linger and we want to make sure that it's completely healed so we're not going to rush Chris back." All of that means the Falcons could field an unusually green corps of cornerbacks early in the game when the projected starters are playing. Smith said he would like for the Falcons' starters to play at least the first quarter (minus certain players with special status like tight end Tony Gonzalez, for example) and possibly some into the second quarter. On Monday, the Falcons rotated in Robert McClain, a third-year player who played with Philadelphia last season, Darrin Walls, a rookie last season who was an undrafted free agent, and Dominique Franks, a fifth-round pick by the Falcons in 2010, with the first team in combined practices with the Tennessee Titans in Dalton, Ga. "I thought they did a nice job," Smith said of that trio. "Some of the guys were in a tough situation simply because they did not get a whole lot of practice time. We were a little bit thin at the nickel position (on Monday), but I thought they did a nice job. They spent some extra time with the coaches getting prepared, but it's really good to see what those young guys can do. I think we have a good feel of who our top three corners are. "The back end, you've got to give these guys an opportunity to go out and compete. (Monday), it was a great opportunity against a different team." The Falcons' top three corners are Grimes, Robinson and Asante Samuel, who will play in nickel situations (Robinson moves inside in the nickel with Grimes and Samuel playing the outside corners) and who has worked with the second team as the left corner. But teams always have unexpected injuries and then have to fill in with players who are, at times, untested. As an example, New York Giants starting corner Terrell Thomas tore his ACL in the preseason and missed the entire season. At the same time, rookie Prince Amukamara was out with a broken foot and reserve Bruce Johnson already had ruptured his Achilles, ending his season all at the same position. Yet the Giants had enough organizational depth to win the Super Bowl, as Falcons fans well remember. That is why the opportunity for the likes of McClain, Walls and Franks is not insignificant. Walls, for one, said he expects to play more than usual. Walls, out of Notre Dame, is an intriguing player. For one, he's tall for a cornerback at 6-foot. He showed well enough in preseason last year to make the team despite being undrafted only the second player to make the Falcons that way in the last three seasons. He said that he liked the opportunity to go against some of the Titans' first-team players on Monday, including first-round pick Kendall Wright, Damian Williams and Nate Washington, who posted a 1,000-yard season last year. "I got a taste of what it was like," Walls said. "If someone was to go down, you've got to step up and play, so kind of puts some pressure on me to go out and perform well. But it may happen like that during the season or whatever, so I've always got to be ready. But it was good going out there with the ones and getting some reps." Under new defensive coordinator Mike Nolan, the Falcons are undergoing numerous changes on defense. Among them is the move from a more passive back-pedalling style at corner under former coordinator Brian VanGorder to man-press, which Titans quarterback Matt Hasselbeck said the Falcons showed almost exclusively on Monday. Walls said that while the acquisition of Samuel, a four-time Pro-Bowler, from Philadelphia in the offseason meant perhaps a decreased opportunity to play, he also has taken advantage of what Samuel can teach the younger players in his group. "You definitely notice that kind of stuff," he said of the Falcons' trade for Samuel, "but, for me, I just got to go out there and play and get noticed by the coaches and show them I have a chance of playing and also it's a good tool for me to go back to. Asante, he's very smart. He's been in the game a long time. He helps us out a lot, so I'm thankful he's here to give me the tips that I can use in the long run." Against Baltimore, that could mean match-ups against the likes of three-time Pro-Bowler Anquan Boldin, '12 second-round pick Torrey Smith and six-year veteran Jacoby Jones. "Oh, yeah, it's a great opportunity for those guys to get out there and get themselves on tape," Falcons starting linebacker Sean Weatherspoon said. "You know, show what they can do. Get an opportunity to go against some pretty good receivers, as well, man. I think they've been working hard enough. They're in shape, they're ready to run, ready to go out there and make some plays."
Original Story:
http://www.foxsportssouth.com/08/08/1...
THE BACKYARD
BEST OF MAXIM
RELATED ARTICLES
Coming off a 10-6 campaign and a 24-2 drubbing at the hands of the Super Bowl champion New York Giants in the first round, the Atlanta Falcons have plenty of questions to answer to their fans and critics. Can they take advantage of a scandal-ridden New Orleans Saints squad and win the division? Can they [...]
Big things are expected of Julio Jones this season, from himself, the fantasy football community, and his WR tandem partner. So far in the preseason, it looks like Jones is set to deliver on expectations. On Atlanta's first series Jones had 4 catches for 58 yards and a score. The touchdown grab was a degree [...]
Things started out on offense much like last years squad. Michael Turner had two rushes to set up a third down and then Matt Ryan converted with a slant to Roddy White. Then Julio Jones go involved. Jones beat his man inside for 26 yards and then Ryan hit Jones on quick hit screen where he had two offensive linemen running down the field in front of him to block. Ryan went to Jones...
The Atlanta Falcons are in the best position of NFC South teams to snatch the crown away from the Saints. The Saints have been hit hard this offseason and won't be the same team in 2012. The Saints lost key offensive weapons in free agency. The defense was very poor last year and, to add on, the Saints have had multiple starting players suspended, along with a coaching change....
First Off - Something I Don"t Want To See Tonight:     Well - that's if it were Matt Ryan, and not Michael Vick. If someone brought Michael Vick out into the middle of the field, slapped his old Falcons uniform on him, and broke his leg again...well...that'd be alright with me. Ultimately, just want to make sure everyone stays good and healthy for the next 21-22...
The Falcons will be kicking off their preseason schedule this Thursday when they go up against the Baltimore Ravens. Even though it's game one we could get a lot of telling information out of the few series the starters will be in and then the subsequent series with the backups. Let's Play Some Football!   Perhaps the most discussed and debated area of the team so far...
NFL replacement referee Craig Ochoa announced to the crowd that "Arizona will be not charged with a timeout" during a preseason game Thursday. The only problem: the two teams playing in the game were the Atlanta Falcons and the Baltimore Ravens. It happened in the first quarter in Atlanta after Ochoa reviewed a replay and confirmed the ruling on the field that...
ATLANTA (AP) -- Baltimore backup Curtis Painter threw three second-half touchdown passes to lead the Ravens to a 31-17 preseason win over the Falcons on Thursday night. Atlanta's Matt Ryan led two touchdown drives, including a scoring pass to Julio Jones, before Painter took over. Ryan completed 9 of 13 passes for 155 yards, one touchdown and one interception. He was 5 for...
Ravens fans are enthusiastic about getting the 2012 NFL season off to its preseason inaugural in Atlanta this Thursday night... especially with a bunch of Ravens rookies and unproven veterans out to solidify a roster spot.But I'm more interested in how the Ravens defense the potentially explosive Falcons--- including QB Matt Ryan and WR Julio Jones---and how their young guys...
Baltimore backup Curtis Painter threw three second-half touchdown passes to lead the Ravens to a 31-17 preseason win over the Falcons on Thursday night. Atlanta's Matt Ryan led two touchdown drives, including a scoring pass to Julio Jones, before Painter took over. Ryan completed 9 of 13 passes for 155 yards, one touchdown and one interception. He was 5 for 5 for 71 yards,...
NFL News

Delivered to your inbox

You'll also receive Yardbarker's daily Top 10, featuring the best sports stories from around the web. Customize your newsletter to get articles on your favorite sports and teams. And the best part? It's free!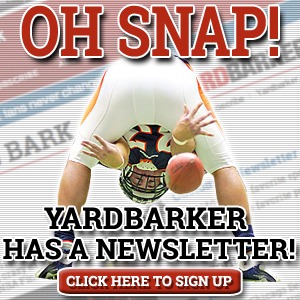 Latest Rumors
The Backyard

Today's Best Stuff

For Bloggers

Join the Yardbarker Network for more promotion, traffic, and money.

Company Info

Help

What is Yardbarker?

Yardbarker is the largest network of sports blogs and pro athlete blogs on the web. This site is the hub of the Yardbarker Network, where our editors and algorithms curate the best sports content from our network and beyond.