Found August 09, 2012 on Ravens Football Machine:
PLAYERS:
Matt Ryan
,
Julio Jones
,
Haloti Ngata
,
Terrence Cody
,
Pernell McPhee
,
Sam Baker
,
Courtney Upshaw
,
Garrett Reynolds
,
Lamar Holmes
,
Andre Gurode
,
Marshall Yanda
,
Michael Oher
,
Bryant McKinnie
,
Peria Jerry
,
Ray Edwards
TEAMS:
Atlanta Falcons
,
Baltimore Ravens
Ravens fans are enthusiastic about getting the 2012 NFL season off to its preseason inaugural in Atlanta this Thursday night... especially with a bunch of Ravens rookies and unproven veterans out to solidify a roster spot.
But I'm more interested in how the Ravens defense the potentially explosive Falcons--- including QB Matt Ryan and WR Julio Jones---and how their young guys match up against the Atlanta hopefuls in the "try-out" phase of the game...mainly the 2nd, 3rd and 4th quarters. More specifically, Ravens fans should be paying attention to how the line play on both sides of the ball is developing...
Julio Jones will get his abbreviated reps at WR early in the game... but I'm more interested in seeing how his backup guys fare against the Ravens 2nd and 3rd team secondaries...
Perhaps the most discussed and debated area of the Falcons team so far this off-season, the offensive line, is a unit everyone should keep a close eye on in the 1st quarter. The Falcons' interior will be facing trial by fire going up against Haloti Ngata, Terrence Cody, and Pernell McPhee. Ngata and McPhee, who both play five-tech, combined for 11 sacks last season, and the big man, Terrence Cody, racked up 34 tackles. Falcons LT Sam Baker might not get tested the way we thought as OLB Terrel Suggs is (probably) out for the season after tearing his Achillies. But Baker will still have to go up against rookie second round pick Courtney Upshaw who has looked impressive so far at camp. From a technique stand point, you will want to watch Atlanta OG Garrett Reynolds closely. When looking at Reynolds, the first thing you want to watch is what type of leverage he is playing with. Reynolds is 6'7", so keeping the proper leverage will be huge for him, and it is something he struggled with last year. If Reynolds has corrected this problem it will be a big step for him.
The other thing to watch with Reynolds will be his leg drive and if he keeps his feet moving while run blocking. Reynolds has a lot of upper body strength, but at times he'll stop driving his legs and moving his feet when run blocking. If Reynolds keeps driving his legs while run blocking, expect to see some holes open up in the run game and some DL's get pushed back a bit (although I wouldn't expect them to get blown off the line-- Haloti Ngata and Terrence Cody are both 340 LBs.)
When the Falcons' Lamar Holmes gets into the game the important thing to watch will be his run blocking technique. He had a bad tendency to fall off his blocks in the running game at the college level, and it's important that Holmes stays on his blocks. Another thing to watch for in the Atlanta run blocking game is to make sure that Holmes' feet are moving when he engages. He has a bad habit of trying to just out-muscle people with his upper body strength, and stops using his legs and feet in the run game. Among other things, it will be interesting to see how well he mirrors in pass protection. He is very light on his feet for a big man and mirrored very well in college. The other unit you will want to look at is the Atlanta defensive line. Even though the Ravens lost LG Ben Grubbs and C/G Andre Gurode, they still have two very good players in RG Marshall Yanda and RT Michael Oher. LT Bryant McKinnie is decent when he is in shape, but he may not play due to injury issues. The big thing to watch here will be Atlanta's Peria Jerry going up against RG Marshall Yanda. Yanda was one of the best guards in football last year and is a road grader in the run blocking game. Reports are that Jerry might finally be back to his old self from before he suffered a very severe knee injury his rookie season. The other matchup to watch will be Atlanta's Ray Edwards going against Oher. It will be important to see if Edwards has his burst back...if he does, it could negatively impact the Ravens' running game.
When watching Atlanta's reserve DE Lawerence Sidbury people should watch for his get-off and his spin move. Sidbury is very athletic and it showed in college. His main knock was that he wasn't very developed as a pass rusher and needed work in the run game. Sidbury has developed an almost Freeney-esque spin move and looks to be developing the same kind of lean attack. Combined with his speed and explosive first step off the ball he might be a hand full for the Ravens' reserve OTs.
Thus we have the first assignment of the season for serious Ravens fans... study the line play... on both sides of the ball. This is where it eventually pays off over the long run in the W-L column.
Original Story:
http://www.ravensfootballmachine.com/...
THE BACKYARD
BEST OF MAXIM
RELATED ARTICLES
Julio Jones had a monster night for the Falcons against the Ravens in their first preseason game. As you can see from this video, he's all about the Falcon's future and it's past. Please click the link below to watch this video.
If it's too hot to fish, or too hot to golf, it's probably too hot to play football...But with its first preseason game only two days away, the 2012 edition of the Ravens had to keep at it in what amounts to a record heat wave in Baltimore County...It started out like a day at the beach...but it ended with players dropping like flies...Wide receiver Tandon Doss returned...
Oh wow is Deonte Thompson fast. The free agent receiver got behind the Atlanta defense to score the go-ahead touchdown for the Ravens. Baltimore now leads the Falcons 24-17. The second half looks so much better than the first half and the Ravens' defense is forcing turnovers. They have three tonight. This game is winding down. The officiating has been horrible.
FLOWERY BRANCH, Ga. With the Falcons' two starting cornerbacks banged up and each sitting out at times in practice this week, head coach Mike Smith said on Tuesday that he had not made a determination yet as to whether they, along with a few others, would play in the team's first preseason game on Thursday at the Georgia Dome against Baltimore. The Falcons did not hold...
The Atlanta Falcons are in the best position of NFC South teams to snatch the crown away from the Saints. The Saints have been hit hard this offseason and won't be the same team in 2012. The Saints lost key offensive weapons in free agency. The defense was very poor last year and, to add on, the Saints have had multiple starting players suspended, along with a coaching change....
The Ravens have looked better against Atlanta's backups. The Ravens' defense recovered a fumble at the 10-yard line leading to a Curtis Painter touchdown pass that went to Billy Bajema, the newest tight end. That was the tying score. The Ravens seem to be playing a bit better in the second half.
Joe Flacco and Matt Ryan had similar stats in their preseason opener. Flacco had the better support for the Baltimore Ravens. Flacco and Ryan each threw one touchdown pass, but backup Curtis Painter threw three second-half touchdown passes to lead the Ravens to a 31-17 preseason win over the Falcons on Thursday night. ''I like the way our young guys competed and executed...
All the talk at the wide receiver position during this offseason has revolved around the comebacks being made by Randy Moss, Chad Johnson and Terrell Owens. While those are nice storylines, the wide receiver most people will be talking about as the season progresses will probably be the Atlanta Falcons Julio Jones. We know that preseason games don't matter, but an impressive showing...
Overall it was a sloppy first half for the Ravens. Baltimore is down 17-7 to the Falcons at halftime. The first team offense didn't look great, but did score. Defensively the team struggled. The Ravens are leaving a lot to be desired, but it is the first preseason game and there shouldn't be too much to worry about.
Didn't see this one coming... but that's why you don't take Game 1 of an NFL preseason too seriously...Joe Flacco's offense struggled against the Atlanta Falcon's first-team defense...and the vaunted Ravens defense struggled against Matt Ryan... but the Ravens' 3rd team offense dominated against the Falcons' 2's and 3's...Curtis Painter shines...
First Off - Something I Don"t Want To See Tonight:     Well - that's if it were Matt Ryan, and not Michael Vick. If someone brought Michael Vick out into the middle of the field, slapped his old Falcons uniform on him, and broke his leg again...well...that'd be alright with me. Ultimately, just want to make sure everyone stays good and healthy for the next 21-22...
NFL News

Delivered to your inbox

You'll also receive Yardbarker's daily Top 10, featuring the best sports stories from around the web. Customize your newsletter to get articles on your favorite sports and teams. And the best part? It's free!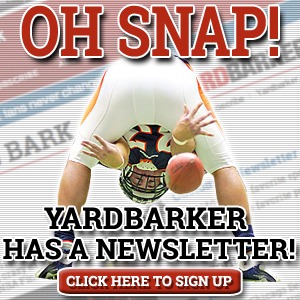 Latest Rumors
Best of Yardbarker

Today's Best Stuff

For Bloggers

Join the Yardbarker Network for more promotion, traffic, and money.

Company Info

Help

What is Yardbarker?

Yardbarker is the largest network of sports blogs and pro athlete blogs on the web. This site is the hub of the Yardbarker Network, where our editors and algorithms curate the best sports content from our network and beyond.