Originally written on
Grits Blitz
| Last updated 10/29/14
Taking a quick look at the Falcons' 2012 schedule (listed below) two things require immediate attention. First, there isn't an "easy" game to be found. Second, the Falcons have a bit of a scheduling anomaly in that they do not play back-to-back home games or back-to-back road games at any point in the season. People will argue that there are no easy games in the NFL. That said, there is always a team or two that everyone knows will struggle to truly compete. I honestly don't see one of those teams on the Falcons schedule. For instance, the Washington Redskins beat the Super Bowl Champion New York Giants TWICE last year; both times handily. Additionally, they played both New England (the Giants Super Bowl opponent) and San Francisco (the Giants NFC Championship game opponent) losing by seven and eight points respectively. Granted, Washington was 5-11 and had some bad loses (Carolina and Miami both by 13) but you don't accidentally beat the Super Bowl champions twice. Moreover, they drafted a dynamic play-maker in Baylor quarterback Robert Griffin III who may be getting real comfortable by week five. I know, I know, the Carolina Panthers are sitting right there for the taking, same as last year. That said, you can never chalk up a divisional game as in the bag. The NFC South has been one of the most competitive divisions since 2002's expansion/realignment and is the only division to have a new division champion each year. The only other two teams that could possibly be mentioned are Arizona and Oakland, both due to long-lasting reputations. Make no mistake, both teams went .500 last year and both teams have talent. It should be viewed as a blessing that the Falcons do not play back-to-back road games in 2012. Again, divisional games are altogether different animals so Carolina and Tampa Bay are difficult games by default. Aside from them however, the Falcons in some very tough environments with road games at Kansas City, San Diego, Philadelphia, New Orleans (lately a Falcons' house of horrors), and at the Lions; almost no breaks on the road. Thankfully, however, the Falcons catch some very good teams at home, which should not only help balance the overall schedule load, but also provide some exciting games in the Georgia Dome. Notables coming to Atlanta are Peyton Manning and the Broncos, the Raiders and their lunatic fringe, the ever venerable Dallas Jerrys, I mean Cowboys (with all that playoff experien… oh, wait...) and the Super Bowl Champion Giants who
(ahem)
made quite an impression in their last game against Atlanta. Throw in the annual visit by the rotten-to-the-core Saints and the home sked should be fun but tough. And no, I'm not giving in on Carolina and Tampa Bay. Both have beaten the Falcons plenty enough for me, thank you. As mentioned earlier, the Falcons have a very intriguing scheduling anomaly that may be of great benefit facing such a tough schedule. It is certainly better than 2011's format that had the Falcons open the season with three of four on the road and close the season with three of five on the road. Not playing back-to-back road games in the NFL is a blessing teams can only dream of. If the Falcons have a major road disaster they can look forward to being back at home the very next week every time. In actuality, it works both ways. Should the Falcons have a Dome implosion, they can look forward to getting away for a week. An additional added benefit of the Falcons' 2012 home-away breakdown is the balance to home games through the season; no front or back loading of home games that in return leave several weeks away from home and families for players and staff. In reality, there truly is no easy schedule in the NFL; no matter formatting. That is certainly true of the Falcons' 2012 schedule. That said, there is overall balance in format should be of great benefit to a team looking to return to the playoffs for the third consecutive season.
Falcons' Schedule
@Chiefs Broncos @Chargers Panthers @Redskins Raiders BYE @Eagles Cowboys @Saints Cardinals @Buccaneers Saints @Panthers Giants @Lions Buccaneers  
News and Notes
- For those interested the Falcons will hold their first mini-camp for the 2012 season next Tuesday, Wednesday and Thursday, June 19-21. - Julio Jones has made one of his biggest contributions as a Falcon this off-season by cutting his trademark "dreadlocks" and donating them to charity for use by children with cancer. - Speaking of charity work, you can be an active part in the organization's effort by visiting RiseUpAtlanta.com to find civic and community service opportunities. [follow]
Original Story:
http://gritsblitz.com/2012-articles/j...
MORE FROM YARDBARKER
NFL News

Delivered to your inbox

You'll also receive Yardbarker's daily Top 10, featuring the best sports stories from around the web. Customize your newsletter to get articles on your favorite sports and teams. And the best part? It's free!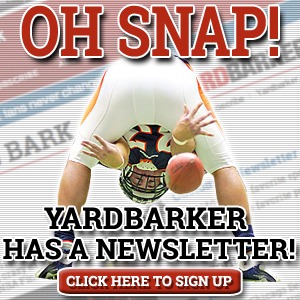 Latest Rumors
Best of Yardbarker

Today's Best Stuff

For Bloggers

Join the Yardbarker Network for more promotion, traffic, and money.

Company Info

Help

What is Yardbarker?

Yardbarker is the largest network of sports blogs and pro athlete blogs on the web. This site is the hub of the Yardbarker Network, where our editors and algorithms curate the best sports content from our network and beyond.