Found November 29, 2012 on Grits Blitz:
A little after eight o'clock tonight the Falcons and Saints will go at it for the second time this season with the Falcons looking for a much different finish. The Falcons sit at 10-1 but still have a bit of a bitter taste in their mouth as their lone loss came at New Orleans. The Saints might deny that this is a rivalry but these two teams grew up hating each other and that hate is still strong. Just ask the workers at Atlanta's Hartsfield-Jackson airport. They welcomed the Saints to Atlanta by egging their bus last night. I reviewed the loss in depth a couple of weeks ago and there are definitely things the Falcons have to do better if they want to win this game. They can't have costly penalties like they did in the first game, they need to contain Jimmy Graham (which should be a bit easier with Sean Weatherspoon playing) and they need to execute in the red zone. Improvements need to be made in those facets of the game but other issues linger as well. The secondary is banged up and the Saints aren't the team you want to face with a banged up secondary. The big things I will be watching is what kind of start the Falcons can get off to, how much pressure are we getting on Drew Brees and how is Jacquizz Rodgers being utilized. Go Falcons!
Original Story:
http://www.gritsblitz.com/2012-articl...
THE BACKYARD
BEST OF MAXIM
RELATED ARTICLES
Boy, did Drew Brees lay an egg against the Atlanta Falcons. Five interceptions for the first time in his career. The end of his NFL-record touchdown streak. And a timing mistake that cost the Saints dearly. The Falcons raced to a 17-0 lead, then turned to their defense to make it stand up. The result was a 23-13 victory Thursday night that pushed Atlanta to the brink of a division...
Multiple New Orleans Saints players say that workers at Atlanta's airport egged their team bus as they arrived from New Orleans for their upcoming game on Thursday night, according to WWL-TV. Jimmy Graham was among the players, including Chase Daniel and Will Herring, who tweeted about the incident. Bus just got egged after landing in ATL by the ramp workers. Classy!
The NFL has deemed that Saints defensive lineman Brodrick Bunkley's kick to the head 49ers OL Alex Boone was $10,000 less of an infraction that Ndamukong Suh's groin kick to Texans' QB Matt Schaub. Are we the only ones who think the NFL is all of the place this year in it's consistency regarding discipline? First, Roger Goodell says he wasn't sure of Suh&...
ATLANTA A lingering media throng is a curious sight following ahistoric sporting event, conversing in hushed tones but bodies and eyes all facing one direction. On Thursday night in the Georgia Dome,those eyes faced the Saints locker room door, each pair straining to spot afuture Hall of Fame quarterback. After years of playing Atlantastormenter, Drew Brees feel back to Earth against...
New Orleans Saints linebacker Jonathan Vilma and defensive end Will Smith attended a hearing Friday at Washington, D.C., law office during bounty appeals testimony that included former defensive coordinator Gregg Williams. Both players said they came away with a positive feeling after a day of cross examination by Vilma's lawyer, Peter Ginsberg, and Smith's NFL Players...
'3 F*CKING POINTS BREES…U GODDAMN SON OF A ***** DICK EATING ASS GOBLIN PERIOD SLURPING DYKE…..F*CK U' That tweet from @drunkn151er is just a taste of the NSFW nonsense that was sent Drew Brees way after his awful five interception performance. The Falcons won 23-13 in a game that the Saints should've won had Brees not completely sh*t the bed. New Orleans fans can't...
The Saints-Falcons rivalry is as legit as they come. Want proof? On Wednesday night, when the Saints were boarding buses at Hartsfield-Jackson International Airport, a few Saints players accused airport employees of  egging their bus. The Saints are in town for a Thursday night battle with the Falcons at the Georgia dome. Check out the tweets below from Jimmy Graham, Chase Daniel...
The Saints and Falcons tangle in Atlanta tonight. And if the game wasn't big enough, workers at Atlanta's Hartsfield-Jackson Airport apparently egged the charter bus the Saints used when they arrived in Atlanta Wednesday night. A couple of Saints players took to Twitter to give firsthand accounts of the egging. Wow, as we're boarding buses on the Tarmac @ Atlanta airport, we...
It was only a matter time before Marijn got lucky and everyone else would be wrong in their predictions and he'd sneak out a victory. Ellmanov tied him with only one correct answer so it came down to the tiebreaker bonus question... which Marijn won by virtue of having the lowest yardage total. Vernon Davis had 0 yards, go figure. Well, with a new week comes a new game and with...
WASHINGTON (AP) Right from the start, the NFL said Gregg Williams was in charge of a pay-for-pain bounty system with the New Orleans Saints. Now the former defensive coordinator - who told the league about others' involvement - is slated to be cross-examined by lawyers for players appealing their suspensions in the case. Friday's session is part of the latest round of player...
Drew Brees threw a career-high five INTs in Atlanta. But Scott Kacsmar says Turnover Rate is a better stat than total INTs. And the three all-time leaders at protecting the football are active right now: Rodgers, Ryan and Brady. Mark Sanchez "ass fumbles" were not included.
On Thursday, the New Orleans Saints will take on the Atlanta Falcons in Georgia, with the Saints fighting for their playoff lives against a Super Bowl favorite. After the Saints landed in Atlanta on Wednesday night ahead of that game, the locals made sure the team knows exactly how they feel about the Saints. According to Twitter reports seemingly corroborated by the Atlanta Journal...
NFL News

Delivered to your inbox

You'll also receive Yardbarker's daily Top 10, featuring the best sports stories from around the web. Customize your newsletter to get articles on your favorite sports and teams. And the best part? It's free!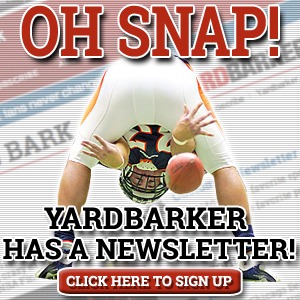 Latest Rumors
Best of Yardbarker

Today's Best Stuff

For Bloggers

Join the Yardbarker Network for more promotion, traffic, and money.

Company Info

Help

What is Yardbarker?

Yardbarker is the largest network of sports blogs and pro athlete blogs on the web. This site is the hub of the Yardbarker Network, where our editors and algorithms curate the best sports content from our network and beyond.