Found September 05, 2012 on Taking Bad Schotz:
PLAYERS:
Arian Foster
,
Ray Rice
,
Maurice Jones-Drew
,
Adrian Peterson
,
Chris Johnson
,
Jamaal Charles
,
Peyton Hillis
,
Matt Forte
,
Jay Cutler
,
Fred Jackson
,
Trent Richardson
,
Michael Turner
,
Mike Smith
,
Darren Sproles
,
Frank Gore
,
Kendall Hunter
,
LaMichael James
,
Marshawn Lynch
,
Willis McGahee
,
Peyton Manning
,
DeMarco Murray
TEAMS:
Houston Texans
,
Baltimore Ravens
,
Jacksonville Jaguars
,
Minnesota Vikings
,
Chicago Bears
,
Kansas City Chiefs
,
Buffalo Bills
,
Cleveland Browns
,
Atlanta Falcons
,
New Orleans Saints
,
San Francisco 49ers
,
Seattle Seahawks
,
Denver Broncos
,
Dallas Cowboys
1. Arian Foster
Last season, Ray Rice had 1,364 yards rushing, 704 yards receiving, and 15 total touchdowns. Arian Foster, on the other hand, has 1,224 yards rushing, 617 yards receiving, and 12 total touchdowns. The difference is Foster did that in only 13 games. He was on pace to have a better fantasy season than Rice. While that alone doesn't necessarily convince me that Foster should be the number one ranked fantasy running back, Foster's 2010 season does. Foster had 12 more total touchdowns and over 550 more total yards than Rice did in 2010, a season in which both players played all 16 games. The other reason I like Foster over Rice is that defenses will focus more on stopping Rice than stopping Foster because the Texans have a stronger passing game than the Ravens.
2. Ray Rice
I came very close to putting Ray Rice number one. I expect a huge season out of him, but Foster has been the more productive fantasy running back over the last two seasons. You really can't go wrong with either of these players however.
3. LeSean McCoy
If LeSean McCoy took a dip in fantasy points this year, I can't really say I'd be all that surprised. McCoy had 20 total touchdowns last season. It's highly unlikely that he'll be able to repeat that kind of performance this season. McCoy was an unbelievably good fantasy running back in 2011, but touchdowns come and go, which is why I think Foster and Rice are more sure bets this year.
4. Maurice Jones-Drew
According to the latest news on Maurice Jones-Drew, his holdout is now officially over and he will be ready to play in the Jaguars season opener. MJD has 954 carries over the last three seasons, the most of any running back. While I still think he's got at least two or three very good seasons left in him, the fact that the Jaguars have essentially run him into the ground is concerning.
5. Adrian Peterson
If there's one running back that I think is being underrated by the fantasy experts this season, it's Adrian Peterson. If he can stay healthy, I expect Peterson to be a top-three fantasy running back. His status for the Vikings season opener still remains up in the air, but I think he'll play with a chip on his shoulder.
6. Chris Johnson
For all the all talk of Chris Johnson's "disastrous" 2011 season, it really wasn't all that bad from a fantasy perspective. Inconsistency plagued him, and he only averaged 4.0 yards per carry, but he still had a solid fantasy season. Johnson may never have another season like he did in 2009, but don't let that fool you into thinking he's no longer a premier fantasy running back.
7. Jamaal Charles
When Jamaal Charles went down for the season in week one last year, so did the Chiefs. Charles is the Chiefs offense. Don't let the arrival of Peyton Hillis scare you, Charles should be one of the league leaders in carries.
8. Matt Forte
Matt Forte's most attractive fantasy quality is definitely his receiving ability. Now that Jay Cutler actually has some serious weapons to throw to on the outside, however, Forte might not be the Bears best receiver anymore.
9. Fred Jackson
Before Fred Jackson went down midway through last season, he was having a phenomenal season. The Bills rely on him heavily, and he could be a top five fantasy running back this year if he can stay healthy.
10. Darren McFadden
McFadden could be the toughest player to place on this list. He's never been able to stay healthy, so why should 2012 be any different? Take him at your own risk.
11. Trent Richardson
Some people are a lot higher on Trent Richardson than others. Personally, I think he's going to have a solid rookie year. I expect him to get a lot of carries, but not necessarily a lot of touchdowns in the Browns offense which I expect to struggle to put points up on the board.
12. Ryan Matthews
Quite honestly, I don't understand all the hype surrounding Ryan Matthews this year. His career is off to a good start and while 2012 could be a breakout year for him, there's no reason to expect that he'll outperform some of the more proven running backs that have been placed below him on draft boards. It's not like he had that good of a rookie season.
13. Michael Turner
Many are hailing 2012 as the season in which Michael Turner falls off. Critics cite his excessive carries over the last four seasons with the Falcons. Here's the issue I have with this theory. Michael Turner's yards per carry moved up from 4.1 in 2010 to 4.5 last year. If he had still gotten a lot of carries last year and seen his production dip, then I would buy into it. Falcons head coach Mike Smith has acknowledged the need to spell Turner more often, but that doesn't mean he still won't be an effective workhorse running back this year. Turner will of course fall off at some point like all running backs do, I'm just not sure why everyone seems so convinced it will be this year.
14. Steven Jackson
Steven Jackson's days as an elite fantasy running back are probably behind him, but he's still been very effective over the last few seasons. A lot of people seem to be sleeping on him, so you could get him with a late-round steal.
15. Darren Sproles
It's a little tough to compare Sproles to other fantasy running backs because of the role he plays in the Saints offense. I'm not sure he'll ever be able to repeat the monster year he had last year, but Sproles' versatility make him an effective and consistent fantasy performer week in and week out.
16. Frank Gore
I don't think Gore is going to put up the numbers he has in the past with the stable of running backs the 49ers are heading into the year with. Kendall Hunter and LaMichael James could all potentially dip into Gore's production.
17. Marshawn Lynch
A lot of people seem to really like Marshawn Lynch this year, and most fantasy experts have him going in the top 10 for running backs. While I am aware that Lynch had probably the best second half of last year of any running back, I'm also aware that he's been extremely inconsistent throughout his career. In his six-year career Lynch has only once had back-to-back 1,000 yard seasons.
18. Willis McGahee
How will the addition of Peyton Manning affect Willis Mcgahee's production? Negatively, I'm afraid. I doubt McGahee will get the amount of touches required to be a top-10 fantasy running back, but he's still a quality starter in most leagues.
19. DeMarco Murray
DeMarco Murray just hasn't proven anything to me just yet. Cowboys running backs seem to come and go, and it wouldn't surprise me if Murray was another example.
20. Doug Martin
Fantasy experts are a lot higher on Doug Martin than I seem to be. Martin has a promising future, but I don't know if he'll fare any better than LeGarrette Blount did last season running behind the Bucs offensive line.
Original Story:
http://www.takingbadschotz.com/?p=8742
THE BACKYARD
BEST OF MAXIM
RELATED ARTICLES
To end the preseason the Houston Texans defeated the Minnesota Vikings 28-24 on Wednesday night finishing with a record of 3-1. This game for the Texans like many others, was a time to look at players on the bubble of making the final 53 man roster for the regular season starting Sunday against the Dolphins. With basically no one who had their spot solidified on the team playing...
Houston Texans running back Arian Foster was held out of practice today as a precaution after suffering what is being called a minor knee injury. According to a report by Texans beat writer John McClain, Foster was held out of a quarter of practice due to a sore knee, but the team believes he will be fine for Sunday's opener against the Dolphins. The consensus number overall pick...
How as Ray Rice living on his 2nd round draft pick salary? Frugally. The guy recently signed a 5-year, $40 million contract with the Ravens so he can afford something better than a 4 bed, 4 bath townhouse with only 2,100 sq. ft. It's time to unload the rookie contract digs. Can't say we blame Rice. Take a look at the faucets in the master bathroom. You can't be impressing...
Texans running back Arian Foster left practice early Thursday with a sore knee, according to the Houston Chronicle.Fantasy Spin:Foster's injury is not believed to be serious. Houston coach Gary Kubiak sent Foster to the locker room as a precaution and he thinks he'll be able to play Sunday.
According to John McClain of the Houston Chronicle, Texans running back Arian Foster left practice early on Thursday with some soreness in his knee. "Running back Arian Foster and outside linebacker Brooks Reed left practice early today because of injuries. "Neither is believed to be serious, however, both were added to the injury report as being limited in practice," wrote...
With one of the toughest first place schedules in the NFL this season, the Baltimore Ravens will have a difficult time repeating as the AFC North Champions. And with the Pittsburgh Steelers always breathing down the Ravens beaks, and an easier schedule to maneuver, the black and gold will overtake Baltimore by one game to [...]
I knew the Texans were going to be competitive in the AFC South in 2011, but their being the dominate team was a surprise.  Even with RBs Arian Foster and Ben Tate battling injury in different parts of the season and NFL Star WR Andre Johnson dealing with health issues yet again last season, the Texans were able to rely on defense for once to take advantage of a "Peyton Manning...
I'm no AP, but I'll do Juan… You don't need me to tell you to start Arian Foster, DMC, Ray Rice, or LeSean McCoy…my mom could figure that out.  Let's look at some other matchups that could be favorable this week: Ride 'Em Kevin Smith vs StL Smith is what you call the last man standing.  The Jersey Leshoure is suspended and Best is on the PUP.  The Rams allowed the...
Where to Put 'em is the Fantasy Football Nerd's look at the best and worst matchups for Week 1 of the 2012 NFL season. Decisions are based upon the FFN rankings and matchup analysis. Given the known conditions, these matchups are the ones to watch and/or avoid. This list does not generally include the elite players that you are going to start regardless of matchup. You...
As one of the NFL's most consistent franchises, the Baltimore Ravens are hoping quarterback Joe Flacco and running back Ray Rice can help them make a long-awaited return to the Super Bowl. The Cincinnati Bengals are looking to their young duo of Andy Dalton and A.J. Green to help build on last year's trip to the postseason, and the teams will begin their respective quests...
Feel that tension Author's note: Like my cynical colleague SamVox, I sent a submission to Grantland's Fantasy Football writer contest that was summarily rejected by the website's editors. After much inner debate, I've decided to post the deathless brilliance that the gormless twits at Grantland turned down because they're unable to comprehend...
I'm the foundation Juan… Tonight's draft was waaaay too long and against amateur hour.  I have been playing in this league for close to a decade and these guys are still clueless and obviously don't read my site or any other site for that matter.  Yes, this is a money league and yes, I have won it 3 years in a row.  Not bragging, it's not that big of a feat. Round 1...
NFL News

Delivered to your inbox

You'll also receive Yardbarker's daily Top 10, featuring the best sports stories from around the web. Customize your newsletter to get articles on your favorite sports and teams. And the best part? It's free!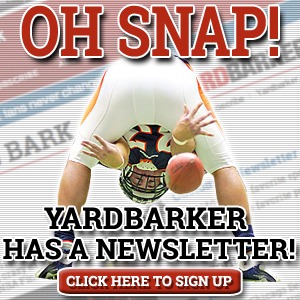 Latest Rumors
The Backyard

Today's Best Stuff

For Bloggers

Join the Yardbarker Network for more promotion, traffic, and money.

Company Info

Help

What is Yardbarker?

Yardbarker is the largest network of sports blogs and pro athlete blogs on the web. This site is the hub of the Yardbarker Network, where our editors and algorithms curate the best sports content from our network and beyond.