Found July 08, 2012 on PPR Fantasy Football:
PLAYERS:
Aaron Rodgers
,
Eli Manning
,
Drew Brees
,
Tom Brady
,
Ray Rice
,
Tony Romo
,
Michael Vick
,
Ben Roethlisberger
,
Peyton Manning
,
Matt Schaub
,
Jay Cutler
,
Philip Rivers
,
Carson Palmer
,
Ryan Fitzpatrick
,
Robert Griffin III
TEAMS:
Green Bay Packers
,
New York Giants
,
New Orleans Saints
,
New England Patriots
,
Baltimore Ravens
,
Dallas Cowboys
,
Philadelphia Eagles
,
Pittsburgh Steelers
,
Houston Texans
,
Chicago Bears
,
San Diego Chargers
,
Oakland Raiders
,
Buffalo Bills
,
Washington Redskins
Is is better for your fantasy team to pick Aaron Rodgers early or wait for Eli Manning read on for a how-to on picking the right quarterback It has been well chronicled that highly productive quarterbacks are more prevalent than ever for fantasy owners. Simply because an increasing number of them are throwing with greater regularity, and connecting with their targets for expanding yardage totals, and more TDs. The numbers in every major category continue to demonstrate just how significantly passing in general has increased in recent seasons, resulting in an all-out assault on the record books. 10 different signals callers threw for over 4,000 yards last year, which is a 100% increase from just five years ago, and a massive 500% jump from 2000. It is also the second time that has occurred in during the past three seasons alone. But that is not the only yardage benchmark that has been reached with increased frequency. Prior to 2011, only twice in NFL history, had a QB thrown ...
Original Story:
http://fantasyppr.com/2012/07/08/fant...
THE BACKYARD
BEST OF MAXIM
RELATED ARTICLES
COMPUTERS=THE FUTURE
The new Broncos quarterback apparently loves how the team has transferred its 500-page playbook, DVDs, etc. on to iPads that boast 64 gigabytes of data.
Getty Images As ESPN analyst Ron Jaworski breaks down his top-30 quarterbacks in the NFL, he has Eli Manning of the New York Giants ranked as his fifth best quarterback in the NFL right now, after watching him take his game to the next level last season. "You know where I saw significant improvement in Manning last season? Progression reading," Jaworski said. There were numerous...
Introducing the new 2013 Buick Verano, and it's new spokesperson, Denver Broncos QB Peyton Manning. It won't go at break neck speed, and that's just how Peyton likes it. Perfect for those Pharmacy runs or to make that early bird special. Ok, seriously, Manning is back to his obsession with hocking as many things on TV as humanly possible. We suspect he'll be seen...
Tom Rock of Newsday took a picture of a t-shirt being sold at Fenway Park. The shirt reads: "I hate Eli Manning" and then the back says "Peyton sucks too." The city of Boston and the entire New England area is clearly bitter now that Eli has denied the Patriots their fourth Super Bowl trophy twice in the past five years. Saw these T-shirts on sale outside Fenway this weekend...
The Denver Broncos are among a growing list of teams that have tossed their monster paper playbooks and switched to the iPad.   Using the iPad is not mandatory this season but Broncos video director Steve Boxer told FOXSports.com that 90 percent of the team has made the switch.   One big fan of the iPad playbook is Peyton Manning. "Peyton loves it," Boxer told FOX Sports...
  Another former New York Giant teammate came to Eli Manning's defense, its just surprising that it was Plaxico Burress. File this under the "I didn't expect to hear that today" category, but while appearing on WFAN Monday morning, former New York Giants wide receiver and current free agent, Plaxico Burress, said that former teammate Eli Manning is quite possibly...
Upstart 49ers quarterback Alex Smith admitted yesterday that San Francisco's pursuit of future Hall of Famer Peyton Manning when he was a free agent last winter was "a little awkward" and will serve as additional motivation for him this autumn. … Continue reading →
Former Giants receiver Amani Toomer sang the praises of Tony Romo this week. "Tony Romo is probably - if you look at him statistically - he's probably the best quarterback in the NFC East," Toomer said as co-host with Tim Ryan on 'Move the Chains' on SIRIUS radio. "I mean, you look at Eli Manning and what he does in the fourth quarter. But you talk about consistency...
For those of you that thought maybe former Giants WR Amani Toomer would backtrack on his assessment that Dallas Cowboys QB Tony Romo is better than Eli Manning, you're dead wrong. He stands by what he said, no matter how wrong he is. Toomer was on ESPN New York's Michael Kay Show Friday and said, "I love Eli, and I respect the hell out of him as a person," "But I have...
Following two straight days in which retired New York Giants wide receiver Amani Toomer referred to Tony Romo as the premiere quarterback in the NFC East, future NFL Hall of Famer Michael Strahan came to the defense of Eli Manning, wondering aloud if Toomer's opinion has been swayed by the use of bath salts.   [...]
Last year's weakest link of Vanderbilt football was the passing game, as they ranked 97th in the nation in that department. That stat is a bit misleading though, as the air attack, and the offense itself took a major turn for the better when Jordan Rodgers replaced Larry Smith in mid-season. Rodgers is of course, the younger brother of Green Bay Packers signal caller and NFL and...
  Tony Stewart is facing some stiff competition in his latest competition. The three-time NASCAR champion has plenty of race and championship trophies in his man cave, but Smoke is looking to add a different type of hardware to his collection against atheletes from a variety of sports. WHAT: 2011 NASCAR Sprint Cup Series champion Tony Stewart has been nominated in two categories...
NFL News

Delivered to your inbox

You'll also receive Yardbarker's daily Top 10, featuring the best sports stories from around the web. Customize your newsletter to get articles on your favorite sports and teams. And the best part? It's free!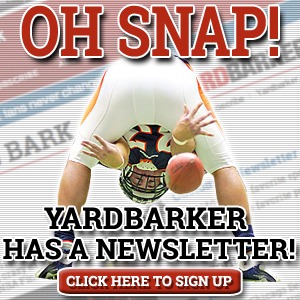 Latest Rumors
Best of Yardbarker

Today's Best Stuff

For Bloggers

Join the Yardbarker Network for more promotion, traffic, and money.

Company Info

Help

What is Yardbarker?

Yardbarker is the largest network of sports blogs and pro athlete blogs on the web. This site is the hub of the Yardbarker Network, where our editors and algorithms curate the best sports content from our network and beyond.