Found January 27, 2013 on Sports Blog Net:
PLAYERS:
Larry Fitzgerald
,
John Skelton
,
Kevin Kolb
,
Ken Whisenhunt
,
Ben Roethlisberger
,
Andrew Luck
,
Andre Roberts
,
Michael Floyd
,
Santonio Holmes
,
Hines Ward
,
Reggie Wayne
,
Chad Scott
TEAMS:
Arizona Cardinals
,
Pittsburgh Steelers
,
New York Jets
,
Indianapolis Colts
,
Stanford Cardinal
,
Notre Dame Fighting Irish
Larry Fitzgerald is quarterback proof, they said. Check out his 2011 numbers with John Skelton at quarterback, they said. If you were one of the "lucky" fake football GMs to have selected Fitzgerald with an early round draft pick or, perhaps, traded for the artist formerly known as "Sticky Hands" in your dynasty league, then you were probably watching your make believe championship from the sidelines. I was one of many (or few, depending on people's honesty) who touted Fitzgerald as a no-doubt top five wide receiver going into this season.  The numbers were there from the previous season, just as they always had been.  Whether the quarterback was going to be Kevin Kolb or Skelton had no bearing on how I perceived his value.  No running game?  So what, he's Larry-bloody-Fitzgerald! In 2011, with the two-headed monster of Kolb and Skelton,  with a little bit of Dick Bartell sprinkled in, Fitzgerald still managed 80 receptions, 1411 yards, and eight touchdowns – good for fifth best at the wide receiver position.  He was also targeted 151 times, tied for third most in the league with fellow stud, Calvin Johnson. Oh, how one year can make such a big difference. In 2012, with basically the same quarterbacks, you'd think his targets were reduced dramatically, but in actuality, he was still targeted 148 times – good for seventh best in the league. However, of those 148 targets, he caught only 71 of them – that's a lousy 48% catch rate (per PFF) opposed to a 53% catch rate in '11. To put that in perspective, a 48% catch rate ranks him as the WR99, sandwiched in between Justin Blackmon (WR98) and Torrey Smith (WR100). Or in other words, a rookie with Chad Henne/Blaine Gabbert throwing to him and a guy who's specialty is the deep ball (hence the low catch rate).  Fitzgerald ended 2012 with 71 receptions for 798 yards and 4 touchdowns,  "good" for WR43 in standard scoring leagues. The problem was never with Fitzgerald, it was with the quarterbacks and lack of offensive creativity by Ken Whisenhunt and Company.  Overthrows, bubble-bursted screens, and inside slants that the "passer" envisioned as "outs" were the theme for Larry in 2012.  The offensive line wasn't much help either, giving up a league-worst 56 sacks.  At least the run game was decent, right?  Wrong, the Cardinals were also the league's worst rushing team averaging a Michael Turner-like 3.4 yards per carry. So what's to like about Larry Fitzgerald in 2013?  My short answer: Bruce Arians. Bruce Arians is kind of an offensive genius.  He's a coach the Cardinals, but more importantly, Fitzgerald, needs.  No longer will we say Fitz is wasting his career away in Arizona.  No longer will we have drafter's remorse after selecting #11 as your WR1.  No longer will he be a buy low this off-season for dynasty leaguers . What Arians brings to the desert is a sophisticated offensive scheme.  He's known for the vertical passing game with his quarterbacks taking five to seven step drops.  Unfortunately, the offensive line he's inherited won't fit that type of scheme.  To be successful in the Arians' offense, the quarterback needs time for those vertical routes and underneaths to develop.  Ask Kolb how much time he had in the pocket this season.  Maybe Skelton would like to chime in?  If anyone on the Cardinals' roster is to be successful and fantasy relevant next season, they will have to acquire some solid linemen through the draft and/or free agency.  The silver lining this siphon of an offensive line has is with Arians as an offensive coordinator, Pittsburgh/Indianapolis were ranked 31, 13, 30, 20, and 32 in pass blocking efficiency per PFF, meaning he doesn't need an elite offensive line to make the pass game productive and effective. Another key attribute Arians possesses is his devotion to helping his quarterbacks – something Whisenhunt lacked, obviously.  The talent level he has in Arizona doesn't come close to what he had in Pittsburgh with Ben Roethlisberger, or in Indianapolis with Andrew Luck.  As a Fitzgerald owner, I don't need the Arizona quarterback to be elite, just serviceable.  Arians will no doubt help whoever stands behind center next season by working with them daily, getting an idea of what they are comfortable with and what they aren't.  When Whisenhunt left Pittsburgh, Arians (promoted from quarterback coach) chopped up the playbook and changed the verbiage to better suit Roethlisberger's brain matter.  He brought that same offense to Indy and took rookies at the quarterback, wide receiver and tight end positions and turned them into the seventh-best passing team in the NFL (27th in 2011). Another important factoid to take into account when analyzing the buying and selling of one Larry Fitzgerald is the development of both Andre Roberts and Michael Floyd.  Roberts took a huge step forward this season totaling a stat line of 64 receptions, 759 yards, and five touchdowns.  He faded towards the end of the season, but his production early on gives Arizona a legitimate threat at the slot receiver position.  Floyd, a rookie, didn't start producing until he received regular playing time in the latter part of the season.  In his final two games, the Notre Dame product had 14 receptions for 213 yards and a touchdown.  Having another tall-bodied wide receiver gives the Cardinals two legitimate threats on the outside that defenses will need to account for.  As a unit, they need to perform consistently to provide Fitzgerald with some single coverage looks, but being consistent will, of course, start with the quarterback position. Just to give you an idea of how Arians utilizes his wide receivers, let's take a gander at the past 4 years: 2009: Santonio Holmes- 79 receptions, 1,248 yards, five TDs; Hines Ward- 95 receptions, 1,167 yards, nine TDs 2010: Mike Wallace- 60 receptions, 1,257 yards, 10 TDs 2011: Wallace- 72 receptions, 1,193 yards, eight TDs; Antonio Brown- 69 receptions, 1,108 yards, two TDs 2012: Reggie Wayne- 106 receptions, 1,355 yards, five TDs; T.Y. Hilton- 50 receptions, 861 yards, seven TDs Looking at those numbers, perhaps none of them stand out to you.  As you can tell, Arians likes the ball to be spread out with bigger gains.  None of the names I listed above are considered "elite" wide receivers, but all are or once were considered in that next tier at the position.  The common denominators they share are the coach and solid quarterback play- which I consider to come hand-in-hand. Who knows what will happen between now and the start of preseason?  The Cardinals might end up trading for a stronger armed, more polished quarterback or they might stick with Kolb due to his contract and what they gave up for him.  All I know is, whatever they do, Fitzgerald and the rest of the Arizona offense are in good hands with head coach Bruce Arians- that's enough for me to buy low on #11 while his fake general manager is still steaming on the sidelines. Follow Chad Scott on Twitter – @Chad_Scott13 For more great articles, check out Dynasty League Football.
Original Story:
http://winyourleague.sportsblognet.co...
THE BACKYARD
BEST OF MAXIM
RELATED ARTICLES
Defensive lineman Darnell Dockett is in a good mood these days, he's tweeting at beauty queens, and playing the dozens with Crimson Tide quarterback AJ McCarron. However, it wasn't always like that, in actuality Dockett wanted out of Arizona if former coach Ken Whisenhunt had stayed. Dockett felt he wasn't being utilized right, but new coach Bruce Arians has the same idea...
According to the Arizona Republic, former Cardinals head coach Ken Whisenhunt and defensive lineman Darnell Dockett weren't very fond of one another. Whisenhunt wasn't crazy about Dockett's immaturity at times.  the messages from Ken Whisenhunt weren't always so well-intended or received. And by the end of the 2012 season, Dockett was in a much darker place. He had defied...
Arizona Cardinals running back Beanie Wells admittingly says it was a difficult season, citing a frequent bumping of heads with then head coach Ken Whisenhunt. "We definitely had our fair share of disagreements this season, and I've never been in a situation like that before," Wells said, via Fox Sport Arizona.
Larry Fitzgerald is quarterback proof, they said. Check out his 2011 numbers with John Skelton at quarterback, they said. If you were one of the "lucky" fake football GMs to have selected Fitzgerald with an early round draft pick or, perhaps, traded for the artist formerly known as "Sticky Hands" in your dynasty league, then you were probably watching your make believe...
The Arizona Cardinals are expected to formally announce this week that they hired Amos Jones as their special teams coach, according to multiple reports. Jones worked with new Cardinals coach Bruce Arians at Alabama during his career. Jones spent several years as a college assistant before spending a year in the Canadian Football League and then joining the Pittsburgh Steelers...
Scrolling Craig's List can be fun.   There are missed connections to be browsed, haiku's to be discussed in the forums and collectibles to be sold. So, after confirming I was not a missed connection, I skipped the haiku discussion forum and found myself clicking an advertisement selling a playbook with multiple NFL players: (from Craig's List) Flacco/Anquan...
Triple Shot Three Potential NFL Draft Picks for the Arizona Cardinals   A new NFL draft feature to grace the pages of TSHQ. by Eric Judd @ericjuddTSHQ   If you scour the Internet, you will find no end to mock drafts and pundits already assuring you of whom your favorite team will choose in April. The point of this series is not to flaunt the psychic powers of TSHQ, it is to provide...
Reggie Wayne is the model. Wayne, a year after his Indianapolis career was considered very much over, was moved from his almost permanent spot as left outside wide receiver to (primarily) a slot receiver. Bruce Arians, the Colts' offensive coordinator and head coach for most of the 2012 season, did a magician's job of moving Wayne across the lineup, using varied formations and...
NFL News

Delivered to your inbox

You'll also receive Yardbarker's daily Top 10, featuring the best sports stories from around the web. Customize your newsletter to get articles on your favorite sports and teams. And the best part? It's free!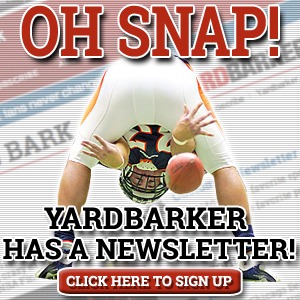 Latest Rumors
The Backyard

Today's Best Stuff

For Bloggers

Join the Yardbarker Network for more promotion, traffic, and money.

Company Info

Help

What is Yardbarker?

Yardbarker is the largest network of sports blogs and pro athlete blogs on the web. This site is the hub of the Yardbarker Network, where our editors and algorithms curate the best sports content from our network and beyond.