Found July 14, 2013 on isportsweb.com:
Fantasy AnxietyToday, the Denver Broncos and left tackle Ryan Clady agreed to terms on a 5-year deal. Other than that, fellow Broncos' fans, I am afraid I have hit a wall on what to write about. We, as writers, can't be as lucky as the guys in New England, from Hernandez to Dennard. Which is OK, we will have all our players on the field this season, or at least for training camp which starts in T-minus 11 days. Because of this lack of news coming out of the Mile-High city, I decided to share with you something I feel a majority of us have experienced. Fantasy Football. If you haven't started forming your league or at least thought about strategy yet, I would say it is a good time to get on it. Preseason is in less than a month. Last year, every Sunday night, I wept. The clock ticked down to the final seconds of the Sunday night football game, and I was on my computer, spilling salty tears all over my keyboard. No, I wasn't a Browns fan. I am a fantasy football player. Many fantasy football players could argue that I still had the Monday night game to play, and possibly win, but that just wasn't the case last season. Not only was I the only woman in a league of twelve, but in each of our teams, we started double or triple of each position. What does that mean? Well, if you have an injury, your only options are comprised of players like Jeremy Kerley and Kendall Hunter. That was my team. The bottom of the barrel wide receivers who are what I like to call, "one play a day"-ers. Now before New York and San Francisco fans everywhere start attacking me, you must understand, they may have been good players on your team, but they just were not working on mine. Or you have never heard of them, which should further prove my point. However, that is now doubtful after the 49ers Super Bowl appearance. I remember simpler days, before fantasy football ever existed. We all had one team. As true fans, we probably still all love that same team. Win or lose, we watched with a passion for the players, and a hate for the other team and their fans. Those were the days. Now, we wake up, watch the waiver wires and,"Fantasy Football Now" for three hours, while we frantically change our lineup, questioning and doubting our every move. Then, the real fun begins. Let's say you're a die-hard Vikings fan, playing your biggest rival, the Green Bay Packers. Sure, you want your defense to destroy Aaron Rodgers…but wait, you have Aaron Rodgers as your fantasy quarterback. Now you are happy when he throws a touchdown pass, but are also happy when he gets sacked. It is exhausting. You pray that the Patriots lose every single game…but you need, or at least used to need, Wes Welker to do good to win in your league. Now, as Broncos' fans…we not only need but want him to do well. We have become a nation of obsessive-compulsive fantasy point counters and waiver wire watchers. We have lost all the passion we once had for just one team and spread it out across a 12-man made up team. Our fathers would be disappointed, if they weren't playing right along with us. Only after the real football playoffs start do we return to true fandom. Unless our team didn't make it…then we're back to weeping on our keyboards watching reruns of "The League."
Original Story:
http://feedproxy.google.com/~r/isport...
THE BACKYARD
BEST OF MAXIM
RELATED ARTICLES
It sounds like the Denver Broncos and left tackle Ryan Clady are close to getting an extension done. According to Albert Breer of the NFL Network, if a deal is going to get done, it will happen on Monday and there's a chance his new contract will pay him $33 million in the first three years, which will be fully guaranteed. One more thing on Clady — if deal gets completed, likely...
According to the Associated Press,  Denver Broncos left tackle Ryan Clady is expected to be cleared by August after undergoing surgery to repair a torn labrum this offseason. He hopes to be cleared by early August and the Broncos are confident he'll be in the lineup Sept. 5 to face former teammate Elvis Dumervil when the Baltimore Ravens visit Denver to kick off the 2013 season...
The Denver Broncos and Pro Bowl left tackle Ryan Clady agreed to a new, long-term contract on Sunday. Clady's new five-year, $52.5 million deal could be pushed as high as $57.5 million if Clady reaches two more Pro Bowls, and will pay him $33 million in guaranteed money. That means a whopping 63 percent of the contract is guaranteed and it makes him the third-highest paid left...
According to Adam Schefter, ESPN's NFL Insider, the Denver Broncos and left tackle Ryan Clady have finally agreed upon a new deal. The five-year contract is worth up to $57.5 million, with $33 million of that being guaranteed money. Clady's deal will make him one of the three highest paid left tackles in the NFL (Jason Peters & Joe Thomas) with an average value of $11.5 million...
According to ESPN's Adam Schefter, the Denver Broncos have signed left tackle Ryan Clady to a five-year, $57.5 million contract extension, with $33 million guaranteed. Ryan Clady and Denver have agreed to a five-year, $57.5 million contract, including $33 million guaranteed. — Adam Schefter (@AdamSchefter) July 15, 2013 Need NFL Tickets? Loading... The post Broncos...
The NFL deadline for franchised players to sign long-term deals and it's looked like none of the players are willing to do so, till now. One player, offensive tackle Ryan Clady, is close to signing the latest offer from the Denver Broncos. The two sides weren't far apart so when the Broncos upped their offer this weekend talks heated up. A $500,000 a year increase in an offer...
The Denver Broncos locked up left tackle Ryan Clady Sunday signing him to a five-year deal worth a base salary of $52.5 million and at least $33 million guaranteed. In addition, the money in the deal could grow to $57.5 million if Clady is named an All-Pro twice, a league source told ESPN NFL Insider Adam Schefter. Clady was [...]
Straight cash homie. Ryan Clady agrees to terms with Broncos. Five years, $57.5 million. $33 million guaranteed. — ProFootballTalk (@ProFootballTalk) July 15, 2013
According to ESPN's John Clayton, the Denver Broncos have increased their offer to left tackle Ryan Clady. A $500,000 a year increase in an offer by the Denver Broncos could lead to a five-year contract for left tackle Ryan Clady, a source said. Since last year, the Broncos have been offering Clady a five-year, $50 million contract. By increasing the offer to $52.5 million and...
The Broncos have offered left tackle Ryan Clady a five-year, $52.5 million contract extension. SOURCE: John Clayton, ESPNFantasy Spin:The two sides have been working on a deal since Clady was franchise-tagged in March. Previously, the Broncos had offered five years and $50 million so this new deal would pay Clady an additional half million a year.
When you have one of the greatest quarterbacks to ever play the game in your backfield you want to do what you can to protect him. When he also happens to be 37 and has had more neck surgeries than I can count it is no longer 'do what you can' it becomes 'by any means necessary.' Keith Allison/Flickr The Broncos have been in talks with offensive tackle...
And so ends one of the quietest NFL franchise-tag negotiating periods ever. Teams had until 4 p.m. ET on Monday to negotiate with the eight players who were tagged this year, and only one -- the Denver Broncos' Ryan Clady -- got himself a long-term deal. The other seven who received the tag must now play under the one-year offer, with the Buffalo Bills' Jairus Byrd the only...
NFL News

Delivered to your inbox

You'll also receive Yardbarker's daily Top 10, featuring the best sports stories from around the web. Customize your newsletter to get articles on your favorite sports and teams. And the best part? It's free!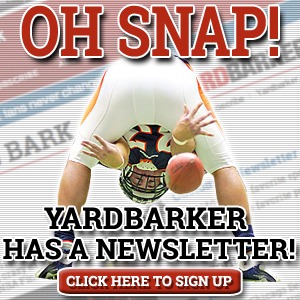 Latest Rumors
Best of Yardbarker

Today's Best Stuff

For Bloggers

Join the Yardbarker Network for more promotion, traffic, and money.

Company Info

Help

What is Yardbarker?

Yardbarker is the largest network of sports blogs and pro athlete blogs on the web. This site is the hub of the Yardbarker Network, where our editors and algorithms curate the best sports content from our network and beyond.