Found November 09, 2012 on The Hazean:
PLAYERS:
Roger Goodell
,
Sean Payton
,
Peyton Manning
,
Doug Martin
,
Mikel Leshoure
,
Jake Locker
,
Aaron Rodgers
,
Philip Rivers
,
Antonio Gates
,
Daniel Thomas
,
Chris Ivory
,
Reggie Bush
,
Danny Woodhead
,
Donald Jones
,
Robert Meachem
,
Ryan Fitzpatrick
,
Michael Crabtree
,
Nate Washington
,
Dustin Keller
,
Mark Sanchez
,
Martellus Bennett
,
Garrett Hartley
,
Ben Roethlisberger
,
Antonio Brown
,
Mike Tomlin
,
Cam Newton
,
Ryan Mathews
,
Matt Forte
,
Ahmad Bradshaw
,
Andre Johnson
,
Steve Smith
,
Hakeem Nicks
,
Dwayne Bowe
,
Brandon Myers
,
Brandon Pettigrew
,
Shayne Graham
TEAMS:
New Orleans Saints
,
Philadelphia Eagles
,
Detroit Lions
,
Tennessee Titans
,
Green Bay Packers
,
San Diego Chargers
,
Miami Dolphins
,
New England Patriots
,
Buffalo Bills
,
San Francisco 49ers
,
New York Jets
,
New York Giants
,
Pittsburgh Steelers
,
Chicago Bears
,
Houston Texans
,
Kansas City Chiefs
,
Oakland Raiders
,
Boise State Broncos
Sometimes things just don't make sense. No, I'm not talking about why Roger Goodell suspended Sean Payton for a full year simply for being a lying ego-maniac. Nope, it doesn't have anything to do with how the Philadelphia Eagles have allowed their offensive line to become this bad. Forget about the fact Peyton Manning looks like he is throwing the ball with even more accuracy and as much power as before all his health issues. I'm talking about this past week. More specifically, about two running backs: Doug Martin and Mikel Leshoure. I loved Martin before our auction draft, but I wasn't smart enough to save enough money for him before his name was called. Leshoure wasn't a back I thought could be trusted. For the most part, for most of the season, I thought "no big whoop." But, wow, what a day for both of them last Sunday. The question now is whether they can sustain the perch they have each placed themselves upon. Let's start with the lesser performance in Leshoure. Although he gained just 70 yards (which would be welcome to teams like the Saints and Panthers), he scored three times. I didn't even know the Lions had plays set up to run in the red zone. While it might be exciting for Leshoure owners, many of whom had him on their bench, it not only isn't likely he'll pull off this feat again this season, but he might not even score three touchdowns combined in Detroit's final eight games. He only had one before this week, and he has four games remaining against top-10 rushing defenses. In other words, if he wasn't good enough to crack your starting lineup before this week, I'd leave him on the bench. Martin, however, is another story. For four consecutive weeks, he has seen his production go up. While that streak will almost certainly come to an end this week, the Bucs finally figured out how much better Martin is than LeGarrette Blount. Conversely to Leshoure, his final eight games are against a bunch of pansies when it comes to run defense, except maybe for Denver. In other words, if you're looking to make a trade before your league's transaction deadline, it would probably be wise to sell high on Leshoure and hold on to Martin. LOVE QUARTERBACK Jake Locker, Titans at Dolphins (30th vs. pass) To answer your question, yes, I am a bit crazy, but this is the perfect spot for Locker to come back. The Dolphins are allowing about 300 passing yards per game (worse than the Saints!) and have just eight interceptions on the season. If you have RG III or Aaron Rodgers and you need a one-week fix, this could be a decent pick. But yes, you'll also be called crazy. Laugh at them after his 250-yard, two TD day. Honorable mention: Philip Rivers, Chargers at Bucs (Cross-country trip scares me, but he should find Antonio Gates) RUNNING BACKS Daniel Thomas, Dolphins vs. Titans (30th vs. run); Chris Ivory, Saints vs. Falcons (24th vs. run) Thomas has become increasingly used to spell Reggie Bush, and certainly is a more powerful runner. Expect Miami to need its ground game to get back to its winning ways, and Thomas is on quite a few waiver wires out there. … Ivory proved he should be in the rotation of Saints backs, and always has had a good nose for the end zone. No reason why he can't put up 10 points against a weak rushing defense. Honorable mention: Danny Woodhead, Patriots vs. Bills (Lots of touches in this blowout); Marcel Reese, Raiders at Ravens (Likely No. 1 back if McFadden doesn't play) WIDE RECEIVERS Donald Jones, Bills at Patriots (28th vs. pass); Robert Meachem, Chargers at Bucs (32nd vs. pass) With Stevie Johnson questionable, Ryan Fitzpatrick will need someone to throw to early and often. Jones was targeted nine times last week, catching six passes for 65 yards against a tough Texans defense. Those numbers will go up against a bad Patriots D. … Only nine teams in the NFL have given up more than 2,000 passing yards so far this season, and Tampa Bay has given up nearly 2,600. Rivers will be looking deep more than once in this one, and you can bet Meachem, who usually has two or three great games a season, will be his primary target. Honorable mention: Michael Crabtree, 49ers vs. Rams (Actually looks like he gives a damn now); Nate Washington, Titans at Dolphins (Has been fairly consistent) TIGHT END Dustin Keller, Jets at Seahawks (7th vs. pass) If the Jets are to have any success, they'll have to be successful in their short passing game, something Mark Sanchez actually does a decent job of. With his favorite target back, expect Keller to get plenty of opportunities, especially inside the red zone. Honorable mention: Martellus Bennett, Giants at Bengals (Call this a hunch, but I feel as if Bennett will get back to becoming bigger part of offense once again) KICKER: Garrett Hartley, Saints vs. Falcons (A couple of misses, yes, but everyone shouldn't be jumping off bandwagon) HATE QUARTERBACK Ben Roethlisberger, Steelers vs. Chiefs (11th vs. pass) At least a couple of reasons to think Big Ben will have an average or worse night Monday. First off, Antonio Brown isn't going to play, which limits his options. Second, Coach Mike Tomlin is determined to get the running game going, as he showed last week, no matter which back takes the lion's share of carries. Not-so-honorable mention: Cam Newton, Panthers vs. Broncos (Don't let decent game against horrible defense fool you) RUNNING BACKS Ryan Mathews, Chargers at Bucs (1st vs. run); Matt Forte, Bears vs. Texans (2nd vs. run) Mathews continues to be one of the most overrated running backs in football, and this week he is up against the top-rated rushing defense while having to travel cross-country. If he only got 15 touches or less, that wouldn't be a big surprise. … Houston simply doesn't give up a lot of yards on the ground, even against good running backs. Chicago will try to run the ball, but don't expect much success. Not-so-honorable mention: Mikel Leshoure, Lions at Vikings (Like I said, if he was on your bench last week, leave him there); Ahmad Bradshaw, Giants at Bengals (Brown really cutting into his productiveness) WIDE RECEIVERS Andre Johnson, Texans at Bears (16th vs. pass); Steve Smith, Panthers vs. Broncos (10th vs. pass) Take a look at Johnson's stats against struggling defenses – 118 yards last week vs. Buffalo, 119 yards against Miami in Week 1 – and he looks like the old Andre Johnson. Look at some other games, and he just looks like an old Andre Johnson – 21 yards at Jacksonville in Week 2, 15 yards against the Jets in Week 5. Just can't like the matchup against a team as physical as Chicago. … As Cam Newton goes, so goes Steve Smith. Newton just hasn't performed well against tougher matchups, and you can expect the Broncos to give him some different looks and pressure. In other words, this bad play is as much because of the quarterback (or more) as it is for Smith's matchup. Not-so-honorable mention: Hakeem Nicks, Giants at Bengals (Just can't shake injury bug); Dwayne Bowe, Chiefs at Steelers (Going to be an oh-so-long night for the Chiefs offense) TIGHT END Brandon Myers, Raiders at Ravens (22nd vs. pass) Everyone was rushing out to get Myers after his big performance last week against the worst passing defense in the NFL. But remember, he is banged up a bit and those two touchdowns just so happened to be his first two of the year. Not-so-honorable mention: Brandon Pettigrew, Lions at Vikings (This guy might have worst case of butter fingers EVER) KICKER: Shayne Graham, Texans at Bears (Bad weather plus low-scoring game equals bad news for kickers)
Original Story:
http://thehazean.com/2012/11/09/fanta...
THE BACKYARD
BEST OF MAXIM
NFL News

Delivered to your inbox

You'll also receive Yardbarker's daily Top 10, featuring the best sports stories from around the web. Customize your newsletter to get articles on your favorite sports and teams. And the best part? It's free!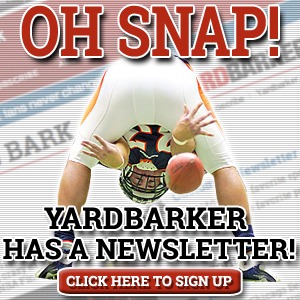 Latest Rumors
The Backyard

Today's Best Stuff

For Bloggers

Join the Yardbarker Network for more promotion, traffic, and money.

Company Info

Help

What is Yardbarker?

Yardbarker is the largest network of sports blogs and pro athlete blogs on the web. This site is the hub of the Yardbarker Network, where our editors and algorithms curate the best sports content from our network and beyond.