Found November 30, 2012 on The Hazean:
PLAYERS:
Colin Kaepernick
,
Jim Harbaugh
,
Ryan Fitzpatrick
,
Jonathan Dwyer
,
Joique Bell
,
Alex Green
,
David Wilson
,
Randy Moss
,
Santana Moss
,
Nate Washington
,
Ryan Broyles
,
Marcedes Lewis
,
Chad Henne
,
Dwayne Allen
,
Greg Zuerlein
,
Joe Flacco
,
Drew Brees
,
Knowshon Moreno
,
DeMarco Murray
,
Willis McGahee
,
Peyton Manning
,
Felix Jones
,
Beanie Wells
,
Marshawn Lynch
,
Denarius Moore
,
Cecil Shorts
,
Torrey Smith
,
Brandon Marshall
,
Heath Miller
,
Aaron Hernandez
,
David Akers
TEAMS:
San Francisco 49ers
,
Buffalo Bills
,
Pittsburgh Steelers
,
Detroit Lions
,
Green Bay Packers
,
Washington Redskins
,
Tennessee Titans
,
Jacksonville Jaguars
,
Indianapolis Colts
,
St. Louis Rams
,
Baltimore Ravens
,
New Orleans Saints
,
Denver Broncos
,
Dallas Cowboys
,
Arizona Cardinals
,
Seattle Seahawks
,
Oakland Raiders
,
Chicago Bears
,
New England Patriots
Twas the night before Week 13, when all through the house, Not a creature was stirring, not even a louse The playoffs were ahead, your team crafted with care, In hopes that Saint Brees would carry you there Dad told all the kiddies before they went to bed, "I'll win the championship, then Santa will fly in on his sled" And mama in her nightie, thinking of what she'd do with your dough, "Just give me three touchdowns, and I won't ask for no mo" The game finally arrived against those hated Dirty Birds, But all Brees could do was lay a few turds So now you're stuck, and you have to hope against hope, That your opponent's QB will play just like your dope "He shouldn't have been so greedy, eating all that cap space, Now me and the Saints are probably out of the race" Still, there's Sunday, and you have a little shot If it all works out, you can still do that victory trot Now Marshawn! Now Bradshaw! Now Wallace and Shorts! I hope next week there is something pleasant to report For now, however, it's time to dash out of sight And pray for a chance, no matter how slight Good luck, y'all! LOVE QUARTERBACK Colin Kaepernick, 49ers at Rams (16th vs. pass) Looks like he's still available in about one-third of all leagues. If you were lucky enough to already grab him, this is a fantastic matchup. Also, for the rest of the fantasy season, with Jim Harbaugh naming him the starter, the schedule is very favorable for Kaepernick to help throughout your playoffs. Honorable mention: Ryan Fitzpatrick, Bills vs. Jaguars (Going to be a tough road for him after this one) RUNNING BACKS Jonathan Dwyer, Steelers at Ravens (25th vs. run); Joique Bell, Lions vs. Colts (20th vs. run) All I hear is not to start any of the 18-headed monsters running the ball for the Steelers. To me, Dwyer is the best of the bunch, and I expect him to take on the lion's share of work Sunday in what should prove to be ground and pound all day long. By the way, Baltimore is one of 11 NFL teams to allow 10 or more rushing touchdowns this season. … As the season has gone on, Detroit has incorporated this bruising ex-Saint into its offense, including two weeks ago when he collected seven receptions. After scoring 10 fantasy points last week, Bell could be a nice injury (or desperation) replacement. Honorable mention: Alex Green, Packers vs. Vikings (After an embarrassing loss, passing teams usually try and run more); David Wilson, Giants at Redskins (Let's see if he can finally match the talent to his mouth) WIDE RECEIVERS Randy Moss, 49ers at Rams (16th vs. pass); Santana Moss, (Mon.) Redskins vs. Giants (25th vs. pass) Although he didn't have a catch last week, I noticed Kaepernick spending a lot of time talking to Randy Moss, who was targeted in the end zone on what should have been called offensive pass interference. But I digress. Point is, I expect this young QB to look for the wily veteran in the red zone, and this dome will be one of the few places this weekend where weather isn't a factor. … Although Santana Moss has been very hit-or-miss this season, he's obviously a major scoring threat. And with the fact RG III likely will have to pass 40 or more times Monday night against a suspect pass defense, I give Moss an excellent chance to collect 10 or more points. Honorable mention: Nate Washington, Titans vs. Texans (Tennessee will need to throw early and often); Ryan Broyles, Lions vs. Colts (Done this season in a keeper league? Get this guy while he's cheap) TIGHT END Marcedes Lewis, Jaguars at Bills (17th vs. pass) Still available in more than 60 percent of CBS leagues, Lewis has become a big target for Chad Henne. I expect most of Jacksonville's passing game will be of the short-yardage variety, which means good things for this tight end. Honorable mention: Dwayne Allen, Colts at Lions (17 targets past two weeks) KICKER: Greg Zuerlein, Rams vs. 49ers (Stalled drives in a dome equal lots of field goals) HATE QUARTERBACK Joe Flacco, Ravens vs. Steelers (1st vs. pass) Only twice in nine career games against Pittsburgh has Flacco thrown for two or more touchdowns. The Steelers know their playoff hopes hinge on their defense, and you can bet they'll be on their A game in this one. Not-so-honorable mention: Drew Brees, Saints at Falcons (I predict he'll throw five picks. Oh wait.) RUNNING BACKS Knowshon Moreno, Broncos vs. Bucs (1st vs. run); DeMarco Murray, Cowboys vs. Eagles (18th vs. run) Moreno looked decent last week against Kansas City as the top option to fill in for the injured Willis McGahee. But this one is going to be a Peyton Manning special, as Tampa Bay is stifling against opposing running backs. … You can bet more than a wooden nickel that even if Murray does return this week, he'll be eased slowly into action. Unless he just quickly comes back to old form, I expect a platoon with Felix Jones et al for the rest of the season. Not-so-honorable mention: Beanie Wells, Cardinals vs. Jets (Don't tell me you're already back on his bandwagon); Marshawn Lynch, Seahawks at Bears (Finally gets some decent matchups after this one) WIDE RECEIVERS Denarius Moore, Raiders vs. Browns (20th vs. pass); Cecil Shorts, Jaguars at Bills (17th vs. pass) Oh Denarius, where have you gone? After scoring in four out of five games and going for 90 yards or more in three of those, Moore has two catches for 29 yards and one score in two games against the Saints and Bengals, respectively. With playoffs on the line for many of us, I'd be hesitant to start him in what looks to be awful weather in the Bay area this weekend. … Buffalo's pass defense is much improved over the past few weeks, and in their favor this week is forecasted cold rain and winds of more than 20 mph. That is a killer for a deep-threat receiver with a sub-par quarterback. Not-so-honorable mention: Torrey Smith, Ravens vs. Steelers (Going to be a mosh pit in Baltimore); Brandon Marshall, Bears vs. Seahawks (I predict a 12-10 Bears win) TIGHT END Heath Miller, Steelers at Ravens (22nd vs. pass) It's no coincidence he hasn't scored since Week 8 vs. Washington. Until Big Ben gets back healthy, Miller just isn't a favorable option. Not-so-honorable mention: Aaron Hernandez, Patriots at Dolphins (He'll probably play, but I'd wait one more week) KICKER: David Akers, 49ers at Rams (Questionable, and Harbaugh is trying out other kickers)
Original Story:
http://thehazean.com/2012/11/30/fanta...
THE BACKYARD
BEST OF MAXIM
RELATED ARTICLES
ATLANTA A lingering media throng is a curious sight following ahistoric sporting event, conversing in hushed tones but bodies and eyes all facing one direction. On Thursday night in the Georgia Dome,those eyes faced the Saints locker room door, each pair straining to spot afuture Hall of Fame quarterback. After years of playing Atlantastormenter, Drew Brees feel back to Earth against...
'3 F*CKING POINTS BREES…U GODDAMN SON OF A ***** DICK EATING ASS GOBLIN PERIOD SLURPING DYKE…..F*CK U' That tweet from @drunkn151er is just a taste of the NSFW nonsense that was sent Drew Brees way after his awful five interception performance. The Falcons won 23-13 in a game that the Saints should've won had Brees not completely sh*t the bed. New Orleans fans can't...
Drew Brees is a bona fide future Hall of Fame quarterback. But he didn't look like one Thursday night, throwing a career-high 5 INT in a 23-13 loss at 11-1 Atlanta. We look at the worst meltdowns by the game's greatest QBs.
Not only did the New Orleans Saints bus end up with egg on it, Drew Brees record did as well. The Saints were in Atlanta to face off against the Falcons Thursday night. While the team started off the season in pure struggle behind b0unty-gate, as of late they've shown signs of pulling things together. [...]
QB Rankings Drew Brees and Matt Ryan are two of the top fantasy options at the quarterback position in week thirteen. The Saints struggle on the road and the Falcons excel at home which leads us to believe that the Saints may be throwing a little more thus leading to Brees being ranked ahead of Ryan this week in my rankings. RGIII has a date with the New York Football Giants on Monday...
There was nothing special about Thursday Night Football from a fantasy perspective.  It was New Orleans vs Atlanta, a matchup that had produced plenty of points in the previous outing for all fantasy owners.  It was a night not to think too hard about the QBs or the WRs to start; it was going to be a fantasy smorgasbord.  But in real life, tension was building.  The Falcons came...
Every year, we are reminded how the NFL has become a passing league and if you don't have a franchise quarterback, you don't have a chance. Well, there is always a slim chance, but in recent years it has been the same names in the same game.With the passing boom of the 21st Century NFL, it feels as if defensive players appear to be at a slight disadvantage with all of the...
Matthew Stafford is currently third in passing yards in the NFL with 3,429, and faces off against a lack-luster defense this weekend in the Indianapolis Colts. We know Stafford has one of the best arms in the league, but how good can he actually do against the Colts defense this Sunday?Stafford has an opportunity to pass Drew Brees and Matt Ryan for the lead in passing yards, as...
NFL News

Delivered to your inbox

You'll also receive Yardbarker's daily Top 10, featuring the best sports stories from around the web. Customize your newsletter to get articles on your favorite sports and teams. And the best part? It's free!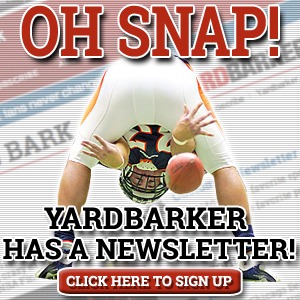 Latest Rumors
Best of Yardbarker

Today's Best Stuff

For Bloggers

Join the Yardbarker Network for more promotion, traffic, and money.

Company Info

Help

What is Yardbarker?

Yardbarker is the largest network of sports blogs and pro athlete blogs on the web. This site is the hub of the Yardbarker Network, where our editors and algorithms curate the best sports content from our network and beyond.