Found January 08, 2013 on Sports Blog Net:
PLAYERS:
Philip Rivers
,
Eli Manning
,
Michael Vick
,
Colin Kaepernick
,
Danario Alexander
,
Jay Cutler
,
Peyton Manning
TEAMS:
San Diego Chargers
,
New York Giants
,
Philadelphia Eagles
,
San Francisco 49ers
,
Chicago Bears
[caption id="" align="alignnone" width="580"] Can Philip Rivers rebound in 2013?[/caption] The quarterback class is looking very deep for 2013. So deep that players who used to be starting fantasy quarterbacks are being pushed out of the top 12 by the promising young quarterbacks that lit up the league in 2012. Some of the players that are being pushed down out of the starter tier this year are some big names like Eli Manning, Philip Rivers, and Michael Vick. This is being written before free agency, the draft and training camp so things could change but as of January 4th, 2013 this is my quarterback sleepers list. I am going to assume that things are as they are today. Also note that when I say "sleeper" I mean undervalued players (according to the "experts"). That means that these quarterbacks don't necessarily have to be picked in the late rounds although, most of them still are. I will be waiting on quarterback again this year as it has proven to be a solid strategy for me in the past few years (These value based draft charts emphasize why I believe that). If I am in a 10 team league I have no problem taking a quarterback in the mid-late rounds without taking a back up quarterback. This strategy works fine if you are an active owner, if your wrong about your QB pick you can't take too long to cut him loose for the hottest free agent quarterback you can fine. I don't draft a back up quarterback (except in 14+ team leagues where good back ups have trade value, 2 QB leagues and maybe in 6pt passing touchdown leagues) because I believe they provide little value and that the more teams without backup quarterbacks the better the strategy is (less people owning backups yields better free agent quarterbacks available). The other reason not having a back up quarterback works well is because quarterbacks are easy to claim off of the waiver wire as they are rising in value (as opposed to RB's where as soon as one has a big game hes claimed in every league). Anyway, lets get to the list of sleepers. 2013 Quarterback Sleepers Colin Kaepernick The recent wave of young quarterbacks with legs has shown that scrambling quarterbacks have a very high floor in fantasy football. Consistent scoring from the quarterback position is key to success in fantasy football. It is the one position where a 0 causes your fantasy team to lose about 80% of the time. Kaepernick has a strong arm that he's not afraid to use which is shown by his 8.32 yards per attempt average he is also a good decision maker which is shown by the fact that he has 10 touchdowns to only 3 interceptions. His accuracy is impressive with a 62.6% completion percentage, a very high number for a first year starter. In the final 8 games (the games he started) CK7 accumulated 304 rushing yards and 3 rushing touchdowns. In ESPN standard scoring he averaged 17.75 fantasy points in these 8 games. That fantasy point average would rank Kaepernick as the 7th quarterback this season if he had done it over 16 games. Hopefully, next year the 49ers change the offense to more suit CK7 and increase his fantasy production for us owners. A full off-season as the starter can only benefit him as last year was his first year as a starter. I have seen him ranked outside of the top 13 for the most part in the early 2013 fantasy rankings and I would be very comfortable with him as my starter in a 12 team league (maybe even a 10 team league). Michael Vick This pick is mostly banking on Vick landing on a team that has a better offensive line and that he ends up with a coach who understands that Vick is best when he is throwing quick passes or scrambling. Most of Vick's struggles have come on 5 step drop passes where he is asked to read the field and make decisions facing pressure. Vick was bad this year but, he still averaged 15.375 points per game (ESPN standard) in the 8 games he started at the beginning of the season. He only managed 1 touchdown this season which is the same as last year but the fact that he had 9 in 2010 makes me believe that he is more likely to end up with 3-5 rushing touchdowns. Vick's upside and name recognition are his greatest value, if he starts to tear it up out there you can bet that ESPN will be hyping him up again like crazy which will cause his trade value to shoot through the roof. Vick is one of the few quarterbacks I would consider drafting as a back up assuming he lands in a decent location for that reason. The price tag is going to be cheap this coming year as I have seen him ranked by most in the 14-20 range of quarterbacks. The small investment allows fantasy owners to worry less about Vick's injury prone label. Philip Rivers The Chargers are aging and Rivers is coming off of a season where he averaged a mere 6.84 yards per attempt. The biggest positive statistic about Rivers last year was that he still managed to maintain a solid completion percentage at 64.1%. His problems mainly has stemmed from too many interceptions and a lack of yardage. River's eclipsed 4,600 yards in both 2010 and 2011 but in 2012 he regressed to 3,606 yards. That's a big step down. I think he will be closer to 2010/2011 form here in 2013. Hopefully the Charger's pick up another solid receiver as I'm not sure Danario Alexander can be counted on to stay healthy and Floyd is better off as a number 2 receiver. An offensive minded quarterback would be helpful to Rivers as well. The bottom line with River's is that he has been a top fantasy option before (top 5 in 2010) and this year I've seen him ranked as a 12th round pick (around 20th ranked QB) on quiet a few sites and I think at that price he could provide good value. Other QB's I like and Notes: Jay Cutler (as 20th-23rd QB), Peyton Manning (as 5th/6th QB). My top 6: Rodgers, Brees, Brady, Peyton, RGIII, and Cam (in that order) before a drop off to the next tier. For more fantasy football articles written by Kevin visit AnalyzeFantasyFootball.com
Original Story:
http://winyourleague.sportsblognet.co...
THE BACKYARD
BEST OF MAXIM
RELATED ARTICLES
Michael Gehlken of the Union-Tribune San Diego writes that there's "some doubt" within the Chargers organization RB Ryan Mathews will "become the player that was envisioned three years ago." Gehlken adds that San Diego still has faith that Mathews will have a good career in the NFL. Mathews, 25, suffered two broken clavicles in just four months and didn't look like...
Can Philip Rivers rebound in 2013? The quarterback class is looking very deep for 2013. So deep that players who used to be starting fantasy quarterbacks are being pushed out of the top 12 by the promising young quarterbacks that lit up the league in 2012. Some of the players that are being pushed down out of the starter tier this year are some big names like Eli Manning, Philip...
According to Kevin Acee of the San Diego Union-Tribune, several people have told him that Colts offensive coordinator Bruce Arians is the Chargers' top choice to replace Norv Turner as their next head coach. Several people around the league and inside Chargers Park have said Indianapolis Colts offensive coordinator Bruce Arians is a top target, and Arians is interested in the gig...
Mike Chappell of the Indianapolis Star reports that the San Diego Chargers have hired Colts director of player personnel Tom Telesco as their next general manager. The Chargers were also considering their own director of player personnel Jimmy Raye for the job, but Telesco was a pretty hot name and he could help them lure Colts' offensive coordinator Bruce Arians to San Diego...
The San Diego Chargers have hired Tom Telesco from the Indianapolis Colts to replace fired general manager A.J. Smith. Telesco is to be introduced at an afternoon news conference. Telesco has been vice president of football operations for the Colts. His first task with the Chargers will be to help select a new coach to replace Norv Turner, who was fired along with Smith on Dec...
According to the San Diego Union-Tribune, there's some doubt within the Chargers' organization that running back Ryan Mathews can live up expectations after another injury-plagued season. Within the organization, while faith remains Mathews can have a good career, there is some doubt he'll become the player that was envisioned three years ago. There's no doubt that Mathews...
Photo Courtesy of USA TodayEven though the Redskins are now out of the playoffs thanks to the Seattle Seahawks, Robert Griffin III still had one of the most captivating rookie seasons in NFL history. "RGIII" started his journey when he was drafted second overall by the Washington Redskins and immediately named the starting quarterback by head coach Mike Shanahan. Griffin...
A judge has sentenced Marcus Vick to five days in jail for failing to produce adequate documentation about his financial status by a court-ordered deadline. Plaintiff Barbara Ferguson's attorney, Kris Olin, says the judge sentenced the former Virginia Tech quarterback and younger brother of Philadelphia Eagles QB Michael Vick for contempt of court during a telephone conference...
There's no doubt that the Kansas City Chiefs will need a new starting quarterback for next season. Chiefs head coach Andy Reid was on Mike and Mike in the Morning on ESPN Radio and was asked if he's interested in bringing Michael Vick to Kansas City. "He's still property of the Philadelphia Eagles. But he's a good kid," replied Reid, per Jeff McLane of the Philadelphia...
Former Virginia Tech football player Marcus Vick was sentenced to five days in jail after being found in contempt of court on Wednesday. Judge Brett Geisler issued a warrant for Vick's arrest after the 28-year old failed to provide court-ordered financial documents.Vick, who currently lives in Atlanta, has two options: he can either turn himself in or he can wait until authorities...
Andy Reid is in the process of trying to rebuild the Kansas City Chiefs from the ground up.  Reid needs a quarterback to make the process easier, and the Chiefs hold the #1 overall pick in the 2013 draft. Question will begin to arise in reference to who Reid and the Chiefs might select.  There is no Andrew Luck or Robert Griffin III in this draft, even though Geno Smith and Matt...
NFL News

Delivered to your inbox

You'll also receive Yardbarker's daily Top 10, featuring the best sports stories from around the web. Customize your newsletter to get articles on your favorite sports and teams. And the best part? It's free!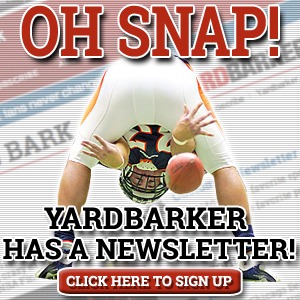 Latest Rumors
The Backyard

Today's Best Stuff

For Bloggers

Join the Yardbarker Network for more promotion, traffic, and money.

Company Info

Help

What is Yardbarker?

Yardbarker is the largest network of sports blogs and pro athlete blogs on the web. This site is the hub of the Yardbarker Network, where our editors and algorithms curate the best sports content from our network and beyond.