Found February 20, 2013 on Turn On The Jets:
PLAYERS:
Antonio Cromartie
,
Darrelle Revis
,
Philip Rivers
,
Danario Alexander
,
Bill Belichick
,
Golden Tate
,
Russell Wilson
,
Sidney Rice
TEAMS:
New York Jets
,
San Diego Chargers
,
New England Patriots
,
Seattle Seahawks
,
St. Louis Rams
A few weeks ago I wrote a piece aimed at explaining why Antonio Cromartie will never be the great cornerback that some people believe he already is. Yet recently my Twitter timeline has repeatedly told me that the Jets can afford to trade Darrelle Revis because Cromartie can step in and fill his shoes. So I'm going to try again, only this time perhaps some pictures might be worth a few thousand words. The first play that's up for consideration is taken from the Jets' Week 16 encounter with the San Diego Chargers. Philip Rivers and his men are trailing by four points in the 3rd quarter, and are facing a pivotal 3rd & 7 from the Jets 37-yard line. Cromartie is circled in yellow, and Chargers wide receiver Danario Alexander (who has only recently joined the team after being cut by the St Louis Rams) is circled in red. Despite Alexander throwing a double-move at him – something that has been a problem in the past – Cromartie's coverage is initially good and it's worth noting that at this point he is focusing exclusively on the movement of his assigned man. But when he sees Alexander turns to look over his shoulder, Cromartie decides to quit playing his man and instead he seeks to locate the ball. Effectively, Cromartie has made a bad choice by gambling here but there's still a chance that he might get lucky and hit the jackpot if Rivers comes up short on the pass. But unfortunately for the Jets no such thing happens and even Cromartie's renowned athleticism is not enough to make up for his poor decision-making ability as Alexander hauls in the touchdown. To reinforce the point that, while Cromartie is undoubtedly a fine athlete, his game will always be hurt by a lack of what Bill Belichick refers to as 'FBI' (Football Intelligence) let's dig a little deeper into the archive and revisit Week 10's game against the Seahawks. The 'Hawks are up by two touchdowns with 8:08 to go in the fourth, and after two consecutive penalties they have a 1st and Goal from the Jets 23-yard line. If they're to get back into the game, the Gang Green boys simply have to make a stop on this drive. The Seahawks come out with Golden Tate (turquoise) lined up at flanker, but prior to the snap he motions towards quarterback Russell Wilson and takes a handoff. Meanwhile, split end Sidney Rice (red) is ready to face off against Cromartie. Initially Cromartie does a great job of tying Rice up with press coverage but when he senses that Tate may be headed in his direction he decides to forget his coverage assignment and – despite close run support from three unblocked teammates – he tentatively takes the first few steps towards tracking forwards. By the time Tate has cocked his arm to throw, the wide open Rice has a full six yards of separation between himself and Cromartie. Finally we're left with the image of Cromartie gazing on helplessly as Rice pulls in the catch to drive a final dagger into Jet hearts. As much as I wish it were true that Cromartie is a 'Shutdown Corner' the reality is that you don't have to go through too much game tape in order to find repeated evidence of his inability to make the correct decision at the right time. He's a tremendous athlete – that's beyond question – but unless he suddenly develops some 'FBI' he will never be fit to wear the shoes of Revis and (maybe more importantly) despite how highly-prized he is by some Jets fans, GMs around the league will never be prepared to give up particularly high value in any attempt to trade for him. Like it or not, that's the long and short of it all.
Original Story:
http://turnonthejets.com/2013/02/anto...
THE BACKYARD
BEST OF MAXIM
RELATED ARTICLES
The Jets eliminated a lot of dead weight from their roster on Tuesday. New York announced that they have cut linebackers Bart Scott and Calvin Pace, tackle Jason Smith, safety Eric Smith and tight end Josh Baker. The cost-saving moves freed up $31.265 million, according to NYJetsCap.com's figures. The Jets's 2013 total cap value now sits at $119.15 million, which is roughly ...
The purge of players from the New York Jets roster started this week and with the opening of the NFL Combine this week in Indianapolis, the Jets are trying to move a familiar name, quarterback Tim Tebow. The story of Tebow and his season with the Jets in 2012 have been well documented and the team is trying to move on from the failed experiment while they are heading into the offseason...
New York Jets cornerback Darrelle Revis said he was "speechless" when he initially heard the trade rumors that involved him.  "I was speechless; I tweeted it out I was speechless. I was speechless because I didn't get a phone call,"
New York Jets cornerback Darrelle Revis spoke to the NFL Network's Andrea Kremer on "NFL Total Access" Monday and admits he's still scratching his head about what transpired after John Idzik took the job as GM. Almost right after the hiring, rumors swirled around that the Jets were looking to trade their star cornerback. "I was speechless; I tweeted it...
The New York Jets have already cut ties with several veteran players this week, and they will next shop backup quarterback Tim Tebow at the scouting combine, according to Rich Cimini of ESPN New York. The first day the Jets are able to trade Tebow is March 12. Rather than cut him prior to this date, they may keep him until then and see if they can swing a deal to recoup some value...
Earlier today Jets quarterback Tim Tebow announced that he's canceled his speaking engagement with the First Baptist Church in Dallas. The church claims that Tebow was pressured into cancelling.  TMZ has the story. A rep for the church tells TMZ, "We are saddened that Mr. Tebow felt pressure to back out of his long-planned commitment from numerous New York and national sports...
The New York Jets may have already explored the possibility of trading Darrelle Revis this offseason, but only the team knows whether they intend to hang onto their franchise corner or turn him into draft picks. Revis said he would like to remain in New York, but he has acknowledged that whether or not he stays is ultimately not his decision. During an interview with Andrea Kremer...
Darrelle Revis wanted answers to reports that the New York Jets were looking to trade him.Thursday, coach Rex Ryan tried to give one -- to Revis and the rest of us. Ryan, speaking to the media at the NFL Scouting Combine in Indianapolis, said the rumors "plain and simple" "were not accurate," noting that they surfaced before new general manager John Idzik even...
Even with all the drama and hoopla that surrounds Tim Tebow, I would still be interested to see what would happened if he was giving the opportunity to start a full season. In the half season he started with the Broncos, it wasn't always pretty, but he did lead them to wins and a playoff victory. Was that just a fluke or does he have a weird ability to win ugly? We might never...
With a new front office regime in place, the New York Jets took a first major step toward maintaining salary cap flexibility in advance of the draft and free agency this spring.
The New York Jets will reportedly shop Tim Tebow at the Combine, but are there any buyers?
Bart Scott feat Sal Paolantonio "Feel Great, Can't Wait" dj steve porter remix (by sportsremixes) Bart Scott just got released by the Jets. I'd say thanks for the memories but I'm not thankful. But I certainly enjoyed this video even at the expense of TFB.
NFL News

Delivered to your inbox

You'll also receive Yardbarker's daily Top 10, featuring the best sports stories from around the web. Customize your newsletter to get articles on your favorite sports and teams. And the best part? It's free!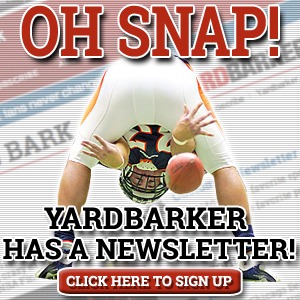 Latest Rumors
Best of Yardbarker

Today's Best Stuff

For Bloggers

Join the Yardbarker Network for more promotion, traffic, and money.

Company Info

Help

What is Yardbarker?

Yardbarker is the largest network of sports blogs and pro athlete blogs on the web. This site is the hub of the Yardbarker Network, where our editors and algorithms curate the best sports content from our network and beyond.