Found August 25, 2012 on BroncoTalk:
In the spirit of Madden 13 ratings and Super Bowl buzz, below is a look at the Denver Broncos celebrating a 27-23 SB XLVII victory over the New Orleans Saints in EA Sports' 2012 version of Madden.

A few quick notes after the jump. 
The team hosting the Super Bowl hasn't made the playoffs the year their city hosted the game since 2000, when the Tampa Bay Buccaneers went 10-6.  And since 1992, no city hosting the game has had their team reach the SB.  But in this case, New Orleans made the playoffs—and the Super Bowl.  But ultimately fell short, 27-23.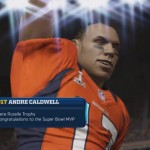 Fifth-year receiver Andre "Bubba" Caldwell should have a good season with quarterback Peyton Manning at the helm, but winning SB MVP?  That seems a little over the top.  If Caldwell put up great numbers, then Manning must have as well.  If that was the case, Peyton would have been the game's MVP.  (Or maybe Caldwell ran back two kicks for touchdowns?  We'll never know, since the video only shows the end of the game.)
As was pointed out by MaxDenver's Andrew Mason, the NFC team chooses their jersey color this year.  With that being the case, the Saints would have likely been in black and the Broncos in white, not vice versa.
In real life, Owner Pat Bowlen would have been on the podium for the trophy ceremony, as would have been Caldwell as the game's MVP.  This was a big glitch by EA Sports, because not having Bolwen up there prevents him from being able to say, "This one's for Peyton!"  And hey, J.D. Walton, you must have really improved from last season to be worthy of being up there.
A few people have questioned Manning's strength this offseason.  Let EA Sports put that to rest:  He can lift up a 229 pound Demaryius Thomas with ease.
Speaking of Manning, talk about redemption.  Four years after losing to the Saints 31-17 in Super Bowl XLIV, Manning comes back and defeats Drew Brees in New Orleans.  That's a great story line.
What observations did you draw from Madden's simulation of SB47?  Let us know in the comments below.
Original Story:
http://broncotalk.net/2012/08/40613/b...
THE BACKYARD
BEST OF MAXIM
RELATED ARTICLES
Is Peyton Manning worth the risk? Rizzla: No. I love Peyton Manning and think he is one of the best quarterbacks of our time but he presents too much risk for his current ADP. If he can stay healthy he can be the dominant fantasy QB we have all come to love. One wrong landing from a hit and Manning's career could be in serious peril. I will let another owner take the gamble this...
After last night's debacle on offense, the Arizona Cardinal faithful have to be disgruntled for not landing Peyton Manning during the offseason.Through their four preseason games, the Cardinals have gone 1-3 and the offensive line has looked awful at times.  Kevin Kolb and John Skelton have combined for 5 INT's, 8 Sacks, and only 2 scores.  They've also combined for...
Peyton Manning vs. Eli Manning.  The elite vs. the pro bowler.  The one time champion vs. the two-time champion.  Who fears who more? This has become our modern-day era, which came first the chicken or the egg?, age-long question.  Just like everyone assumes it was the egg, everyone assumed it was Eli that feared big brother Peyton. What if it was the chicken that cames first...
Denver, CO. The glimpses and flashes of potentially explosive plays with this Denver Broncos offense has given all who follow this team plenty of optimism as we inch closer to the season opener early next month. Peyton Manning has looked pretty good, running the show with the leadership he has mastered for over a decade now. The receivers have looked pretty good, catching most...
There's been a lot of talk this offseason about the rookie quarterbacks of this Draft.Andrew Luck looks like Peyton Manning already, and RGIII is bringing excitement back to the nation's capitol.We've even heard buzz around Brandon Weeden in Cleveland, mainly because he is older than Aaron Rodgers and hasn't played a meaningful down in the NFL yet. But on the West...
It's been an argument ever sinePeyton Manning was moved to Denver: which receiver will become his favorite? During the all important 3rd preseason game, it was clearly Eric Decker, as he hauled in two early scores against the elite San Francisco defense. The preseason statistics are nice, but they are only reinforcing what we thought when Manning signed in Denver. Demaryius Thomas...
Only two games on the card Sunday night but they both involved interesting storylines.Peyton Manning looked sharp in his 3rd preseason game with the Broncos.Also just as interesting, but perhaps for different reasons, Mark Sanchez and Tim Tebow continued to struggle in their 3rd preseason outing with the Jets.  Peyton and his Horses look ready for Week 1, while Mark and Timmy have...
Denver Broncos News Sorry for going AWOL yesterday, but I've got a limited amount of time each morning to bust these links out and I had to take a very important phone call that ate up all of that limited time and then some.  We'll start today's links with a piece from a few days ago that would have gone into yesterdays post.  Peyton Manning will transform the Denver Broncos...
Wide receiver Eric Decker #87 of the Denver Broncos makes a catch for a touchdown as cornerback Tramaine Brock #26 of the San Francisco 49ers looks on during the first quarter of a pre-season game at Sports Authority Field Field at Mile High on August 26, 2012 in Denver, Colorado. (Justin Edmonds/Getty Images) A 17-0 head start, courtesy Peyton Manning, wasn't enough for the Denver...
In 1998 the debate about the best quarterback available in the draft centered around the word "upside." While most appreciated Peyton Manning's football acumen, pedigree and polish most agreed that Ryan Leaf had a better arm as well as the potential to grow more. The pundits felt Manning was too ready. In hindsight they look like the buffoons in Major League proclaiming...
10) Russell Wilson earned the job in Seattle, forever ending the prejudice against short QB prospects9) The New York Jets offense and ticket office would like you to believe that preseason doesn't matter at all, no sir, not any8) After watching Nick Foles take apart Cleveland, the fan bases of Miami and Arizona are on high alert for Mike Kafka7) Dallas has set strict conduct...
DENVER -- David Akers kicked four of his five field goals in the second half and the San Francisco 49ers withstood Peyton Manning's first two touchdown passes since joining the Denver Broncos for a 29-24 exhibition victory on Sunday. Alex Smith played most of the first half for the 49ers and had a touchdown pass to his fleet tight end Vernon Davis in a solid effort. Smith...
NFL News

Delivered to your inbox

You'll also receive Yardbarker's daily Top 10, featuring the best sports stories from around the web. Customize your newsletter to get articles on your favorite sports and teams. And the best part? It's free!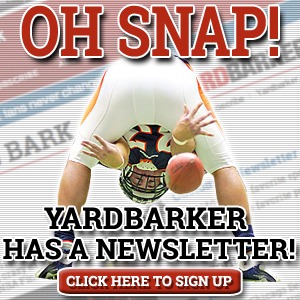 Latest Rumors
The Backyard

Today's Best Stuff

For Bloggers

Join the Yardbarker Network for more promotion, traffic, and money.

Company Info

Help

What is Yardbarker?

Yardbarker is the largest network of sports blogs and pro athlete blogs on the web. This site is the hub of the Yardbarker Network, where our editors and algorithms curate the best sports content from our network and beyond.