Found January 09, 2013 on Turn On The Jets:
PLAYERS:
Mark Sanchez
,
Jeff Cumberland
,
Stephen Hill
,
Bilal Powell
,
Aaron Rodgers
,
Tom Brady
,
Santonio Holmes
,
Chris Clemons
,
Kerry Rhodes
,
Braylon Edwards
,
Michael Griffin
TEAMS:
New York Jets
,
Miami Dolphins
,
Green Bay Packers
,
New England Patriots
,
Arizona Cardinals
,
Tennessee Titans
In recent days and weeks there's been a great deal of attention directed towards the New York Jets search for new staff. Yet while it's understandable that fans are anxious to learn who'll be hiring the players and calling the plays next season, arguably the most important addition at Florham Park this year may also be one of the least heralded: with Mark Sanchez's career now seemingly at tipping point, the man who's hired to replace Matt Cavanaugh as QB coach could well be pivot around which the team's fortunes turn. Sanchez was bad this season – there's no doubting that – but to give us a better idea of where it all went wrong (and where work needs to be done this off-season) let's take a look at a few plays from 2012 that highlight some of his greatest difficulties all too clearly… We'll begin by considering Sanchez's difficulty in making pre-snap reads, and there's no better example to be found than back in Week 2 against the Miami Dolphins. The game's tied at 10 apiece in the third quarter, and the Jets are facing a 3rd & Goal from the 7-yard line. Although the Jets appear to be out in a 4 WR set, they are actually in 11 personnel (1 RB, 1 TE) with Jeff Cumberland split wide to the right (Picture 1, below). The Dolphins have responded with their big nickel package. The play has been designed with Stephen Hill (yellow route) as the primary receiver while to his outside Cumberland runs a short hook in order that Hill can draw single coverage in the back of the endzone. As a QB making his pre-snap read, the first thing that Sanchez has to be aware of is his protection scheme. The Dolphins are showing a 7-man pass rush (4 down linemen along with 2 LBs plus 1 safety (circled in red) all showing blitz). Consequently, there's a very good chance that the Jets' 6-man protection scheme (the 5 offensive linemen plus RB Bilal Powell) will be overwhelmed. This initial read should also trigger a red-hot awareness that if the three circled defenders are all blitzing, the center of the field will be left absolutely unprotected. Suddenly, to any QB who's confident about his ability to adapt a play at the line of scrimmage (Aaron Rodgers and Tom Brady are masters of this) Santonio Holmes (purple route) becomes the most appealing option on the field. As the play develops (Picture 2) the abandoned tract of center-field looms large (green area) as Holmes gains a step on his defender and breaks into it. Meanwhile, there's a problem with the play design as Cumberland has taken his route too deep, meaning that the window where Sanchez had been hoping to deliver the ball (red area) is now effectively double-covered. The play can still be aborted, however, and the lead can be taken via a straightforward field goal if a pass is delivered to either of the yellow areas. Picture 2 The fact that despite all of this Sanchez dumbly floats the ball straight into the most dangerous area of the field (where it's intercepted by Chris Clemons) is concerning to say the least (Picture 3). Not only does it indicate an unwillingness to deviate from the playbook by pulling the plug and taking a safe option, it also suggests that he entirely failed to compute how the blitzing LBs and safety would impact on the route being run by Holmes (who is now absolutely wide open in the endzone). This is one area where Sanchez simply must show considerable improvement between now and September. Picture 3 The second problem that we'll consider is Sanchez's difficulty in knowing when to swallow the ball and take a sack. Here we'll look at why this is such a problem by looking back at the Week 13 clash against the Arizona Cardinals. Below we see the Jets about to run a play-action pass from 21 personnel (2 RBs, 1 TE) on 1st & 10 from their own 12-yard line, while the Cardinals are in a base 3-4 package (Picture 4). Although the player movements are detailed, they are not that important except for the those of the two middle linebackers (red) who will blitz the A-gap (ie the small space between the center and the guards on either side of him). Picture 4 In next to no time the blitz has leaked into the backfield and Sanchez is under intense pressure (Picture 5). For reasons unknown, Sanchez apparently becomes briefly seized by the belief that he's the greatest QB to have ever played the game and attempts a ridiculous throw from an absolutely horrible position where one leg is in the air while the other is balanced on tiptoe. (I often compare playing QB to boxing in that there's very little difference between the techniques that allow for the throwing of a powerful, accurate punch and a similarly lethal pass. I probably don't need to point out that Muhammad Ali's success wasn't built on a tendency to throw punches while falling over backwards and tiptoeing on one leg). Picture 5 Unsurprisingly the ball wobbles out of Sanchez's hand and loops into midfield where former Jet Kerry Rhodes immediately breaks on the throw and makes as easy an interception as he's ever likely to. Thanks entirely to Sanchez's difficulty in accepting that sometimes it's best to take one for the team, the Cardinals have a 1st & 10 from the Jets 26-yard line. If Sanchez is to retain his role as the Jets' starting QB in 2013 he must come to understand his limitations: while it's great to believe in one's own abilities, self-delusion is a surefire road to ruin. Our last consideration is a problem that's haunted Sanchez throughout his professional career, namely an inability to look off a safety so as to secure single coverage for a receiver running a deep pattern. Let's look at an example taken from the Week 15 match-up against the Tennessee Titans… We're into the final quarter and the Jets are trailing 14-10. The Jets are once again in 21 personnel and are matched up against a 3-deep zone defense run from the Cardinals' 4-3 under package (Picture 6). Braylon Edwards (circled) is the intended target on the play, and safety Michael Griffin is highlighted in green. Picture 6 Although he briefly scans center-field to establish whether or not both safeties have dropped deep (thereby giving himself an easy read of the coverage scheme) Sanchez soon switches his gaze towards Edwards (Picture 7). Picture 7 Griffin backpedals but keeps his head turned towards Sanchez so that he can read his eyes as he continues staring at Edwards (Picture 8). Picture 8 This enables him to commit towards the direction of the throw before it's even been released, with the result that despite Edwards's wily attempts to act as defender and knock the ball away, Griffin is in exactly the right place at exactly the right time and is consequently able to collect an easy pick (Picture 9). Picture 9 In conclusion, although these problems are by-and-large correctable through coaching it would be foolish to presume that the new QB guru – whoever he may be – will have an easy task in helping to resurrect Sanchez's tarnished reputation. Because while it's possible to identify the errors and implement drills that are designed to correct them, the only person capable of righting these wrongs is Sanchez himself. Will he ever learn? I guess that's the eight million dollar question.
Original Story:
http://turnonthejets.com/2013/01/solv...
THE BACKYARD
BEST OF MAXIM
RELATED ARTICLES
Listen up Mark Sanchez. If you do not start playing better, Rex Ryan will be changing the number on the New York Jets' jersey depicted upon his wife in a tattoo located on his arm. Speaking at his press conference (finally), Rex immediately addressed the concerns from the media: "There's a question – is that a real tattoo or not?" he said. "I'll keep you guessing. It...
Rex Ryan continues to make news — odd news at that — away from the football field, as we found out last week. Vacationing in the Bahamas, the New York Jets head coach was spotted by the tabloids sporting an interesting tattoo on his right arm. Quickly, the tattoo — featuring Ryan's wife wearing a Mark Sanchez jersey — became a viral sensation and the butt of jokes across...
Welcome to our off-season review of the New York Jets roster at Turn On The Jets. Each week we are going to attack a different position. We will have a roundtable discussion on it, Steve Bateman will submit a film breakdown examining it and our draft staff will look at potential prospects the Jets could add. This week, we start at quarterback… How should the New York Jets handle...
The New York Jets have fired their quarterbacks coach Matt Cavanaugh. You hate to see anyone lose their job but considering the mess that was the Mark Sanchez/Tim Tebow/ Greg McElroy show, his head seemed destined for a platter. Please Click Here To Read This Story. The post New York Jets fire QB coach appeared first at PlayersView.Net  
ANDREW THEODORAKIS/NEW YORK DAILY NEWSNew York Jets head coach Rex Ryan  told the media today that if quarterback Mark Sanchez doesn't improve next season, he'll probably have to change the tattoo he has of his wife wearing Sanchez's jersey."Obviously, if Sanchez doesn't play better, that number's changing," said Ryan per Manish Mehta of the NY Daily News.If I were...
Last week Rex Ryan took a quick vacation to the Bahamas to escape the Jets mess as I like to proclaim it.  During the quiet vacation, things got really noisy again for Rex when he was photographed on the beach, and on his right arm was a tattoo of his wife wearing nothing but a Mark Sanchez jersey.   Ryan took it all in stride like he does everything, and knew he would have to...
SURELY YOU CAN'T BE SERIOUS
Despite what for all intents and purposes can only be described as a lost season in his NFL career, Tim Tebow insists that "everything happens for a reason."
We could've sworn this already happened. It was such a no-brainer that Jets offensive coordinator Tony Sparano would be fired, that we thought it had already happened along with GM Mike Tannenbaum getting the ax. But it actually happened this morning, ESPN's Chris Mortensen reported. Eight days into 2013. So head coach Rex Ryan conveniently goes on vacation while the...
Several teams had worse years than the Jets, but I don't think anyone had a weirder year. Turned into a circus in the offseason by the media, the Jets lived up to the hype. Neither Mark Sanchez nor Tim Tebow led a touchdown drive all pre-season, but after a blowout win over the Bills week 1 and another win against the Dolphins week 3, this time in overtime, the Jets stood at 2...
The New York Jets have informed quarterbacks coach Matt Cavanaugh he will not be retained when his contract expires later this month. Head coach Rex Ryan informed Cavanaugh of the move Monday, as first reported by The Daily News. Jets quarterback Mark Sanchez has 52 turnovers over the past two seasons and was benched in favor of Greg McElroy late in the season. Sanchez started...
Matt Cavanaugh will not return as the New York Jets' quarterbacks coach after four seasons with the team. Cavanaugh's contract was due to expire in a few weeks and he was told Monday he would not be part of Rex Ryan's staff next season. Cavanaugh was responsible for the development of Mark Sanchez, who took a step back in his fourth season and was benched late in the...
Jets coach Rex Ryan said the team's starting quarterback job is "wide open" for 2013. SOURCE: Rich Cimini, ESPNNewYork.comFantasy Spin:The Jets can't release Mark Sanchez without taking a major cap hit, so he's almost certain to be back. However, it's unclear who Sanchez will be competing against since Tim Tebow is expected to be cut loose and Greg McElroy...
NFL News

Delivered to your inbox

You'll also receive Yardbarker's daily Top 10, featuring the best sports stories from around the web. Customize your newsletter to get articles on your favorite sports and teams. And the best part? It's free!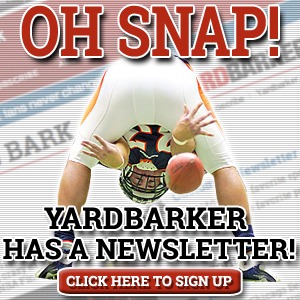 Latest Rumors
Best of Yardbarker

Today's Best Stuff

For Bloggers

Join the Yardbarker Network for more promotion, traffic, and money.

Company Info

Help

What is Yardbarker?

Yardbarker is the largest network of sports blogs and pro athlete blogs on the web. This site is the hub of the Yardbarker Network, where our editors and algorithms curate the best sports content from our network and beyond.