Found January 31, 2013 on The Victory Formation:
I'm a die hard Jets fan. As a die hard Jets fan, I have learned to hate all things associated with the Patriots organization. From Belichick's hoodies and sour disposition, to the constant media love for all things Tom Brady, you get tired hearing about anything related to New England. However Rob Gronkowski has always been a guy I kind of liked: he's a goof, genially a nice guy, and he's always amazing on the field. Much like Youkilis and Pedroia, there are just some Boston athletes that New Yorkers respect. So when I heard the following story on Gronk today, it didn't surprise me. In fact, I welcomed hearing a warming story concerning a player for a team I despise. For weeks we've heard nothing but Te'o jokes, deer antlers, Ray Lewis crying over getting called a phony and anything Dwight Howard. After all of that, I love getting an opportunity to step away from all the nonsense and read something like this: As he was leaving the CBS section of Radio Row, he ran into a small child selling lemonade. The kid asked him to purchase a drink, and he did just that. Except that he paid a [...]
Original Story:
http://www.thevictoryformation.com/20...
THE BACKYARD
BEST OF MAXIM
RELATED ARTICLES
Tom Brady is officially a NFL icon. He is so much a part of the New England Patriots culture that its not considered offensive to signal the team out as the New England Bradys.  So it catches the world at large a bit off-guard to see Patriots owner Robert Kraft being less-than-definitive when it comes to discussing Brady's future with the team. Please Click Here To Read This...
By Christopher DiMarino This post might be out of the news by now but I love writing about semi-controversial topics to see what you think. New England Patriots quarterback Tom Brady has always been a player surrounded by drama. It all started with the tuck rule and snowballed from there. He became the poster child of the "protect our quarterbacks" campaign whether if he...
I'm here to make some bold statements and predictions regarding next year's Patriots season. I've been put off by the criticism targeted at my squad since their poor performance in the AFC Championship game. Shots have been taken at Brady, Belichick, and the organization as a whole. But I assure you, these critics will be silenced before it is all said and done. This...
Tom Brady and Drew Bledsoe reacting to the Patriots winning Super Bowl 36
It's been clearly evident that the New England Patriots struggle to stretch the field vertically. As great of a season as he had, Brandon Lloyd failed to provide the deep attack that the Pats were relying on. Even with virtually no down-field threat, the Patriots had the league's most prolific offense, with most of the credit going to quarterback Tom Brady. Offensive coordinator...
Former New England Patriots quarterback Drew Bledsoe was interviewed on ESPN's Collin Cowherd regarding the San Francisco 49ers quarterback situation. He stated it's normal to have animosity and to be upset, but it's how you define the situation that defines you. When Tom Brady replaced Drew Bledsoe it would change the Patriots history forever. Here's a look at the Top 5...
We at Patriots Life are giving out our post-season awards. And we're starting off with the biggie. The coveted New England Patriots Most Valuable Player. And the award goes to... Who else? It's Tom Brady!This goes without saying really. Without Brady, the Patriots would be nothing. The way he conducts the high-tempo offense while dissecting defenses at the same time...
CAN'T LET IT GO
Former Rams star Marshall Faulk insists he's over his team's loss to the Patriots in Super Bowl XXXVI, but says he'll "never be over being cheated out of the Super Bowl."
Will Tom Brady join another team towards the end of his career similar to Favre and Manning? (AP Photo/Steven Senne) Over the past five years, NFL fans have seen Hall of Fame quarterbacks, Brett Favre and Peyton Manning leave their respective teams for another team towards the end of their careers. Eventually, the Packers and Colts decided that it was time to move on from their franchise...
Former New England Patriots defensive lineman Willie McGinest responded Wednesday to Marshall Faulk's claims that the Patriots videotaped the St. Louis Rams workouts and walk-through before Super Bowl XXXVI in 2002. "If . . . we had any extra informat
by John Huffstetler With the NFL Honors Awards tonight, much debate surrounds the top awards to be presented. With that in mind, here's who deserves to win (not who will win) the major awards that will be given out tonight from New Orleans. NFL MVP Tom Brady- Choosing between Brady and Peyton Manning this season is almost impossible. They have incredibly similar statistics in yards...
Guess what everyone?   Thomas goes crazy and builds a bunker? It's all Tuukka's fault. J.F.K wasn't wearing a helmet? Tuukka's fault. Roberto Luongo's tires deflated? Tuukka's fault. Tom Brady blows against the Ravens? Tuukka' fault. U.S. recession? Tuukka's fault. Tsunami's? Totally...
NFL News

Delivered to your inbox

You'll also receive Yardbarker's daily Top 10, featuring the best sports stories from around the web. Customize your newsletter to get articles on your favorite sports and teams. And the best part? It's free!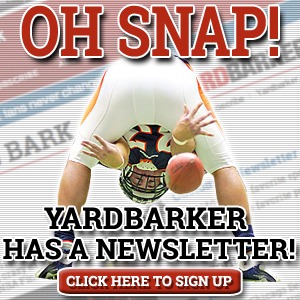 Latest Rumors
Best of Yardbarker

Today's Best Stuff

For Bloggers

Join the Yardbarker Network for more promotion, traffic, and money.

Company Info

Help

What is Yardbarker?

Yardbarker is the largest network of sports blogs and pro athlete blogs on the web. This site is the hub of the Yardbarker Network, where our editors and algorithms curate the best sports content from our network and beyond.