Found November 21, 2012 on Fox Sports Ohio:
PLAYERS:
Kevin Ogletree
,
Ed Reed
,
Buster Skrine
,
James Harrison
,
Troy Polamalu
,
Ryan Clark
,
Brett Keisel
,
Casey Hampton
,
Ben Watson
,
Alex Smith
,
Byron Leftwich
TEAMS:
Dallas Cowboys
,
Baltimore Ravens
,
Cleveland Browns
,
Pittsburgh Steelers
1) Somebody somewhere had to sign off on the latest promotion at Browns Stadium, which has the home team giving away inflatable flags sponsored by Ticketmaster, which are white. Yes, thats correct. The home team has a sponsorpartner giving away white flags for a Browns-Steelers game. This is almost too rich for words. Asking fans to wave white inflatable flags (with the Browns helmet) for a game against the Steelers, the team that has owned the Browns the past 13 years, and has won 16 of 17. White flags. Inflatable ones. For the record, the promotion is Ticketmasters, the Browns know how it looks and well its just another part of the saga. 2) Seriously. White. Flags. Maybe we found the real Thanksgiving turkeys. 3) Maybe Mike Holmgrens visit with Jerry Jones on the field prior to the Browns loss on Sunday was an innocent greeting between two friends. But it sure has folks around the league buzzing, and those who thought it was a casual conversation were buzzing just as much as those who saw bigger conspiracy theories. If nothing else, the timing made it odd. Shortly after word broke that Holmgren would be seriously interested in coaching the Cowboys if there were an opening, and on the same day there was a report that Holmgren would leave retirement to coach only for the Cowboys, he spends time chatting up the Cowboys owner on the sidelines. With new Browns owner Jimmy Haslam in close view, Holmgren chatted with the guy he reportedly would be willing to work for in the future. Here again, only in Cleveland. 4) Word is that Haslam did not have a pleased expression on his face as Holmgren chatted with Jones, and that there is a feeling within the team that this might hasten Holmgrens departure. Some in the league would be surprised if hes in Cleveland in December. Too, there are also rumors that Holmgren would be willing to coach the Browns if Joe Banner and Haslam decided to make a move. Holmgren cant and wont address this issue because the guy he picked is coaching the Browns. But if he wants to coach again, it would make sense for Holmgren to step down from the front office to coach in Cleveland. He knows the system, knows the players and knows the media. It would almost be seamless. And it might have been possible a month ago, but now that Haslam and Banner have been around Holmgren and seen this dance with Dallas, the feeling is theres no way it will happen. Does any of this stuff happen with other teams? 5) As for Shurmur, its to the point that you almost feel bad for him, not that he wants any pity. But nobody works harder, cares more or is more dedicated to trying to win. Its just not happening. In fact, it almost seems guaranteed that no matter what Shurmur tries it wont work. And hell be taken to task because of it. Now, not everything that does not work is a result of bad luck. A fade on fourth-and-1 is a questionable call, or questionable decision by the quarterback. And some of the sideline issues could be smoother. But no matter what the man tries on fourth-and-1 or third-and-1, it seems destined to fail. Shurmur wont give up, or quit, but it almost gets to a point where you wonder if its meant to happen for him. 6) One might surmise that if the Browns lose Sunday to the Steelers at home with Pittsburgh playing its third-string quarterback, then that might be the low point of the past two seasons. If one surmised that, one would probably be correct. 7) Dick Jauron and the NFL have a difference in opinion. Jauron said he watched replays of T.J. Wards hit on Kevin Ogletree in Dallas on Sunday and did not see any contact to Ogletrees head. Thats odd given Ogletree wound up with a concussion. The league fined Ward 25,000 for his hit, which it called to the head. Ward was not happy, and Jauron said: Im not sure there is another way to coach it than how were coaching it. Which is to say play as hard and as fast as you can, and never hit a guy in the head. Jauron agreed that if anyone hits an opponent in the head, he should be penalized and fined. But whats clear this week is theres an entire new standard with the way the league is judging these hits. When a guy like Ed Reed is threatened with suspension, something is going on in New York. Clearly. Ed Reed is not dirty, yet he almost was suspended. Wards hit was bang-bang, as fast as it goes. Looking at Wards play, it almost looks impossible for him to avoid the hit. But the league took 25 large from his wallet (he makes 31,764 per week). A year ago Cincinnatis Reggie Nelson was penalized in consecutive weeks for hits to the head. I thought both calls were weak, until someone pointed out all he had to do was change his aiming point. The league does not want defensive backs aiming for the shoulders or higher. It clearly feels players are athletic enough to change the aiming point. Eventually the point will get through. It might affect the way guys play, but thats kind of the point. The league does not want guys playing that way anymore. 8) Theres also this factor about Ward: His reputation precedes him. Ward makes no secret hes a big hitter. His Twitter handle is Boss Ward. He lit up Jordan Shipley of Cincinnati as a rookie, and was fined 15,000. Hes actually missed tackles and plays because he wants the highlight hit rather than the fundamental play. Hes been better this season, but in Dallas he got caught between defending a pass in a tight area and being aggressive. But it almost seems like hes going to get the flag because of his reputation. Ward has played better this season than he ever has. But his hit resulted in Ogletree and Browns corner Buster Skrine getting concussions. It was scary. And going for the big hit as opposed to the play implies a lack of respect for the guy on the other end of the hit, a guy whose life could be changed by the one wrong, big hit. 9) Shurmur said this about this weekends game and Steelers linebacker James Harrison: Hes had an impact against the Browns. Why yes, he certainly has. 10) For whatever its worth, the Steelers have 16 guys on their roster 30 or older. Many of them are the teams lifeblood -- Troy Polamalu, Ryan Clark, Brett Keisel, Casey Hampton, guys like that. The Browns have seven guys older than 30, and two are tight ends (Ben Watson and Alex Smith) and two are kickers. The Steelers are an aging team, but they are a group that can draw on their experience to overcome the loss of two quarterbacks; the only reason they didnt beat the Ravens with Byron Leftwich trying to throw was they gave up a punt return. The Browns dont have those experienced guys. Which could be one reason they go through all these excruciating losses. And a bonus 11) For those who might have missed it, Browns vice president Bryan Wiedmeier sat down with me this week and talked about the challenges ahead as he deals with the reality of a very aggressive form of brain cancer. Wiedmeier had a tumor removed from his brain in late October, and now faces chemotherapy and radiation as he fights a serious, serious challenge. His attitude, though, is simply amazing. I recommend the story because of the insights and inspiration of one man. The story is here. It is a true profile in courage.
Original Story:
http://www.foxsportsohio.com/11/21/12...
THE BACKYARD
BEST OF MAXIM
RELATED ARTICLES
Some positive news from today's Browns practice: cornerback Buster Skrine and wide receiver Josh Cooper each saw increased reps as they battle their respective injuries. Skrine (concussion) was a limited participant Thursday after not practicing on Wednesday. Cooper (knee) was a full participant after being limited the day before. In other notable injury news, Joe Haden (olbique...
Like we did last year before it became fashionable, we'll take a seat each week in our very own WFNY Browns film room and break down a little tape from the game, with a specific focus.  Do enjoy. The Browns did something really positive in Sunday's loss to the Cowboys, and I wanted to focus on that this week. The defense was able to sack Romo seven times. That's a nice number...
Cleveland Browns strong safety TJ Ward officially has $25,000 less to his name as the NFL levied a fine against the third-year safety for a hit which occurred in the fourth quarter of Sunday's loss to the Dallas Cowboys. When Ward put the finishing touch on an attempted pass to Cowboys wide receiver Kevin Ogletree, the team was handed a 15-yard penalty for what was deemed a hit...
You can't make these things up. Apparently the Browns are going to be handing out inflatable white flags with the Browns helmet on them for Sunday's game. Seriously. White flags. Did someone not think this through? Here is a picture of Chomps with the giveaway. The caption was added by @FakePatShurmur on twitter- Some jokes write themselves. [Related: Carlton Mitchell signs with Jaguars]
Browns safety T.J. Ward is appealing a $25,000 fine for a hit he maintains was legal under the NFL's rules on helmet-to-helmet contact. Ward received a letter from the league on Wednesday informing him of the penalty for hitting Dallas wide receiver Kevin Ogletree on Sunday. Ward said replays conclusively show he did not touch any part of Ogletree's head. Ward was called...
Browns safety T.J. Ward is appealing a $25,000 fine for a hit he maintains was legal under the NFL's rules on helmet-to-helmet contact. Ward received a letter from the league on Wednesday informing him of the penalty for hitting Dallas wide receiver Kevin Ogletree on Sunday. Ward said replays conclusively show he did not touch any part of Ogletree's head. Ward was called...
As if the Browns weren't enough of an embarrassment to the people of Cleveland, their latest idea is even is worse than usual. Pictures above, someone thought it'd be a good idea to hand out these white flags at this week's game against the rival Steelers. Maybe they don't know the universal meaning of "waiving the white flag"....
The Cleveland Browns continued practice preparations on Thursday for their Sunday game against the Pittsburgh Steelers and here now is the injury participation report. Not practicing on Thursday were cornerback Dimitri Patterson (ankle) and safety Ray Ventrone (calf). Limited were cornerback Joe Haden (oblique), defensive tackle Ahtyba Rubin (calf/back) and cornerback Buster...
As Steelers week continues here in Cleveland, we're hearing more and more from coaches and players about their thoughts on the latest iteration of our Pittsburgh rivals. Today, we bring you the latest quotes from the star rookies on offense for the Browns as provided by the team's media relations department. Trent Richardson, who said he beat up on himself after his performance...
Joe Haden, who has taken a lot of heat this year for his mistake that lead to a 4 game suspension (reported here first) and most recently for being seen "out all night" during the week in which he was battling an injury, is at it again. He ultimately pulled himself out of that game last week against the Cowboys too, by the way. Today, the Browns' meetings started at...
Browns penalties must be hysterical to Ed Hochuli's crew I have a tough time explaining why my frustration levels fluctuate so much throughout a Browns season. Some weeks as the Browns lose, it barely registers on the imaginary frustrate-o-meter in my house. I kind of shrug my shoulders, write about the Browns game on Sunday and just move along with my week. Then other weeks I'm...
The Browns should smack this Batch up Photo Credit: Eldorado Owens At "Stream Pies," we are serving up gooey loads of knowledge. Here, we'll provide invaluable streaming advice on kickers and DEFs who are owned in less than 30-percent of Yahoo! leagues. We list the options in order of best option to "least-best" option (with the strongest recommendations starting...
NFL News

Delivered to your inbox

You'll also receive Yardbarker's daily Top 10, featuring the best sports stories from around the web. Customize your newsletter to get articles on your favorite sports and teams. And the best part? It's free!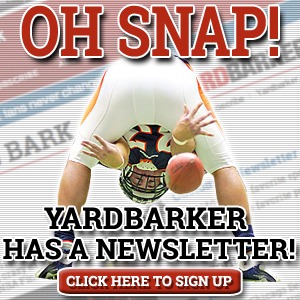 Latest Rumors
The Backyard

Today's Best Stuff

For Bloggers

Join the Yardbarker Network for more promotion, traffic, and money.

Company Info

Help

What is Yardbarker?

Yardbarker is the largest network of sports blogs and pro athlete blogs on the web. This site is the hub of the Yardbarker Network, where our editors and algorithms curate the best sports content from our network and beyond.