Found August 10, 2013 on The Detroit Sports Site:
PLAYERS:
Ezekiel Ansah
,
Mark Sanchez
,
Tahir Whitehead
,
Devin Taylor
,
Greg McElroy
,
Matthew Stafford
,
Calvin Johnson
,
Reggie Bush
,
Larry Warford
,
David Akers
,
Darius Slay
,
Chris Houston
TEAMS:
Detroit Lions
,
New York Jets
The Detroit Lions opened the preseason with a largely unimpressive 26-17 win over the New York Jets. Here are four positives and four negatives from the game. First Down: Getting Ziggy with it There was a lot of concern over the ability of Ezekiel Ansah to perform in real game action. A first round draft pick, Ansah has a lot of pure athleticism but not a lot of real experience in football. Well, you couldn't tell Ansah had only played a few years of football Friday night, snagging a Mark Sanchez pass and running it back for a defensive touchdown on his first series. He would finish the night with two tackles, one of them for a loss.  Fourth Down: Defensive fundamentals Lions fans have heard it before, the defense lacked fundamentals in their play. Even though the Lions starters were playing with several injuries, the guys who saw the field consistently lost containment, lost receivers and missed tackles. The Jets were given extra yards consistently throughout the night and Tahir Whitehead fell down twice, which allowed the Jets to find the end zone the second time it happened. It is just one game, but the defense is still young and learning. It is the second part which is concerning, as the defense needs to cut out the bad habits now. First Down: Devin Taylor forces fumble, earns sack Taylor is a beast size-wise, but no one expected him to be this good on the field this quickly. Using his huge frame, he fought off the tackle and was able to strip the ball from Greg McElroy and create another defensive turnover. With the defensive end opposite Ansah up for grabs, Taylor may have pushed himself into the starting competition after a nice showing in the defense on Friday. Fourth Down: First team offense lacks continuity Matthew Stafford and the Lions offense played two series and neither one of them was fantastic. The Lions signal caller was only three of eight passing for 58-yards and all of those stats were courtesy of Calvin Johnson. While the Stafford-to-Johnson connection is going to be a big part of the Lions offense, it would have been nice to see the offense be able to run between the tackles or utilize some of their other weapons better. First Down: Reggie Bush's High Jump Perhaps the best play of the night came from Reggie Bush who took the ball from Stafford and looked to run up the middle, but the run blocking broke down. Bush cut it to the right side and looked to get around the edge before hurtling a Jets defender to pick-up some yardage. This play shows just what the Lions are getting out of Bush, a playmaker, who had three carries for five yards on the night. Fourth Down: Run blocking Larry Warford was drafted to take over the right guard spot and solidify the right side of the offensive line. While the Lions pass blocked decently for Stafford, the run blocking was atrocious. There was almost no space to run up the middle and allow the many backs Detroit has in camp to find any space. Almost every successful run was completed by fighting through tackles or bouncing it outside. If Detroit wants to to run this season, they better start working on the blocking in camp. First Down: There is a real kicking battle going on Both David Akers and Havard Rugland kicked well for the Lions, with Rugland kicking for the first time in real game action ever. Akers made all four of his kicks, two field goals and two extra points, while Rugland made both field goals he was brought on to attempt. While Rugland kicked two long field goals, 49 and 50 yards, Akers still has the edge on the competition until Rugland can show he can do it consistently. Fourth Down: Darius Slay fails to make it on the score sheet Slay, the Lions' second round pick, started opposite Chris Houston on defense but dd not make an impression. Now, maybe that is a good thing as it means he might not have made many mistakes, but the reality is it also means he failed to make any plays. Even though Slay is coming off of an injury and this is just the first game, it would be nice to see some flash out of him on the field.
Original Story:
http://www.thedetroitsportssite.com/2...
THE BACKYARD
BEST OF MAXIM
RELATED ARTICLES
The Lions disappointed their fans again last season.  They missed the playoffs but CJ set a receiving record because they were always behind. There are a lot of players that need to step up this season.  Here's a three step drop from the first preseason game. Step 1 - The offensive line, especially Reiff, did pretty well.  The Jets don't have a great pass rush but they...
Norwegian kicker Havard Rugland, better known as "Kickalicious" got some great English lessons from the likes of Method Man, Raekwon the Chef and Old Dirty Bastard as he prepared for life in the United States. That little tidbit about Rugland was shared to the Detroit Free Press by teammate Rob Sims: The first day we're hanging out in the hot tub, right?" Sims said. "I'm...
Welcome to our 2013 Lions Team Preview. To get a better understanding of what each NFL team might be up to this season we are asking local team bloggers to answer a few questions for us.  We talked to Zac Snyder the NFL Editorial Director for fansided.com, and Lions blogger for Side Lion Report, to get the inside scoop. Follow him at @ZacSnyder and check out his work.   1. Matthew...
Who knew they ever had Lions earrings? I thought the one earring fad was over, but maybe not. Yes, Nate Burleson is wearing a lion earring. pic.twitter.com/Oi7WfQTTZ7 — Pride Of Detroit (@PrideOfDetroit) August 10, 2013
Herman Moore was my favorite wide receiver growing up. Calvin Johnson gets the nod for all-time favorite wide receiver nowadays, but Moore will always have a special place in my heart. That's why it was especially neat to see him catch a touchdown pass from my favorite Lions quarterback Matthew Stafford during training camp this past week.  See for yourself:  Moore...
Are you starving for some football? Evidently so. Ford Field in Detroit, with a capacity listed at 65,000, is sold out for Friday's preseason opener between the Lions and the New York Jets. That's the Lions, who lost their final eight games in 2012 and finished 4-12, vs. the Jets, who were 6-10 and probably won't be any better this year. The stadium certainly isn...
Having trouble learning English? Step to the Wu. Detroit Lions kicker Havard Rugland is Norwegian, and discovered he could learn English by listening to the Staten Island-based rap outfit The Wu-Tang Clan (caution; this is a rap video, so proceed accordinly). "The first day we're hanging out in the hot tub, right?" guard Rob Sims told The Detroit Free Press . &quot...
Riley Cooper's recent racist outburst has brought a significant amount of attention to the issue of racism in the NFL this month. Many fans and players are outraged over his use of the N-word, while others have expressed a willingness to forgive Cooper and move on. For some, it is the way Cooper used the [...]
Yes, it was only the first preseason game but we still learned a few things.  Here are the five most important things we learned:5. Rex Ryan doesn't have time to watch the offenseNow, that could explain a whole lot.  When asked about the interception Mark Sanchez tossed in the first quarter, the head coach replied "he never saw it"?  Does that philosophy apply to...
Chaz 'who' Schilens -- who had a breakout 2 TD, 29 catch year every year...ripped by Al Dukes. **Follow us on Twitter, View via Our Mobile Site, or Return to BobsBlitz.com.Follow us on Twitter. Subscribe or Return to Bob's Blitz.
Ziggy Ansah looked like a natural in his exhibition debut, when the rookie defensive end picked off Mark Sanchez's screen pass and took it back for a touchdown. Detroit coach Jim Schwartz wasn't at all surprised. ''I know a lot of people were looking at us sideways when we drafted a guy that didn't have a whole lot of experience,'' Schwartz said after...
NFL News

Delivered to your inbox

You'll also receive Yardbarker's daily Top 10, featuring the best sports stories from around the web. Customize your newsletter to get articles on your favorite sports and teams. And the best part? It's free!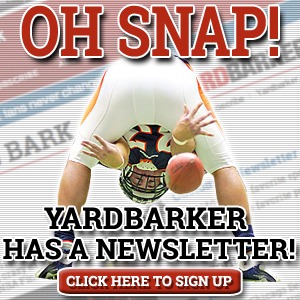 Latest Rumors
The Backyard

Today's Best Stuff

For Bloggers

Join the Yardbarker Network for more promotion, traffic, and money.

Company Info

Help

What is Yardbarker?

Yardbarker is the largest network of sports blogs and pro athlete blogs on the web. This site is the hub of the Yardbarker Network, where our editors and algorithms curate the best sports content from our network and beyond.